Driver's Diary: I Bought a 2021 Ford Bronco Badlands
I saw my first Ford Bronco when I was in high school. I loved the boxiness of it. In my 20s, I had a roommate that restored old Broncos. He would repaint and rebuild them and sell them.
I just remember watching the transformation of that, watching each one leave and thinking "One day I will have one of those." They're just so beautiful.
But my husband has always said "They're going to break down on you. You can't have an old one." So I guess you could say it was a marriage compromise waiting on the new ones. As soon as they came out, it was a done deal for me. I knew I was getting one. I'd wanted one forever.
I placed my reservation in September 2020. Ford held Bronco drive events at Moab where I could try it out and I was shocked. We were going 75 mph on the highway and through sand and it handled like a dream. Other vehicles in those situations feel top heavy. The Bronco never felt like that. It feels really solid.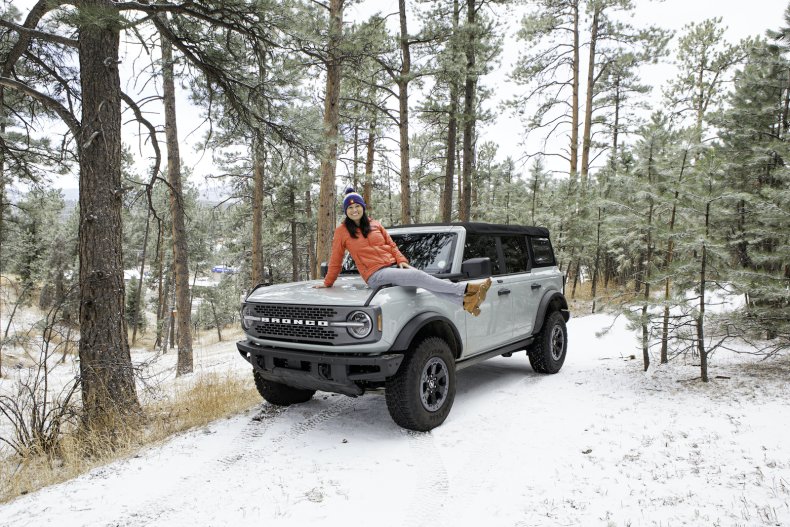 In December 2021 I took delivery on a 2021 Ford Bronco Badlands with the turbocharged 2.7-liter V6. I knew that the bigger 33-inch wheels and the style is what I wanted for off-roading
It's amazing to drive. The luxury's there, the comfort's there and it's a smooth ride. It doesn't feel like you're sitting in something that's just meant for outdoors or four-wheeling.
The lack of electronics has been an overall disappointment. I'm missing the 360-degree camera and hill descent control. All things I thought would come automatically with my pricey Badlands but did not.
We've already taken it into the mountains. The point is to play in the mud and get dirty. The capability of having the marine-grade vinyl seats and being able to pull the plugs and hose down the whole thing was one of the biggest sellers.
I feel like if anything happened off-road, I would be totally fine. It stops on a dime. When you get into a slide you feel like it's going to be very easy to correct.
We've tried all of the G.O.A.T. (Go Over Any Terrain) drive modes, and that system is so easy to use. Before, with any four-wheel drive system, I always questioned if I was in the right mode. But with the Bronco I don't question it, I just flip it and feel I'm in the right mode.
One of the bigger challenges we had on the mountains was a snowstorm. Even though we were on the main roads, snow had piled to about hood level. For a second I thought, "I don't know if we're making it through this" but we blew through it like it was butter.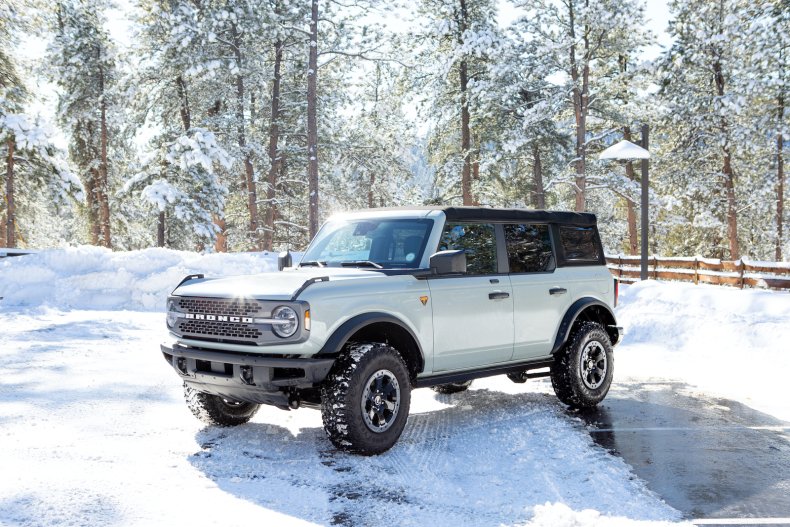 We took it on a trip to Kansas because I wanted to see if I was going to love it on the open road. I wanted to see if it would be too loud with my soft top. We didn't really notice anything until the winds got up to 50 or 60 miles per hour. In any soft top that's going to be loud.
Besides that windstorm, it was fine. We could talk to each other, the sound system was crystal clear.
I'm going on a western loop this summer to South Dakota, Montana, Idaho, Washington, down to California and back to Colorado.
One thing I'm a little disappointed in, because I'm a big skier, is that as of now they haven't figured out how to put a rack on the top of the Badlands trim. So I can't put my ski box on the top. When I go ski that makes it a little more difficult.
With the angle the box sits on when the rear seats are folded, we've scraped some paint off of the inside of the tailgate. So we have to wrap the box.
My husband started to get SUV envy. So he put the word out to dealerships that he was looking for one. Eventually, he found a 2021 Outer Banks model. For me, it wasn't a hard sell.
The Outer Banks comes with a 360-degree camera, front camera and hill descent control. The Badlands doesn't have those, but the ride, comfort and style are out of this world!
Mindy Lundy Kramer is a photographer in Colorado. All views expressed in the article are the author's own, as told to Newsweek's James McCandless.
Have a brand new car and want to talk about your first month of ownership? Reach out at j.mccandless@newsweek.com.