Drone Explodes Less Than 100 Miles From Moscow as Fear of Strikes Grows
A drone of unidentified origin exploded less than 100 miles outside of Moscow, according to a Russian official.
The incident occurred in Kaluga, which is about 93 miles southwest of the Russian capital and about 162 miles from the Ukrainian border.
"It was established that at five in the morning in a forest near the city, a drone exploded in the air at a height of 50 meters [164 feet]," Kaluga Governor Vladislav Shapsha wrote Monday on Telegram.
There was no damage to local infrastructure and no casualties, he added. No specifics regarding the drone or where it was potentially fired were available.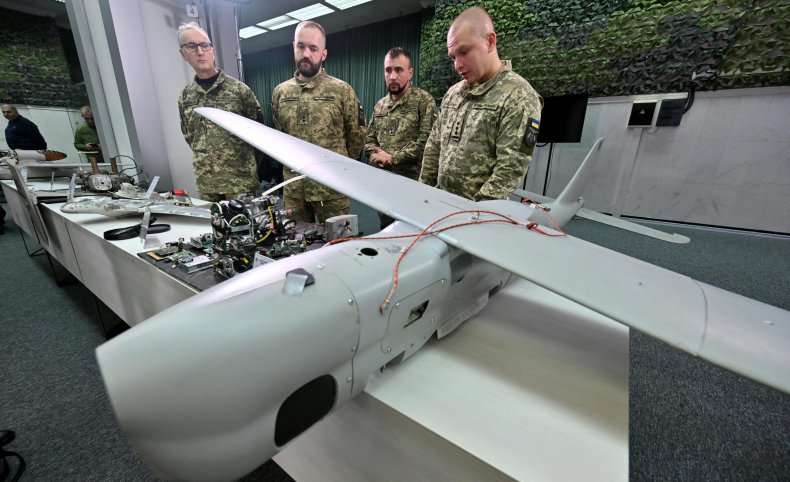 Drones being fired into the Kaluga region is not new.
Russian newspaper Kommersant reported in October that air defense systems shot down an unidentified unmanned aerial vehicle (UAV) over the southern part of the region. It was the second such incident in the span of a week after another unidentified drone exploded over the Shaykovka air base, which is home to nuclear-capable Tu-22M3 supersonic missile carriers. No injuries reportedly in either incident.
In December, Shapsha approved a regional ban on the use of drones, quadrocopters, balloons and small aircraft by legal entities, individuals and citizens, Russian state media outlet Tass reported. A notification procedure for the use of airspace is required as part of the rule, which is in effect until further notice.
Exceptions include aircraft used by state authorities and organizations subordinate to them, as well as federal executive authorities of the regional level, local governments and organizations fulfilling the state defense order or ensuring the control and operation of infrastructure facilities.
Rob Lee, a senior fellow at the Foreign Research Policy Institute, tweeted that the drone was a Ukrainian UAV—reportedly a Tu-141 Strizh—that was carrying an OFAB-100-120 high-explosive bomb. He cited Telegram reports in the tweet.
Samuel Bendett, Russia analyst for the Center for Naval Analyses and an adjunct senior fellow at the Center for a New American Security, told Newsweek that he was still gathering information regarding whether Ukraine was responsible.
No governmental entities on either side have commented.
"Whether it was indeed a Tu-141 or another drone is less relevant than the fact that Ukraine is seeking to impose high costs on Russia by apparently launching drones deep inside Russian airspace to attack targets that are supposed to be secure," Bendett said.
"This attack also demonstrates that if this was indeed a Ukrainian drone, then providing full air defense coverage may prove problematic if Ukrainian drone attacks intensify in response to Russian military actions."
The incident came as Russia is upgrading its crumbling Soviet-era infrastructure like bomb shelters, the independent Moscow Times reported. That has included systematic inspections and repairs on thousands of bunkers, reinforced cellars and other safe hideouts that have been ignored for decades.
The Kremlin is reportedly spending "hundreds of millions of rubles" as part of the rehabilitation, based on a decision reportedly made by government officials in the spring.
Newsweek reached out to the Ukrainian and Russian defense ministries for comment.