Drone Finds 'Dead' Mountain Climber on One of World's Highest Peaks
A missing mountain climber, presumed dead after going missing on the world's 12th-highest peak, has been rescued after being spotted by a drone.
Rick Allen, a Scottish mountaineer, was lost while climbing the 26,401-foot Broad Peak mountain in the Nepal Himalayas, the BBC reported.
After summiting the mountain, Allen was on his way down when he fell from an ice cliff. When he didn't return to base camp, his fellow mountaineers feared the worst. "A number of people had assessed the situation and come to the conclusion that I was not going to come back," Allen told the BBC. His climbing partner, Sandy Allan, was "convinced he was dead."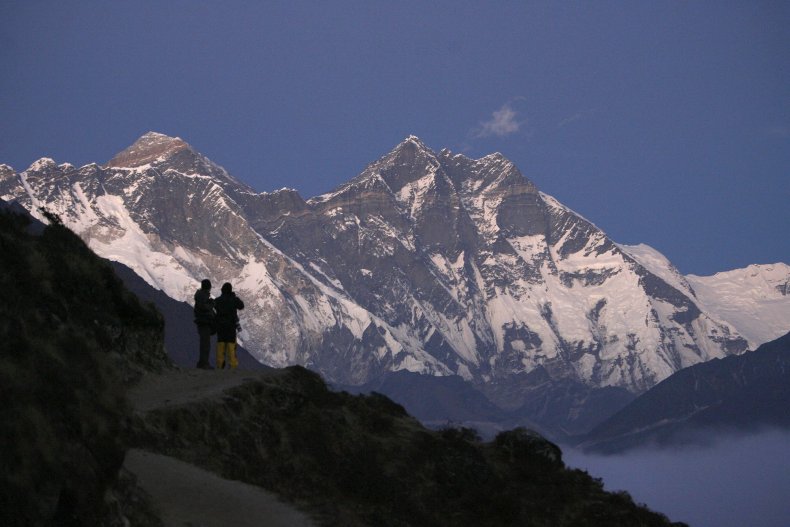 A Japanese cook at base camp spotted Allen's rucksack on the side of the mountain about 36 hours after he went missing and suggested the lost climber might be somewhere nearby. Luckily, two Polish brothers—Bartek and Andrzej Bargiel—had a hobby drone on hand. The daredevils were in the Himalayas to try to become the fastest people to climb the nearby K2 mountain—the second tallest in the world—and ski down it, filming their exploits with the drone.
The brothers turned their equipment into a search and rescue mission, flying their UAV up the mountain toward the telltale bag. There, the drone spotted an injured Allen sheltering on the slopes. Bartek and Andrzej used their eye in the sky to guide rescue Sherpas and climbers to the stricken Allen, who was suffering from cuts and frostbite. Once back at base camp, Allen was evacuated in a helicopter for treatment.
Allen told the BBC that before this ordeal, hearing a drone flying nearby would annoy him. "But this has changed my perception of them," he admitted, noting that the feed from the machine was "significant" because it allowed his friends to see his was still alive, which "gave everybody hope."
A well-experienced climber, Allen admitted he had pushed his luck this time. "I think Sandy knows me well enough that I can hang in in some pretty tough situations," he said in reference to his climbing partner. "But I think even he was struggling." Both had been climbing together before high winds convinced Allan to turn back. Pushing on alone, Allen fell from the ice cliff.
"He is a tough and strong-willed man and also incredibly lucky that a cook and then the drone spotted him," a relieved Allan said. "He's my best high altitude climbing pal."
The two men have climbed mountains together all over the world. In 2012, the pair conquered what some considered the last great unclimbed route in the Himalayas, summiting Nanga Parbat in Pakistan via the Mazeno Ridge. This journey left Allen suffering from frostbite, and his body was "absolutely skeletal" after the expedition ran out of food.