Drone Footage Shows FBI, NYPD Searching Jeffrey Epstein's Lush Virgin Islands Property
New drone footage appears to show FBI agents and other law enforcement officers searching in and around late financier Jeffrey Epstein's lush Little Saint James estate in the U.S. Virgin Islands Monday.
A YouTube account belonging to user "Rusty Shackleford" shows footage from above Epstein's property over the past several weeks, including some in which FBI agents are seen raiding the billionaire's home which was notoriously dubbed "Pedophile Island." About a dozen FBI agents and NYPD officers can be seen searching through the inside of the mansion as the drone records them from above.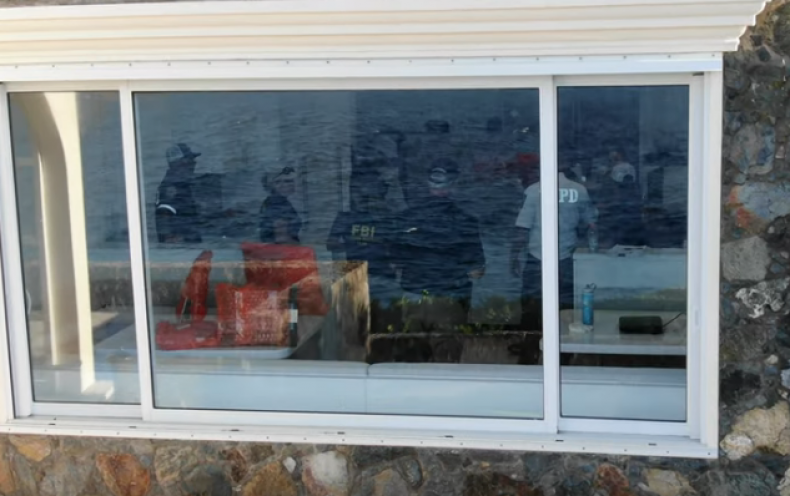 The agents inside the estate quickly placed cardboard boxes and a dark sheet over a large window after noticing the drone recording them from just feet away.
The soundless footage posted to YouTube on Monday shows that the drone operator managed to maneuver the device and its camera to hover just outside of a large window. The video begins with the drone flying in over the turquoise Caribbean waters and rocky coastline on the private island.
A few law enforcement officers with walkie-talkies can be seen glancing at the drone recording the search before blocking its line of sight.
The FBI confirmed to several news outlets on Tuesday that they'd conducted a search of the Little Saint James island property which Epstein owned from 1998 until his death last week. The bureau has not announced any details about the raid or any findings from the search of the massive property.
The island has been given a series of notorious nicknames in the past few decades including the "Island of Sin" and "Orgy Island" for its alleged role in being the scene of child sex trafficking activity. Several salacious reports have emerged from former employees on the property of naked photographs being strewn throughout the entire mansion. A blue-striped temple-like building with a golden dome sits among the island's palm trees.
The Rusty Shackleford YouTube account has dozens of videos showing the luxurious, 70-plus acre private island off the coast of Saint Thomas.
One employee told Bloomberg this week there is a secret steel safe in Epstein's office that may contain more than just money. Former IT contractor Steve Scully, who worked for Epstein between 1999 and 2005, said the interior of the home was littered with nude pictures.
"There were photos of topless women everywhere," Scully told ABC News. "On his desk, in his office, in his bedroom."
Epstein, who was 66 at the time of his death last week, was found unconscious from an apparent suicide in his Manhattan jail cell August 10 as he awaited sex trafficking and conspiracy charges which could have put him behind bars for up to 45 years. Federal authorities are investigating his death, which has been shrouded in accusations of conspiracy.