Catalonia's 36-foot-tall Human Towers Look Even More Amazing from the Air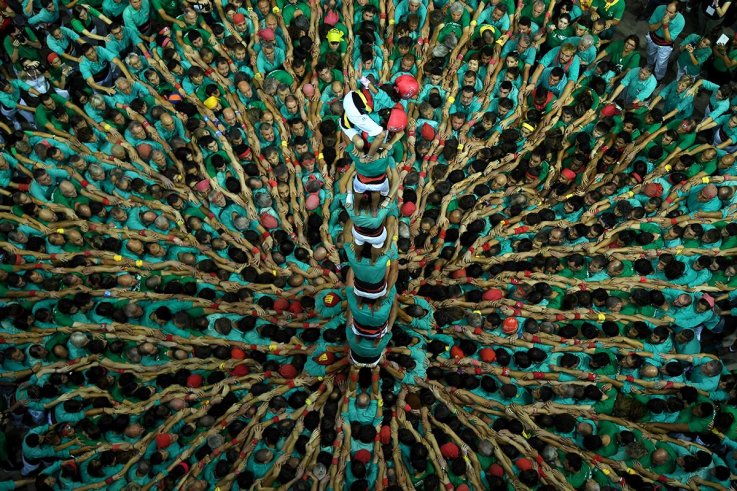 One of the world's great cultural spectacles was held this weekend in the Catalonia region of northeastern Spain. Teams from around the region gathered in a former bull ring in Tarragona to build human towers.
These towers consist of up to ten layers of people standing on top of each other, reaching heights of up to 36 feet. Teams compete to build a range of designs from slender pillars just two people wide to more complex structures with levels that may be made of up to nine people, all standing on the shoulders of the nine people below them.
As impressive as the human towers are when seen from the ground, it takes a drone to really appreciate their size and complexity. Like an iceberg, only ten percent of the tower is above the surface. Theose people standing on each other's shoulders are being supported by up to 500 more, arrayed around the tower in complex arrangements specifically engineered for each tower design.
The strongest and heaviest members interlock their arms to form a stable base, and then hundreds more form human buttresses radiating out from each tower, supporting and strengthening it. They also act as a safety net, cushioning any falls from the upper levels if the tower collapses.
One the solid foundations have been constructed, the tower begins rising, with each successive layer made up of lighter and younger people. The team's youngest, lightest and bravest member—often a tiny girl as young as six—then climbs up to the top of the 30-foot tower and salutes the crowd. Finally, the tower must be dismantled, floor by floor, in an orderly fashion.
Accidents are rare, but there have been fatalities. A 10-year-old girl fell to her death at a competition in 2006, so competing children now wear helmets.
Sunday's competition saw the field of 42 teams whittled down as the towers got more and more difficult. After a tense final involving some of trickiest known designs, competition favorites Vilafranca lost out to a team from the town of Valls.
The bi-annual competition was held for the first time since the failed Catalan independence referendum of 2017 which was banned by Spain's court and the government because it was deemed unconstitutional.
Though the competition is not an official pro-independence event, human tower building, declared a Cultural and Intangible Heritage of Humanity by UNESCO, is a long-rooted-tradition of the Catalan culture.
Catalonia's regional president Quim Torra was present at the event where a huge Esteleda, the Catalan separatist flag, was unfurled inside the Tarraco Arena Plaça as people sang the national anthem of Catalonia, "Els Segadors" (The Reapers).