Video: Russia Unveils Secretive 'hunter' Stealth Drone in Footage of Combat Aircraft's First Flight
Russia's military has taken a step closer to fielding armed drones for front-line missions after the maiden flight of the heavy combat drone dubbed "The Hunter."
Footage released by Russia's defense ministry showed the combat drone, known in Russian as Okhotnik, circling an unnamed airfield several times at an altitude of around 1800 feet and landing after 20 minutes.
State-run news agency Tass said the Sukhoi S-70 Okhotnik-B, weighed 20 tons had a 50-foot wingspan and possessed the "most advanced reconnaissance equipment."
Equipped with a Hunter-B jet engine and anti-radar skin coating, it can reach speeds of up to 640 miles per hour and can travel up to 3,100 miles.
The National Interest reported that its wing shape could give it stealth qualities from some angles, although its unshielded engine nozzle means it easily can be detected from behind.
Commercial satellite imagery suggested is likely to be based in the Astrakhan region in the south of the country.
Comparing it to the U.S. B-2 stealth bomber, the publication said that the drone may eventually enter squadron service although it still needs years of development.
Russian military aviation expert Tom Cooper told the publication: "The Russian military is running multiple UAV-related projects. Thus the emergence of this project is perfectly normal."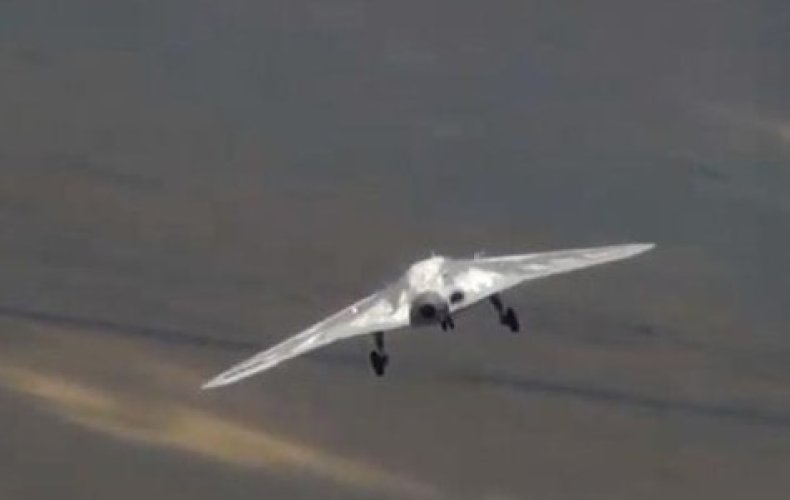 The Aviationist pointed out that the first flight of the new Sukhoi S-70 "Hunter-B" is significant because the aircraft provides Russia with its first heavy, jet-powered, armed, long-range drone capability.
"The Okhotnik's arsenal includes air-to-surface missiles and an array of bombs that will not be suspended from the wings," Vadim Kozyulin from the Russian Academy of Military Sciences said, according to The Aviationist.
Under development since at least 2011, its design has been compared to the U.S.'s Lockheed Martin RQ-170 Sentinel drone, which was used to monitor the military operation that killed Osama Bin Laden in 2011.
The Drive described the Hunter as a "significant achievement" but said there were still questions over its design and exact capabilities.
"It seems likely that the Kremlin is still working on developing its exact concepts of operation for the S-70, and how those might fit together with other platforms, despite the comments on the drone's official expected mission sets, too.
"With Russia's history of deferring, canceling and then reviving advanced combat aircraft programs, it is possible that the overall plans for Okhotnik-B are not necessarily rigid," The Drive reported.