Watch a U.S. Drone Plummet to the Ground After Yemeni Houthi Rebels Shoot It Down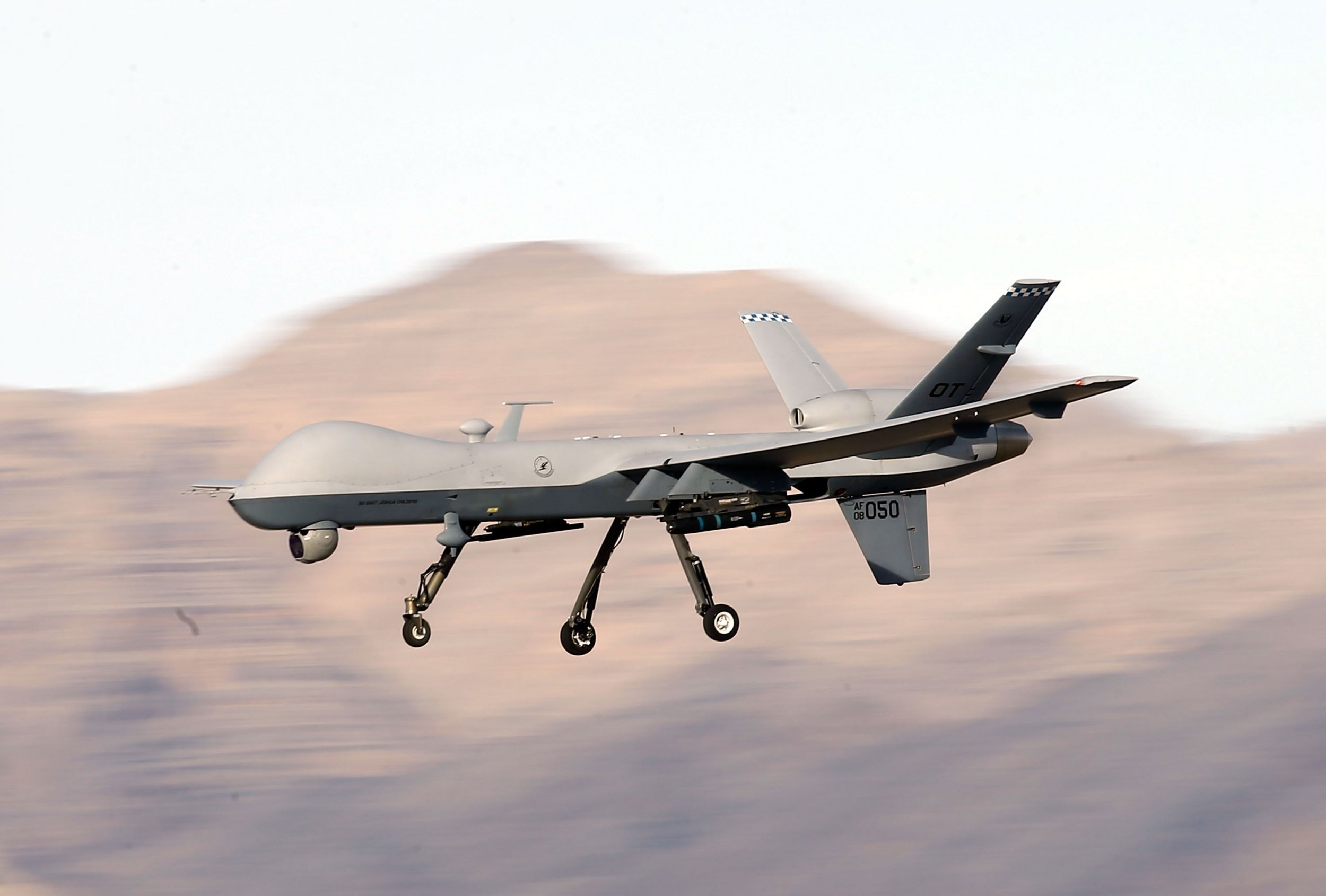 A United States surveillance drone was shot down Sunday by Yemeni Houthi rebels in the country's capital city, Reuters reported, citing the rebel's state news agency SABA, and the aircraft's rapid descent and fiery crash were captured on video.
In the video below, captured by Reuters photographer Babak Taghvaee and later posted to his Twitter account, the drone appears to have been already damaged and winds its way down with a screech.
At first, the drone looks like a plume of smoke, but as it gets closer to the ground its form is clearly visible and it is engulfed in flames. The drone crashes behind a building, but the photographer then heads to the fireball crash site. Others later gather to see the wreckage.
Later, the Houthis carry away the drone's debris and placed them in the back of a Toyota pickup truck, according to Reuters.
https://twitter.com/BabakTaghvaee/status/914769421599723520
"A military source said [Houthi] air defense shot down a U.S. MQ-9 surveillance drone in Jader area in the Sanaa province," SABA reported.
The Houthi rebels are fighting a Saudi Arabia-backed coalition and the internationally recognized government of President Abd-Rabbu Mansour Hadi, and the U.S. is providing intelligence to the coalition. Linked to the country's former president, Ali Abdullah, the Houthis have power in northern Yemen as well as the capital Sanaa, where the drone crashed.
The MQ-9, also called a Reaper, is usually armed but can also be used for surveillance.
U.S. Central Command confirmed the drone was shot down Sunday.
"We assess that an MQ-9 Unmanned Aerial Vehicle was shot down in western Yemen on Oct. 1, 2017. This incident is under investigation," a spokesperson told Military Times.
Along with advising the Saudi-led coalition, the U.S. provides intelligence and "refueling support" to the coalition.
The U.S. military is also focused on a counterterrorism mission against Al-Qaeda in the Arabian Peninsula (AQAP), and since January has conducted over 100 strikes in Yemen targeted at AQAP, according to CNN. The Pentagon did not explain the drone's mission.
Yemen's civil war began in March 2015 and has since led to a major humanitarian crisis. Last week, the United Nations Human Rights Council adopted a resolution that will send investigators to root out potential war crimes. Almost 9,000 people have died during the war and another 48,800 have been injured in airstrikes and other attacks.