Drones to Consider Buying This Christmas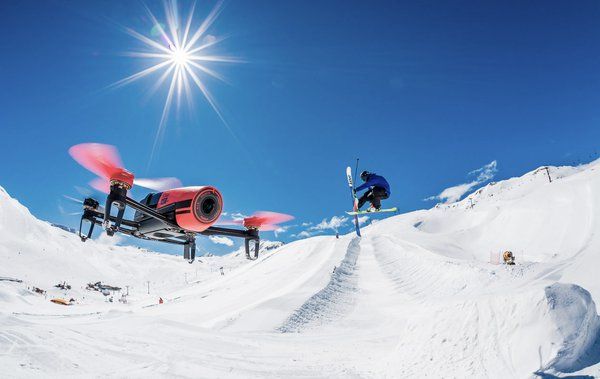 The hoverboard fad seems to have flamed out with increasing concerns over safety. For those who were considering buying one for a child or nephew this Christmas, consumer drones are a great plan B. Much like hoverboards, drones take your kids outdoors, are affordable in most models and are popular among the young and old. And luckily for us, drones won't explode in flight.
If you do decide to buy a drone, you will need to register with the Federal Aviation Administration online. Starting next Monday and continuing until January 20, the $5 registration fee will be waived, so make sure to register while it's free. With that in mind, here are five fun drones to consider flying outdoors this holiday season.
Parrot Bebop ($450)
In the world of mass-consumer drone manufacturing, the French drone manufacturer Parrot is in the top echelons with the DJIs and 3DRs. Although the 7-pound DJI Phantom 3 carries more impressive hardware and cameras than the 3-pound Parrot's Bebop drone, the lightweight Bebop arguably packs more punch on an ounce-by-ounce basis. Equipped with a 14 megapixel "fish-eye" camera, the Bebop takes photos within a 180-degree field of view and has image stabilization. Another added quirk is the ability to fly the Bebop with a smartphone or tablet app. While the Bebop 2 exists, we chose the original Bebop as there don't seem to be big enough changes to warrant shelling out the extra $100 for the newer one.
Parrot Jumping Sumo ($70)
This "minidrone" may be pushing the definition of a drone because it does not fly. It certainly has the body of a drone, but with two large wheels instead of propellers, the Jumping Sumo rolls on the ground and jumps into the air rather than buzzing in flight. The Jumping Sumo can leap up to 31 inches off the ground with a click of a button. At $70, it is a fun, cheap drone to consider. And on the bright side, you'll never have to worry about the Jumping Sumo getting stuck in a tree.
Blade QX3 Quadcopter ($350)
In the vein of the classic quadcopter with the RC transmitter controller, Blade QX3 quadcopter is as reliable as drones get. Its high-definition, image-stabilizing camera shoots 1,080-pixel, 60-frames-per-second videos without any shakes and disturbances even in high winds. In the middle of the machine is an unconventional GPS antenna that enhances its ability to locate its position and reduce electronic interferences from the outside world. For a drone of this quality, $350 is a moderate price to pay.
Haktoys HAK905 Quadcopter ($60)
Considering the sun sets so early nowadays, Haktoys HAK905's neon-blue and green LED lights will really show up this winter, giving off a Tron-like vibe. The HAK905 is a drone more suitable for children or beginners than more experienced drone fliers. The HAK905 can fly up to 350 feet in the air for nearly 9 minutes—impressive stamina for a drone this affordable.
Air Hogs Star Wars Remote Control Ultimate Millennium Falcon Quad ($115)
With Star Wars fever sweeping the globe in recent days, a Millennium Falcon drone is the hottest mini-aircraft on the market right now. The designers have built this with an eye for detail: Not only does the Millennium Falcon actually look like a Millennium Falcon, it also makes authentic sounds and sports glowing LED lights for added visual effect. The technology behind the drone is quite rudimentary, but anyone interested in this is not really looking for the highest-tech drone on the market; they are more likely aiming to feel like Han Solo and his Wookiee sidekick flying through the galaxy.