Drought Map of U.S.: These 11 States Are Suffering From Historic Levels of Extreme Drought
At least 11 U.S. states are experiencing historic levels of extreme drought, many of which are located in the West.
According to a U.S. Drought Monitor map published by the National Drought Mitigation Center at the University of Nebraska-Lincoln, the 11 states experiencing extreme drought conditions are New Mexico; Arizona; California; Nevada; Utah; Oregon; Washington; Montana; North Dakota; Colorado; and Wyoming. Some areas in Idaho and South Dakota are also suffering from extreme drought conditions.
"The drought situation in the western United States continued to worsen after another mostly hot and dry week," the Drought Monitor website said in an update for the current week. "Increases in moderate, severe, extreme (and in a few cases, exceptional) drought coverage occurred in Colorado, Wyoming, Utah, and Montana. Severe drought also expanded in western Idaho. Wildfires and increasing wildfire danger, water restrictions, and damage to agriculture are very common across the West region."
The map lists drought conditions based on severity with "extreme drought" and "exceptional drought" being the two highest, respectively. According to the map, around 56 percent of states in the West are in "extreme drought," and 26 percent are in "exceptional drought."
Around 93 percent of Utah is in "extreme drought," as well as 85 percent of California, 76 percent of Nevada, 86 percent of Arizona, and 63 percent of New Mexico. Each of these states is experiencing higher intensity drought conditions when compared to the previous year, according to the map.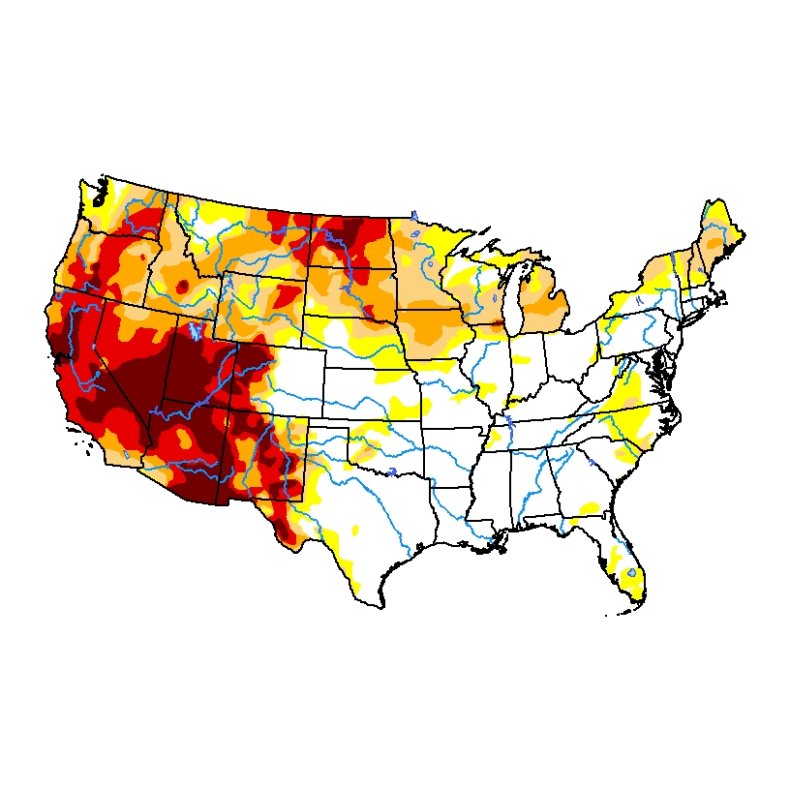 Data from the National Integrated Drought Information System (NIDIS) reported that as of June 22, 38.5 percent of the U.S. was experiencing drought conditions, affecting 94.4 million people.
The NIDIS stated that from 1900 to 2014, scientists have identified 13 "major drought episodes" when at least 10 percent of the country is in drought. According to NIDIS' most recent drought condition update, at least 39.8 of the U.S. is in "moderate drought," 29 percent is in "severe drought," and 18.2 percent is in "extreme drought."
The drought conditions in numerous states across the U.S. come as many have also experienced extreme heat, leading to several wildfires.
Last week, fire officials in California were responding to several different wildfires as the state faced record-breaking high temperatures. The National Weather Service in Los Angeles and San Diego both reported record-breaking temperatures last week as well, including some that exceeded 100 degrees Fahrenheit.
A spokesperson for Cal Fire previously told Newsweek that due to it being so dry and hot in the state over the past week, fire officials "need to be extra vigilant and prepared as we always are and ready for wildfire because at any time they can ignite."
Arizona was also battling several wildfires last week, including the Telegraph Fire that burned more than 180,000 acres and is currently 89 percent contained.
In an interview with The Guardian last week, Kathleen Johnson, a paleoclimatologist at the University of California, Irvine, said: "This current drought is potentially on track to become the worst that we've seen in at least 1,200 years. And the reason is linked directly to human-caused climate change."