Drudge Report Turns on Donald Trump, Says Vladimir Putin 'Dominates' Helsinki Summit
The Drudge Report, a conservative news aggregation outlet, did not shy away from criticizing President Donald Trump Monday after he openly declined to side with the consensus of U.S. intelligence agencies that Russia interfered in the 2016 election.
"Putin Dominates in Hel," the headline on the front page of The Drudge Report said.
After Trump met with Russian President Vladimir Putin in Helsinki, Finland, Monday, the two stood side by side at a press conference, where Trump put stock in Putin's denial of election hacking and railed against the U.S. intelligence community.
"I have great confidence in my intelligence people, but I will tell you that President Putin was extremely strong and powerful in his denial today," Trump said.
"I think that the probe is a disaster for our country," he added of the special counsel investigation into Russian meddling in the election. "I think it's kept us apart. I think it's kept us separated." Putin, for his part, repeated his denial of Russian interference and said the country "has never" and "is not going to" interfere in any U.S. elections.
Outside of the bipartisan outrage from congressional leaders on both sides of the aisle, a number of conservative news outlets and personalities, often willing to fiercely defend the president, came out against Trump's performance in Helsinki.
"Look, I'm no big deal, but today is the final straw for me. I will never support Trump again. If that makes me a NeverTrump, so be it," Joe Walsh, a conservative radio personality from NewsMax, tweeted after the press conference. "I am a tea party conservative, that will never change. But Trump was a traitor to this country today. That must not be accepted. Speak out."
Ben Shapiro, a prominent conservative commentator and editor-in-chief of The Daily Wire, claimed while there was "no solid evidence Trump colluded with Russia" his actions in Helsinki were "self-serving and utterly grotesque."
On Fox Business, conservative commentator and host Neil Cavuto said what Trump did was "disgusting."
"I'm sorry. It's the only way I feel. It's not a right or left thing for me—it's just wrong," he said. "A U.S. president on foreign soil, talking to our biggest enemy or adversary or competitor, is essentially letting the guy get away with this and not even offering a mild criticism. That sets us back a lot."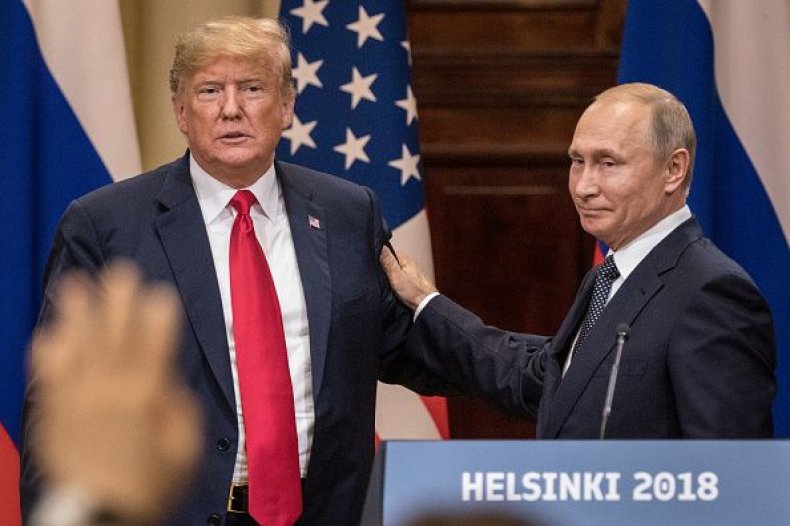 Despite Trump's refusal to press Putin on Russian interference in the 2016 election, multiple U.S. intelligence agencies concluded last year that Russia did interfere.
On Friday, the special counsel tasked with investigating Russian meddling handed down indictments to 12 Russian officials for conspiring to interfere in the election.
Last month, Trump praised The Drudge Report and creator Matt Drudge as "great."
"Drudge is great by the way," Trump said. "Matt Drudge is a great gentleman. He really has the ability to capture stories that people want to see."