Trump Vows to 'Wage War' on Mexican Drug Cartels after 9 U.S. Citizens Killed on Border: 'You Sometimes Need an Army to Defeat an Army'
President Donald Trump has described the people behind the violent deaths of members of an American Mormon family killed in a convoy near the U.S. border as "monsters," vowing to "wage WAR on the drug cartels and wipe them off the face of the earth."
The death toll has climbed to nine and includes three women, two eight-month old twins and four other children, who were members of the LeBaron family that had settled in the hills of northern Mexico years ago.
Footage has emerged showing the remains of one burned out SUV ditched along a road in a remote area.
The motive for the killings on Monday which took place on a dirt road bordering the U.S. between Chihuahua and Sonora states is not yet known, but local media outlets say it may have been a case of mistaken identity, according to the BBC.
Trump appeared to confirm that cartel gunmen were behind the attack, tweeting on Tuesday how the victims "got caught between two vicious drug cartels, who were shooting at each other, with the result being many great American people killed, including young children, and some missing."
He said that if Mexico needed help "cleaning out these monsters," then the U.S. "stands ready, willing & able to get involved and do the job quickly and effectively."
"The great new President of Mexico has made this a big issue, but the cartels have become so large and powerful that you sometimes need an army to defeat an army!" Trump added.
He then followed up with another tweet which said: "This is the time for Mexico, with the help of the United States, to wage WAR on the drug cartels and wipe them off the face of the earth. We merely await a call from your great new president!"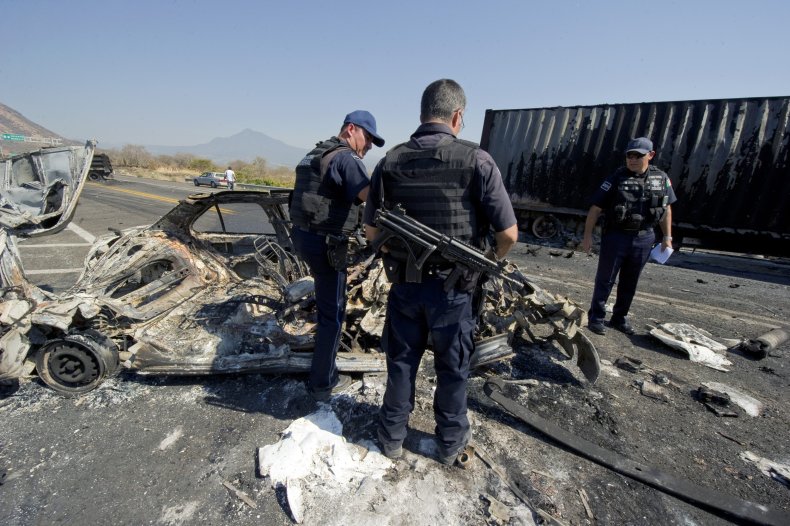 However, the Mexican President Andres Manuel Lopez Obrador, rejected Trump's call for a "war" with the cartels, saying on Tuesday he did not think his country would need foreign help although Mexican authorities would work with their U.S. counterparts.
"The worst that we could see is war," he said. "I always say politics was invented to avoid war...War is irrational. We are for peace. It is a characteristic of this new government," he said, according to CBS News.
The incident follows a number of drug-related attacks in the last few weeks including last month, when a military-style cartel assault forced the government to release the son of the jailed drug kingpin Joaquín "El Chapo" Guzmán, the BBC reported.
After Monday's attack, Jhon LeBaron, one of the relatives, posted on his Facebook page that his aunt and another woman were among the dead, adding that six of his aunt's children had been left abandoned but alive on a roadside.