Drug Deal Goes Wrong When Garbage Bag of Weed Thrown From Roof and Passers-by Grab it
New York residents evidently are taking the state's move to legalize marijuana to heart.
On the night of June 1, a stretch of sidewalk on Eighth Avenue in Brooklyn became the site of a human feeding frenzy as pedestrians rushed to seize handfuls of alleged weed that had seemingly fallen from the sky.
In actuality, a trash bag filled with the drug had been thrown from the rooftop of a nearby building after a drug deal went south, forcing the dealer to jettison his merchandise, according to the New York City Police Department (NYPD).
Earlier that evening, the alleged dealer, 29-year-old Lisheng Xie, brought the bag to a preplanned meeting with 31-year-old Ricardo Diaz and an accomplice on the rooftop, police said, according to the New York Daily News.
While Xie had intended to sell them its contents—19 pounds of alleged marijuana—for $20,000, per the Daily News, they apparently had other ideas. In what an NYPD spokesperson characterized to Newsweek as an "attempted robbery," Diaz and his accomplice pulled a gun on Xie before punching and kicking him, police said.
In response, Xie threw the bag off the rooftop, raining the alleged weed on the sidewalk below, police said. Three pedestrians then rushed over, picked up some of it, and fled the scene, police said, according to the Daily News.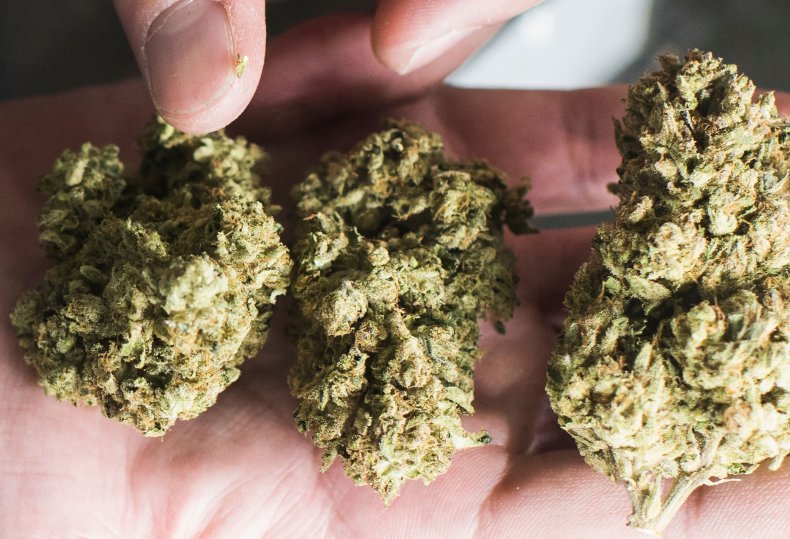 In footage released by the NYPD, the pedestrians appear to be wearing light-colored hoodies. One eventually snatches the bag and runs off with it, seemingly ducking his head as he passes a security camera.
Xie suffered "lacerations to the face and bruises about the body" and was taken to a nearby hospital, according to a press release provided to Newsweek by the spokesperson. Xie was arrested and charged with drug possession after police found him in possession of ketamine, according to the Daily News.
While Diaz's accomplice managed to flee the scene in a black BMW sedan, Diaz fell down a flight of stairs on his way out of the building, injuring his knee and evidently impairing his ability to escape, police said, according to the Daily News. He was arrested and charged with robbery, attempted robbery, assault and possession of a weapon, among other crimes, according to the Daily News.
Xie and Diaz were released without bail. Police have launched a search for Diaz's accomplice, who drove east on 46th Street after entering the BMW, according to the Daily News. He remains at large.
"There are no further details or updates at this time," the spokesperson told Newsweek.
The department is seeking the public's assistance in identifying one of the people—a bearded man wearing or carrying a backpack—seen in the footage.
Updated 06/16/2021, 4:45 p.m. ET: This story has been updated to include comments from the NYPD.