Drug Dealing 'Grandma Stinker' Accused of Selling Marijuana Sent By her Son From California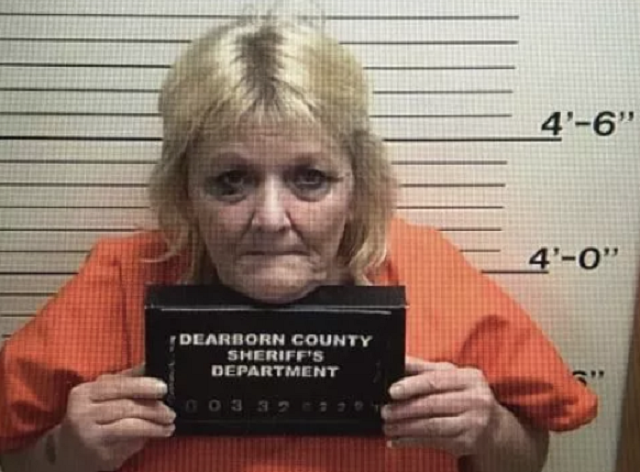 A 58-year-old woman has been arrested on suspicion of operating a large-scale drug dealing operation with the assistance of her son.
Debra Ferguson, of Aurora, Indianapolis, faces several drug-related charges after she was found allegedly receiving regular mail shipments of marijuana from her son Eric Anderson, who lives in Yuba County, California, reports WLWT.
An investigation was launched with the assistance of the United States Postal Service. According to officers, a delivery package containing 720 grams of marijuana addressed to "Grandma Stinker" was made to made out to Ferguson's address.
Police then obtained a warrant to search the 58-year-old's home.
"Officers discovered numerous narcotic prescription medications packaged for delivery along with multiple packages of methamphetamine, drug paraphernalia, packaging supplies, cell phones and an undisclosed amount of cash," Aurora Police Chief Josh Daugherty said.
Ferguson was taken into custody and charged with dealing in methamphetamine, possession of methamphetamine over five grams, corrupt business influence, conspiracy to deal marijuana in an amount over 30 grams, dealing in marijuana, dealing in a narcotic drug, possession of a narcotic and maintaining a common nuisance, reports Eagle County Online.
WLWT reports that Ferguson has admitted to receiving the packages of marijuana sent from her son and sending him money for doing so.
She is currently being held in the Dearborn County Law Enforcement Center on $35,000 cash and $200,000 surety bond.
An warrant has also being put out for Anderson's arrest as part of the investigation. He is wanted on charges of corrupt business influence, conspiracy to deal marijuana, and dealing in marijuana.
Police thanked the members of the public for their help in detaining Ferguson after they received the tip about the packages on February 1.
"Sometimes it takes tips from quite a few people, and for the information to come in and kind of like putting a puzzle together," Dearborn-Ohio County Prosecutor Lynn Deddens told WLWT.