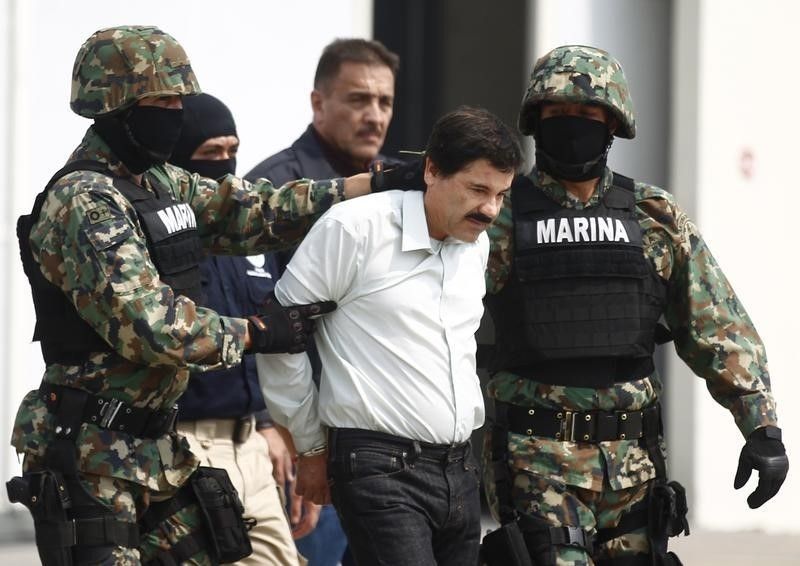 Updated | MEXICO CITY (Reuters) - Mexico's most notorious drug lord, Joaquin "El Chapo" Guzman, escaped from high security prison in a tunnel built under his cell, the government said, his second jailbreak in 15 years and a major embarrassment for President Enrique Pena Nieto.
The kingpin slipped out of the prison through a tunnel more than 1.5 km (1 mile) long that led to a building site in the local town, National Security Commissioner Monte Alejandro Rubidotold a news conference on Sunday.
Guzman, who bribed his way out of prison during a previous escape in 2001, was seen on video entering his shower area at 8.52 p.m. on Saturday, then disappeared, the National Security Commission (CNS) said.
The drug lord, who is also wanted by U.S. prosecutors and once made it on to the Forbes list of billionaires, was gone by the time guards entered his cell in the Altiplano prison in central Mexico and found it empty, the commission said.
Beneath a 50 cm by 50 cm gap in the shower area, guards found a ladder going down some 10 meters into the tunnel, which was about 1.7 meters high and 70-80 centimeters wide.
Prison workers were quickly detained over the escape.
Rubido said 18 officials from the penitentiary had been taken in for interrogation at the unit of the Attorney General's office specializing in organized crime.
Security services called a meeting of their top officials, ordered a massive manhunt for El Chapo, or "Shorty," and shut down the airport in the nearby city of Toluca.
The flight of Guzman, whose exploits made him a legendary figure in villages scattered in the sierra where he grew up in northwestern Mexico, seriously undermines Pena Nieto's pledge to bring order to a country racked by years of gang violence.
The breakout occurred in the State of Mexico, the home state of Pena Nieto, who took office in 2012 vowing to confront the cartels who have killed more than 100,000 people since 2007.
Before his election victory, politicians in Pena Nieto's Institutional Revolutionary Party (PRI) mocked their conservative rivals for letting Guzman escape while they ran the country, saying it would not have happened on their watch.
When news of Guzman's getaway broke, the Mexican president was en route to France.
WANTED BY WASHINGTON
The capo's escape could also strain relations with the United States, which wanted him extradited, said Alberto Islas, a security expert at consultancy Risk Evaluation.
"They were concerned about how dangerous he was, and they had a lack of confidence in the Mexican authorities to stop him operating from jail," he added.
Guzman became one of the world's top crime bosses, running the powerful Sinaloa Cartel, which smuggled billions of dollars worth of cocaine, marijuana and methamphetamines into the United States and fought vicious turf wars with other Mexican gangs.
In 2001, Guzman paid guards to help him slip out of the high security Puente Grande prison near the city of Guadalajara following a previous arrest in 1993.
After eluding capture for 13 years, he was arrested in February 2014 in his home state of Sinaloa.
Government officials vowed Guzman would be recaptured, and security forces fanned out to search roads near the prison some 90 km (60 miles) west of the capital.
A senior law enforcement figure said Guzman's escape had disrupted plans for various security officials who were supposed to be accompanying Pena Nieto to France.
Speaking on condition of anonymity, he was unable to give details on who could have helped Guzman, or where he might be.