Drug Ring Used Cruise Ship Passengers As Mules to Import Cocaine Worth Millions
A member of an international cocaine smuggling ring, whose members used cruise ship passengers as mules to transport millions of dollars worth of drugs from South America to Australia, has been convicted by a New Zealand court.
Frenchman Alexander Steeve Yelengwe Yonkwa-Dingom, 28, was arrested by New Zealand police at a hostel in the town of Paihia, in the north of the country in 2017, according to The New Zealand Herald.
When detained, Yonkwa-Dingom was carrying a backpack containing a large amount of cocaine, worth somewhere between $4.5 and $7.15 million.
In his trial at the High Court in Auckland, the Frenchman pleaded guilty to one charge of possession of cocaine and charges of importing cocaine and failing to carry out obligations in relation to a computer search.
Get your unlimited Newsweek trial >
At least six others were involved in the smuggling operation, a police summary of the plot explained. It was driven by two unnamed French nationals, who recruited others to carry cocaine on cruise ships from South America to Australia.
Four people were sent on the Astor cruise ship, heading to Sydney and due to dock at the end of November 2017. The two Frenchmen then themselves went aboard the Regatta, which was due to travel from the U.S. via South America and New Zealand, before eventually also arriving in Sydney, one week after the Astor.
Yonkwa-Dingom was selected to fly between countries to prepare for the cocaine to be sent and received. He took trips to the U.S. before heading to South America and French Polynesia, the Herald explained.
In early November 2017, Yonkwa-Dingom arrived in Sydney and rented an apartment to await the arrival of the shipments. He was funded by international money transfers and was able to communicate with is fellow narcos through the "Silent Phone" messaging app.
Get your unlimited Newsweek trial >
But the plan was thrown into turmoil when the mules aboard the Astor were caught. Authorities seized around 66 pounds of cocaine from the couriers and filed charges against them. The arrests made the gang nervous, prompting them to amend their scheme.
Rather than wait until the Regatta arrived in Australia, it was decided that Yonkwa-Dingom would receive the drugs when the cruise ship docked in the Bay of Islands in northern New Zealand in December 2017.
When the ship arrived in the Bay of Islands, the two mules left the vessel and cleared customs, keeping an eye out for any signs that their plan had been discovered. Finding no cause for alarm, they returned to the ship and then brought the cocaine back to shore, handing it off to Yonkwa-Dingom.
When the Regatta reached Auckland, customs officials searched the men's cabin searching for drugs. Though none were found, a police drug detector dog reacted to a suitcase in the cabin. Regardless, there was not enough evidence to bring charges, and the men returned to France.
But police were on Yonkwa-Dingom's trail. Customs and police officers tracked and watched him for two weeks, trying to work out whether he had received the cocaine and, if so, pinpointing where he had hidden it.
After two weeks of surveillance, officers moved on the youth hostel where Yonkwa-Dingom had been staying in Paihia, which sits on the Bay of Islands. There, they found the backpack filled with cocaine.
Following his conviction, Yonkwa-Dingom is being held in custody until he is sentenced on September 20, the Herald reported.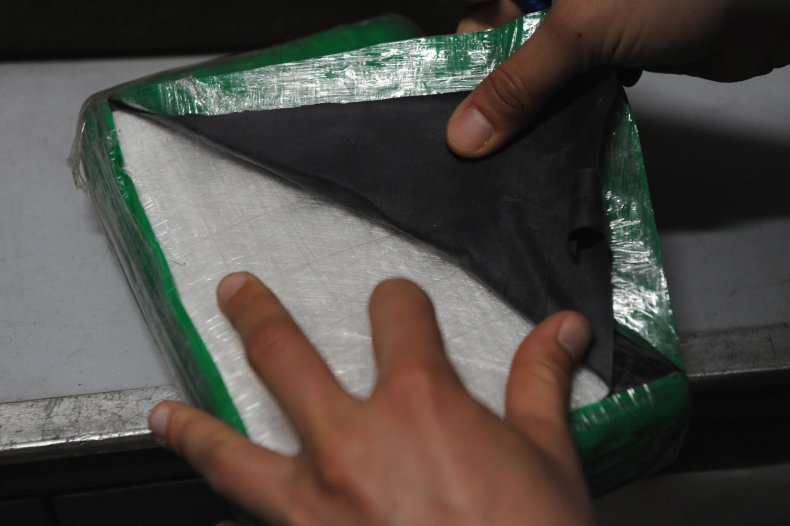 Drug Ring Used Cruise Ship Passengers As Mules to Import Cocaine Worth Millions | News