Drug User Dressed as Police Officer Conducts Fake Raid to Steal Marijuana and Crystal Meth
Daniel Thomas, 36, was sentenced Tuesday to 11½ years in prison for his role in a fake drug bust, The Age has reported. According to police, Thomas and an accomplice dressed as officers, and burst into a Lilydale, Victoria, Australia home demanding drugs.
On July 25, 2016, Thomas and an accomplice walked into an unlocked home in Lilydale — a suburb of Melbourne. The two yelled, "This is a police raid. Get on the floor face down. Where are your drugs?"
The two men in the house gave Thomas their marijuana and crystal methamphetamine, but Thomas believed there were more drugs to be had. Thomas then beat one of his victims with a hammer until the man lost consciousness.
"We've killed your mate. Now tell us where the drugs are," Thomas shouted at the victim when he came to, according to The Age. The other victim had also been hit in the head with a hammer, and had his pants pulled down and buttocks spread in the search for more drugs.
After Thomas and his accomplice left, real police officers arrived. However, the scene was so covered with blood, police took pictures of the victims' bodies, as they would if a murder had happened — only to realize their mistake when one of the victims moved.
The Age reports that when police found Thomas, he attacked an officer with a knife.
"You come near me you f*cking dog c*nt and I'll stab you in the f*cking head and kill you," Thomas said. Police responded by tasering Thomas and pepper-spraying him. According to The Age, Thomas had been injecting crystal meth each day, as well as using GBH, marijuana and heroin. The paper also says Thomas had gone off his antidepressants.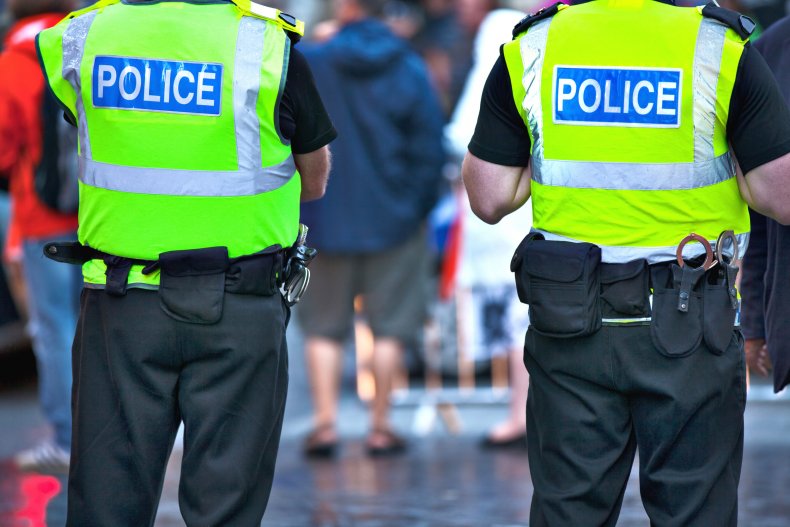 Thomas told the court that he had chosen his victims because one had been involved with his girlfriend. Justice Paul Coghlan, however, did not accept the claim.
"The use of police uniforms, the demand for drugs and money repeated on a number of occasions simply put a lie to that explanation," the judge said.
According to The Age, Thomas' victims have not been able to return to work. The injuries Thomas inflicted are expected to affect his victims for their entire lives. Thomas himself is believed to have a permanent brain injury after being hit with a cricket bat ten years ago during a road-rage incident.
The Age reports that Thomas has not taken drugs since his arrest, and has applied to work with prisoners with mental challenges.