Teenager Arrested for Allegedly Smuggling Drugs Across the U.S.-Mexico Border With a Remote-Controlled Car
A teenage boy has been arrested on suspicion of smuggling drugs across the U.S.-Mexico border using a remote control car.
On November 17, Border Patrol agents spotted a person holding two duffel bags while walking along the secondary border wall "ducking in-and-out" of their view.
One of the agents then saw the teenager hiding in a thick bush near Otay Mesa Port of Entry border. The suspect, later revealed to be a 16-year-old U.S. citizen, was carrying a remote controlled car along with the two bags.
While being questioned, the agent found that the boy was carrying 50 packages of methamphetamine, weighing more than 55 pounds. Authorities estimate the seized drugs had a street value of $106,096.
The 16-year-old was then arrested and taken to a nearby station, where he will face drug smuggling charges.
Border Patrol spokesman Theron Francisco told The San Diego Union-Tribune that the remote controlled car would have had to "make multiple runs and go back and forth" in order to take the drugs past the border.
"There is no way he would have been able to do it in one trip," he said.
San Diego Sector Chief Patrol Agent Douglas Harrison added in a statement: "I am extremely proud of the agents' heightened vigilance and hard work in stopping this unusual smuggling scheme."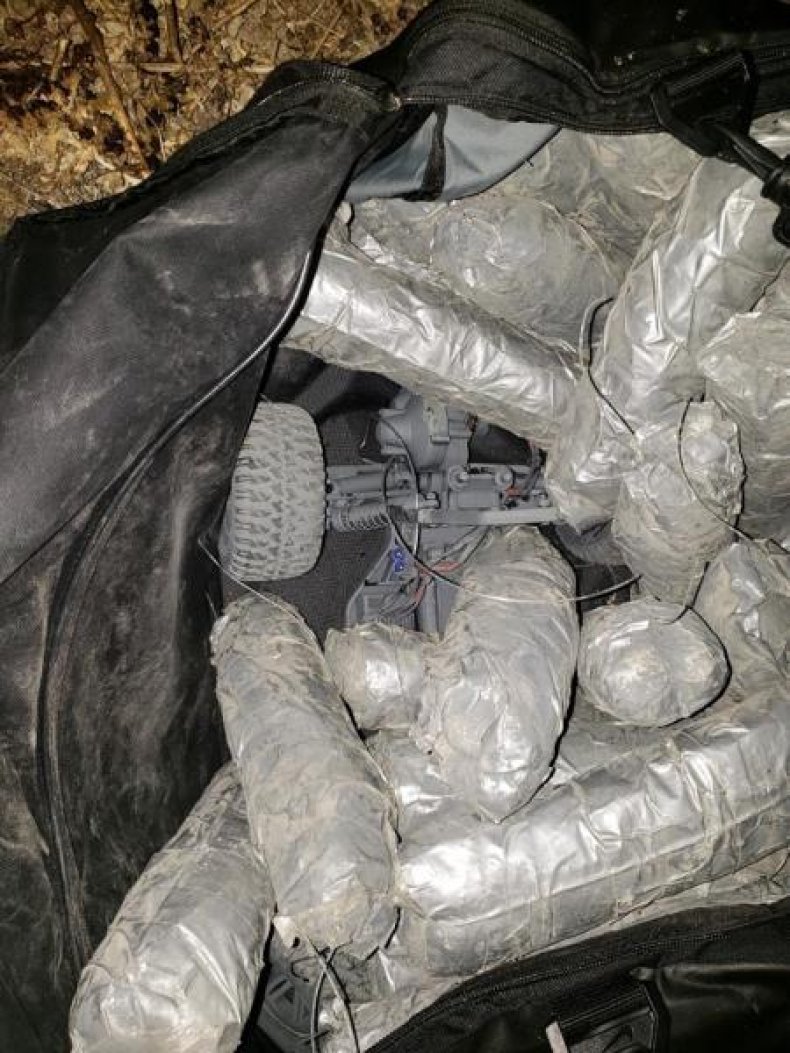 In August 2017, a 25-year-old man was arrested on suspicion of using a drone to smuggle 13 pounds of meth over the border fence into the U.S.
Jorge Rivera was arrested by Border Agents after they spotted the remote controlled drone flying over a fence around two miles from the San Ysidro Port of Entry.
When Rivera was approached by agents near the border at Servano Avenue and Valentino Street, he was in possession of a large bag filled with bundles of meth which had a street value of around $46,000. The drone was also found hidden in a nearby bush.
"Due to the agents' heightened vigilance, this drone smuggling scheme was stopped before these dangerous narcotics could enter our communities," Acting Assistant Chief Patrol Agent Boone Smith said at the time.
Rivera was charged with drug smuggling offenses. He was sentenced to 12 years in jail in January 2018.
"We appreciate the determination, persistence, and hard work of all law enforcement partners involved in the case," Deputy Chief Patrol Agent Roy D. Villareal said after Rivera was sentenced.
"The United States Attorney's Office and its diligent efforts have resulted in a successful prosecution and conviction, and a sentencing that should deter this type of criminal activity in the future."