Drunk Florida Man Drives Lawnmower Down Highway, Tells Cop 'Just Take Me to Jail'
Body camera footage captured an inebriated Florida man asking a sheriff's deputy to take him to jail after being caught driving his lawnmower in the middle of a highway.
A Marion County sheriff's deputy arrested the man, Paul Burke, on a DUI charge. Burke has had three prior DUI convictions, according to a post on the sheriff's office Facebook page.
Footage from the incident, which occurred August 5, shows Deputy Richard Jentsch driving behind Burke, who was riding his lawnmower down Highway 316 in Fort McCoy, located about 100 miles north of Orlando.
Jentsch pulled Burke over and asked how much Burke had had to drink that night, to which Burke replied "a couple." Burke said he wasn't going to lie after the deputy pressed him, adding that he was on his way home.
"Are you going to take me to jail or not?" Burke asked Jentsch, who told Burke he would conduct some field sobriety exercises. "There's no sense in it…cause I've been drinking," Burke responded.
Burke initially attempted to do the field sobriety exercises, but had trouble walking and standing still, the video shows. Burke admitted to Jentsch he did not have a driver's license, and offered to instead give Jentsch his ID, saying he was "trying to be a nicest guy as I can."
Burke then insisted that he was unable to do the field sobriety exercises, telling Jentsch again that he had "been drinking too much" and couldn't walk. Jentsch informed Burke he was operating a motor vehicle while under the influence and driving down the middle of the highway.
"Well, can we just give me a ticket and be done with that?" Burke told Jentsch, who asked again if Burke wished to do the field sobriety exercises.
"No sir, just take me to jail," Burke replied. The footage ends with Jentsch asking Burke to put his hands behind his back.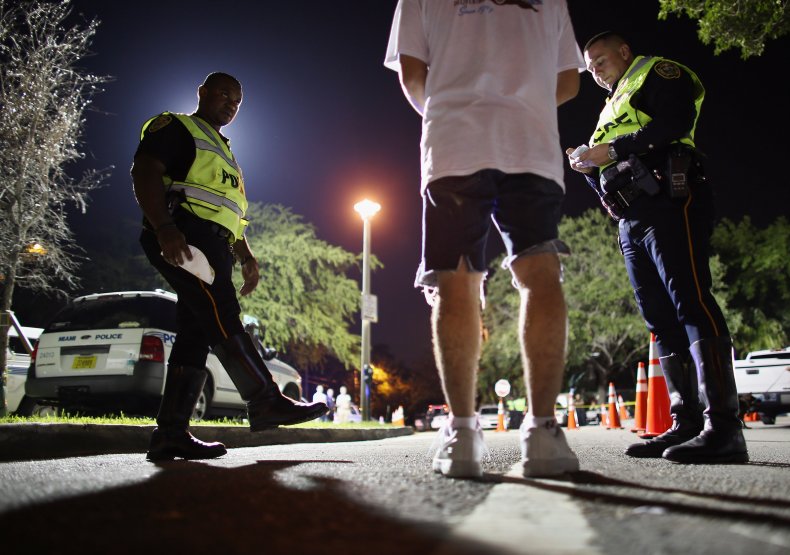 Burke has had his driver's license suspended or revoked seven times because of DUIs or refusing to submit to a Breathalyzer, according to a slide at the end of the footage, which was provided by the Marion County Sheriff's Office and posted to its Facebook page.
When Jentsch made contact with Burke on this particular occasion, the deputy "could smell the alcohol coming from his breath and his speech was slurred."
"Driving a lawnmower in the middle of a road where the speed limit is 55mph is dangerous and illegal…add being drunk into the mix, it can be come fatal," according to the post, which has been shared more than 150 times.
Paul Bloom, a spokesman for the sheriff's office, told Newsweek that Florida's public record laws state that any case closed by arrest can become public record, with few exceptions. The office decides to post on Facebook cases related to wanted persons, photos of criminals the office hopes to identify and crime prevention methods.
In this particular instance, Bloom wrote that the post about Burke's DUI was meant to "hopefully discourage others from the dangers of taking to the road in an intoxicated state."
"In short, our page is intended to be informative and educational while still being entertaining and connecting with our community," Bloom said.
The office charged Burke with two felonies, including a fourth or subsequent DUI offense and a third or subsequent moving traffic violation with a suspended license. The office also charged Burke with one misdemeanor crime, refusing to submit to a blood alcohol test while having a suspended license, according to the office's inmate records.
Burke was released August 7 after posting bond, the records show. He has appeared in the office's inmate system at least 14 other times, with incidents dating as far back as 1990.
Update (08/11/20, 4:14 p.m.): This article has been updated to include comments from the Marion County Sheriff's Office.