'Drunk History' Reenacts Donald Trump's Questionable Retelling of the Civil War on 'The Daily Show'
Comedy Central's Drunk History host Derek Waters joined The Daily Show's Trevor Noah Monday night to present "Trump History." Using President Donald Trump's Civil War-inspired speech from an October rally as the subject for the reenactment, Waters first appears with a drink in his hand and Trump on a television screen sitting opposite of him.
"Thanks for joining us," Waters says as he raises his glass to the screen. "So, what are we going to learn about today?"
The following three-minute clip takes viewers on the wild ride of Trump's questionable history of the rise of Abraham Lincoln and Ulysses S. Grant's drinking problem.
"Our first Republican president, Abraham Lincoln, ran his first campaign for public office in 1832 when he was only 23 years old," the president voices over as Waters appears dressed up like Lincoln.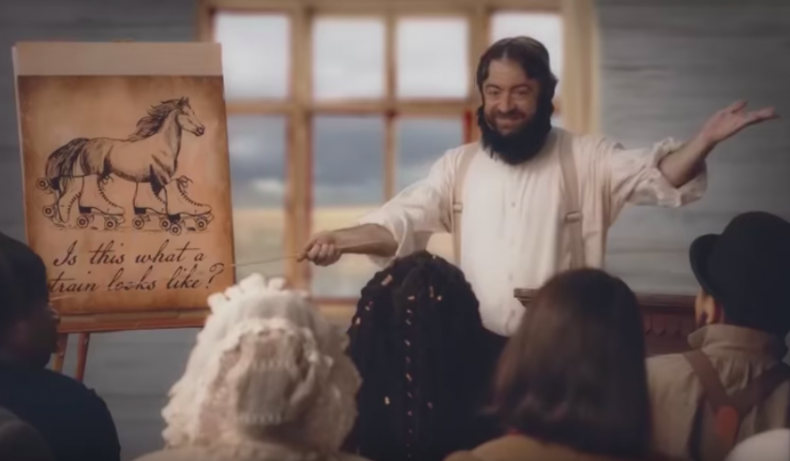 While Drunk History mainly gets its laughs from intoxicated celebrities slurring words during the history lesson, this reenactment arguably featured the first sober-slur—Trump's difficulty with the word "imagining."
Following Trump's telling of the birth of the Transcontinental Railroad, he then brags about Lincoln's political party—that, according to him, no one really was aware of.
"Most people don't even know he was a Republican, right?" Trump says during the rally. "Does anyone know? A lot of people don't know that."
"I knew but, yeah, sure," Waters responds in the clip.
Trump's rally speech then transitions to a lesson on the Civil War: "I'll tell you what. Abraham Lincoln came home. He said, 'I can't beat Robert E. Lee.' He had all of his generals—they look great. They were at the top of their class at West Point. They were the greatest people."
"There was only one problem. They didn't know how the hell to win. They didn't know how to fight. They didn't know how and one day it was looking really bad," he continued.
Trump then said Lincoln pointed to Grant—"hardly knew his name"—and chose him as the next war leader. But there was a problem, as Trump narrated and Drunk History actors mouthed: "He's got a drinking problem."
But Lincoln responded, according to the current president, "I don't care what problem he has, you guys aren't winning."
As crowds from the October rally can be heard cheering, Drunk History reenacts Grant knocking "the hell out of everyone," while taking swigs from his flask on the side. With triumphant music in the background, the camera returns to Trump saying: "Grant really did. He had a serious drinking problem ... but man, he was a good general, and he's finally being recognized as a great general."
The camera then turns to Waters, eyes wide, saying: "Sure is, yeah."
Following Monday's airing, many took to Twitter applauding the skit and asking for more.
Drunk History will return to Comedy Central Tuesday night at 9 p.m. ET, featuring actor Seth Rogen as Dr. Frankestein.