Drunk New York 'Coward' Who Abandoned Friend to Die in Fiery Car Crash Receives Lengthy Sentence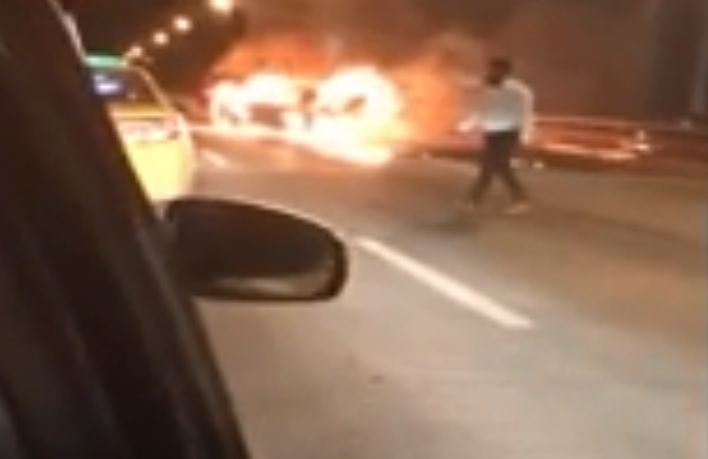 A man who left his friend to burn alive in his car after he drunkenly crashed it on a New York highway has been sentenced.
Saeed Ahmad, 24, has been jailed for 12 years after admitting to leaving the scene of the crash without calling 911 while 25-year-old Harleen Grewal was still inside the burning wreckage.
Prosecutors said Ahmad was driving at an "excessive rate of speed" while attempting to pass other vehicles on the highway before crashing into a side barrier between the Hamilton Avenue and the Prospect Expressway exits, causing his Infinity sedan to explode.
Footage obtained by ABC 7 shows Ahmad callously hailing a cab and asking for a ride to flee the scene while his vehicle is engulfed in flames behind him on the Gowanus Expressway on October 2017.
Grewal's remains were recovered from inside the car after firefighters had extinguished the blaze. Ahmad was found to be above the legal blood alcohol driving limit and his license was suspended at the time.
"He had all the intentions to hurt one or more people on that day when he sat behind the wheel without a driver's license drunk, speeding and killing our daughter," Grewal's mother, Raejinder Singh, told the Supreme Court in Brooklyn ahead of Ahmad's sentencing, reports New York Daily News.
"Adding insult to her burning alive, he turned his back, took a cab casually with the intent that she burns to ashes and no one will know who was there.
"He took cover to hide himself like a coward, selfish. Only he was important in that moment. He knew Harleen is there. He did not tell anyone or call 911. Why?" Singh said.
Ahmad pleaded guilty to second-degree manslaughter on November 27, 2018 in exchange for a more lenient prison sentence. Appearing at the Brooklyn Supreme Court for sentencing, the defendant said that his "heart is aching with pain due to me being responsible for the loss of a very precious life," reports the New York Post.
Announcing the sentencing, Brooklyn District Attorney Eric Gonzalez said in a statement: "This defendant's senseless and reckless actions caused the death of a young woman who had her entire life ahead of her."