Drunk Man Invades Polish Town Driving a Soviet Tank
The 40-ton armored vehicle tore through the streets of Pajęczno, Poland, shortly before 10pm.
A drunk driver was arrested last week for maneuvering a tank through the streets of Pajęczno, Poland.
The vehicle, a Soviet T-55 tank that's at least 60 years old, belonged to the Polish military. But on June 12 shortly before 10pm it looked like it was attacking residents, who quickly called police.
According to Polish newspaper Twoje Pajęczno, the unnamed driver, 49, was only responsible for putting the tank on and off its trailer. But the trailer had broken and, while it was being repaired, he drunkenly decided to take the war machine out on a joyride.
By the time the cops arrived, he had parked the 40-ton machine on a main street and was standing nearby. Another man, believed to be his passenger, was also present.
It's not clear if the muddled motorist caused any permanent damage to Mickiewicza Street but he was arrested and, once he sobered up, questioned by police. He faces up to eight years in prison if charged with creating "direct danger of a catastrophe in land, water or air traffic," or two years for driving under the influence.
The armored vehicle had to sit until 5am the following morning, when an ex-soldier who knew how to operate it could come load it onto a tow truck and take it to a guarded parking lot.
Located about 200 miles from Warsaw, Pajęczno has less than 7,000 residents.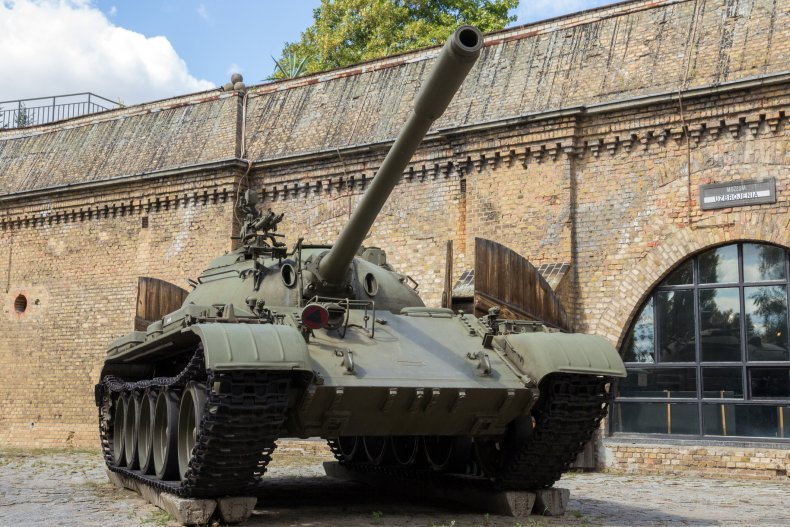 Introduced shortly after WWII, T-54s and T-55s became the go-to tanks for armored army divisions belonging to the Soviets, Warsaw Pact nations and other countries. The most-produced tanks in military history, they've been involved in many armed skirmishes since the 1950s and '60s. The T-55 is reportedly easier to operate than comparable tanks designed in the West, and does not require a high level of training or education.
Last year, a Russian man was nabbed after stealing an armored personnel carrier and riding it through the front of a local supermarket.
According to RIA Novosti, the culprit stole the vehicle from a military driving school near his home in Apatity, just south of the Arctic Circle, in January 2018. He drove the juggernaut through town, badly damaging a parked car before smashing into the grocery.
The unnamed suspect—also believed to be intoxicated at the time—climbed out of the hatch, made his way through the rubble and tried to steal a bottle of wine before he was apprehended by authorities.
The store was reportedly not licensed to sell alcohol that early in the day.