If they gave out grades for people's contributions to society, Janan Faraj Falah would get an A+. Then again, she was the first Druze woman to receive a PhD in Israel and has always been an excellent student.
As a lecturer and researcher at Western Galilee College in multiculturalism, and founder of the Akko Women Vision Association (AWVA) in 2003 in the city of Acre (Akko), Western Galilee, Falah works indefatigably to connect people.
It's no wonder that she received the 2017 Jerusalem Unity Prize for her contributions to Israel (the first non-Jew to receive this prestigious award) as well as the 2016 Rappaport Prize for women generating change in Israeli society.
Falah and her husband, Iyad, a lawyer, like entertaining guests in their spacious apartment in Akko. They have three sons: Safy, 31, a physician; Razy, 28, a lawyer; and Gady, 15, a high school student.
Tall, with long blondish hair, Falah carries herself with a serene, almost regal composure. In her interactions, she confers that same sense of dignity to others.
I sat in their living room as she set out a finjan of Turkish coffee, dates, nuts and Middle Eastern pastries. The room was decorated with an eclectic mix of furniture and art, including some of Falah's own oil paintings. Outside the window stretches the Mediterranean Sea. Her home seems like the junction of East and West.
When Falah was growing up as the oldest of six children, she was exposed to a wide variety of people who visited her parents' Akko home.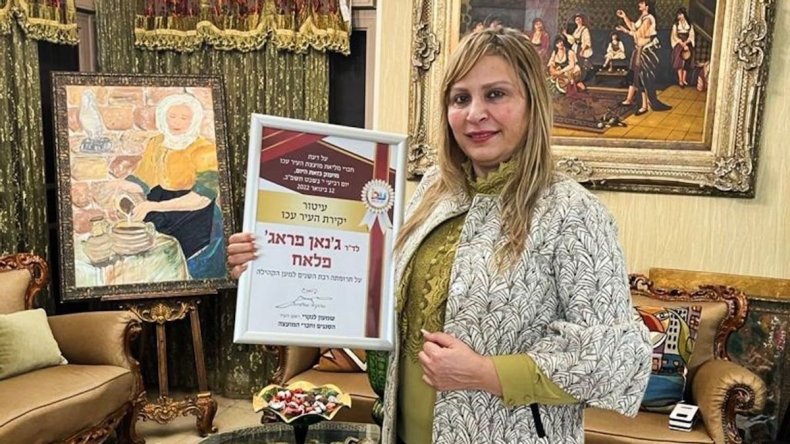 Although Falah's mother's generation of Druze women in Galilee villages was mostly illiterate, her mother went to school in a nearby village with Christians, continued her studies and became a teacher and then the principal of a school. Her father was a judge in the Akko District Court.
Falah said that her parents' love of learning was passed on to their children.
"I wanted to learn about art, politics, literature. I never questioned my right to study," she said. "I worked hard. I was always the best in my class."
It was important to her parents, she said, that she and her siblings also learn about other people.
"Even today," Falah said, "I think about how we say 'good morning' to people and make assumptions because of the color of their skin, their religion, or their profession, but we really don't know them in depth."
She said that Western Galilee College students often approach her privately to share their concerns and their secrets.
"Why do you think that is?" I asked.
"I allow open discussions," she said. "Young people want real advice." Then she paused.
"Maybe it's because of my calm personality. I don't know. There are some things that have no explanations."
Advancing women, connecting Arabs and Jews
Falah began AWVA in 2003 with two goals: advancing the status of women and connecting Arabs and Jews. About 50 active members meet on a regular basis.
"I've brought together women who would have never met — illiterate women and professionals, young and old, Christian and Bahá'í women, religious Jewish women and women from the Islamic Movement."
The group has held art exhibits in Akko's City Hall, sponsored city-wide poetry contests in Arabic and Hebrew, organized workshops on diabetes, memoir writing, arts and homemade crafts.
Members traveled together to meet Palestinian women at the Golda Meir Mashav-Carmel International Training Center in Haifa as well as to Jericho. Falah said her group also received a donation to erect a "peace playground" in the heart of Akko.
"When we set up the playground, people from the community came to help," Falah said.
Falah said the group has a "ripple effect." In fact, she has published research papers on how women's groups influence not only women but their families and the community around them.
Akko's Mayor, Shimon Lankri, donated a bomb shelter for the group's meeting place.
"We took a shelter that is used in the time of war and said, 'Let's make it into a symbol and house of peace," Falah said.
The first activity of the group was to visit a synagogue, a church and a mosque. "The goal was simply to understand and respect one another's beliefs," said Falah. As a Druze, she added, "I can be a bridge between Arabs and Jews. I speak both languages and I know both mentalities."
Interested in the soul
The Druze, who number about one million worldwide, are a monotheistic offshoot of Islam but do not consider themselves Muslim. There are approximately 143,000 Druze in Israel.
"The Druze people are spiritual," she said. "We are interested in the soul. We don't have an interest in Jerusalem, let's say, or a desire to rule the land."
She takes the Druze religion seriously, explaining that she wants her three sons to marry within their faith.
"What about Amal Alamuddin who married George Clooney?" I asked.
She laughed and said, "When I spoke about her marriage with my sons, one of them joked, 'Mom, if George Clooney asked me to marry him, I would say yes!'"
As serious as she is, Falah likes to laugh, and even published a research paper of the importance of humor for elderly Arab women.
She is working on an updated edition of her 2005 book, "The Druze Woman," which concerns the status of Druze women in Israel in the context of religion and Druze law.
She has traveled to various cities in the United States as well as to Hungary with Israeli delegations, sharing her experiences as well as her research on topics such as widows in Druze society and intermarriage between Druze men and non-Druze women.
Falah also speaks to students via Zoom in Mexico, Budapest and Morocco about multiculturalism and women's identity.
Then, in the middle of our conversation, she burst out, "Did you hear the news? A man killed a woman yesterday in the center of Israel! I don't know what religion they were. All I know is that even though women's status has changed, we are still subjected to violence."
She encourages women to get educated and find work that suits them. Yet at the same time, she turned down two high-level positions in Jerusalem because she wants to spend enough time at home with her husband and children.
"Family is important to me," she said. "It doesn't matter who cooks or cleans, it's how people respect each other."
A sign from above
Since the women's group began almost 20 years ago, there have been wars and waves of violence on a local and national level.
"Do you ever want to give up your work when things get tense between Arabs and Jews?" I asked her.
"I take the time to calm myself down," she said. "Even if I'm mad, it passes quickly. I remain optimistic because without optimism in our world, we will never be able to accomplish difficult things. That's the only outlook I have. I can influence people and I believe in my path. I can't escape this fate."
"Is this a Druze concept?"
"Yes," she said. "Israel is a democratic nation so even if we love or don't love one another, we must learn to live together."
A longtime member of the group, Ettie Shemesh, said that "Janan is a fighter, but she's a fighter for peace."
And although Falah sometimes thinks about quitting her volunteer work, people in Akko urge her to continue.
"On a recent Saturday, I happened to see the chief rabbi of Akko who told me not to quit," she said. "It must have been a sign from above."
This story was provided to Newsweek by Zenger News.