Dinesh D'Souza Taunts Obama Administration on Twitter, Television After Donald Trump Pardon
Dinesh D'Souza taunted former President Barack Obama in a variety of media appearances Thursday following news that President Trump would pardon him four years after he pleaded guilty to campaign finance violations.
D'Souza joined Fox News host Laura Ingraham on her radio show in the hours after the announcement to not only express his excitement at dropping the weekly court-mandated community service requirement ("That's very difficult to do if you're trying to have a productive life," he said), but also take aim at former President Obama, whom he linked to his legal troubles.
"What my case shows in miniature is how Obama, and Hillary, too, have gangster-ized U.S. politics," he said.
D'Souza argued that Preet Bharara, the former United States attorney for the Southern District of New York, only indicted him to "endear himself to the Obama team."
"I think Bharara's ambition was that he would prove that by getting a fellow Indian, he would endear himself to the Obama team," he said. "So it was a move of ambition as I understand it."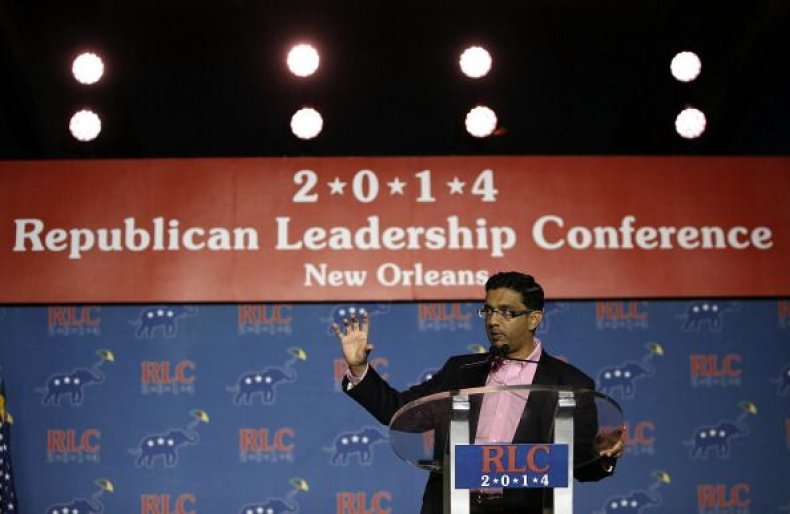 D'Souza also put forward, without evidence, that his conviction was a retaliation by the Obama administration for his movie, 2016: Obama's America, a film advertised as "The movie the White House doesn't want you to see."
Bharara addressed the pardon in a tweet Thursday. "The President has the right to pardon but the facts are these: D'Souza intentionally broke the law, voluntarily pled guilty, apologized for his conduct & the judge found no unfairness. The career prosecutors and agents did their job," he said. "Period."
D'Souza continued taunt the Obama administration Friday on Twitter where he wrote, "Obama and his stooges tried to extinguish my American dream and destroy my faith in America."
On Fox and Friends Friday morning, D'Souza told the show's hosts his prosecution was a "vindictive political hit" that "left a cloud over me."
D'Souza added he didn't know a pardon was coming and that Trump called his cellphone to let him know his decision. "He said that, 'I got to tell you man-to-man, you've been screwed,'" D'Souza said of Trump's call.
D'Souza pleaded guilty in 2014 to making illegal campaign contributions to a college friend of his running for Senate. He was sentenced to five years probation, with eight months in a "community confinement center" or halfway house, and fined $30,000.