Dua Lipa Speaks Out After Fans Were Forcibly Removed From Shanghai Concert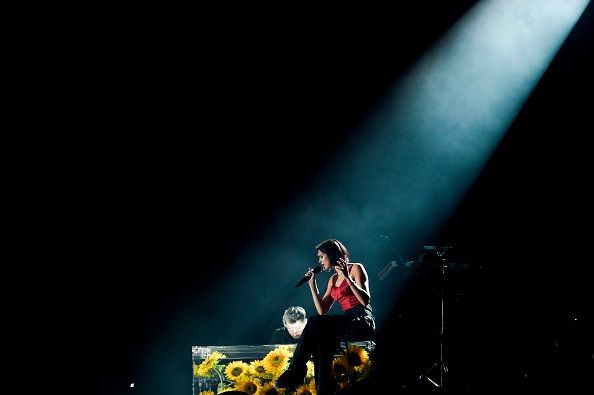 Fans were forcibly removed from a Dua Lipa concert in Shanghai on Wednesday.
Multiple videos from those attending the concert show security guards pulling fans from their seats and removing them from the venue. The fans were reportedly removed for standing during the performance and, at times, for dancing in their seats.
Lipa released a statement via her Twitter on Thursday regarding the incidents.
"Last night I did it for my fans. A promised show. I stood by them, sang with them and danced with them," she wrote. "I will stand by you all for your love and beliefs and I am proud and grateful that you felt safe enough to show your pride at my show.
"What you did takes a lot of bravery. I always want my music to bring strength, hope and unity," Lipa continued. "I was horrified by what happened and I send love to all my fans involved. I would love to come back for my fans when the time is right and hopefully see a room full of rainbows. I love you Shanghai."
This was Lipa's first time touring in China. She played a show in Guangzhou, China, prior to Shanghai's.
"I want to create a really safe environment for us all to have fun," Lipa tearfully told the crowd toward the end of her show. "I want us all to dance. I want us all to sing, I want us all to just have a really good time. I would love in these last few songs for us to really, really, really enjoy ourselves."
Shanghai is known as a particularly difficult place for foreign musical acts to book shows, the BBC reported on Thursday, and the use of aggressive crowd control tactics is also not uncommon. China's Ministry of Culture must run background checks on the artists and their team before they can perform there and are also reported to request set lists at least five months in advance in order to approve the lyric content. For example, Jay-Z was not allowed to play in Shanghai in 2006 due to his "vulgar lyrics."
It was suggested that some fans were removed for waving pro-gay rights flags during the concert, but this has not been confirmed. Homosexuality was decriminalized in China in 1997. Weibo, the Chinese equivalent to Twitter, also reversed its ban on LGBT content in April after an outcry on social media.