Dua Lipa's Lace Wedding Outfit Divides Fans: 'That's Cringe'
Dua Lipa's wedding outfit has the internet divided.
The "Levitating" singer, 26, shared several photos on Instagram and Twitter of the lacy look, which appeared to be white. "Wedding season," she captioned the snaps, alongside several pink bow emojis.
Fans quickly commented on the images, with many hinting she would upstage the bride. "White dress on not her wedding? That's cringe and low self-esteem, " one Instagram user wrote, while another sarcastically added: "Yeah. White is always the best."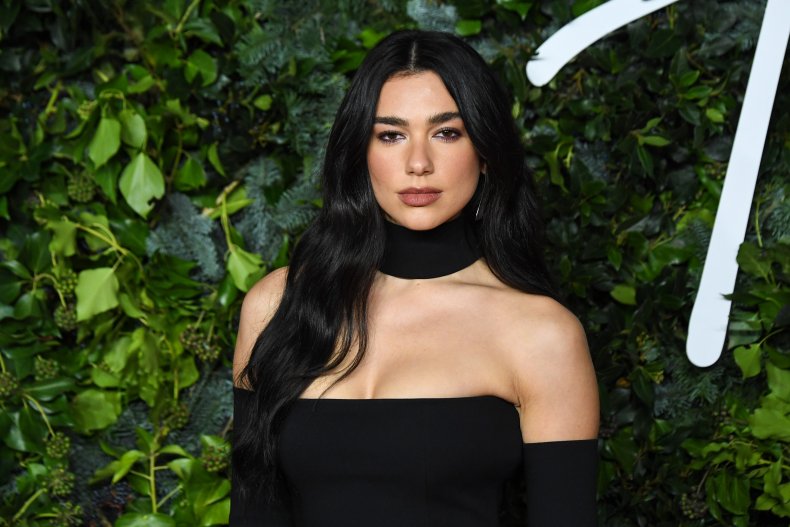 On Twitter, a third reluctantly called out the London native. "Rare L from my Queen," they said. "If it's your wedding, you should put a stop to it now. If it's not your wedding, why tf are you wearing white?"
Several did come to her defense though. As one fan pointed out: "It's not even white," while another agreed: "It's lilac."
Hours later, Lipa received backlash yet again while walking the runway at Balenciaga's show during Haute Couture Fashion Week in Paris. In a video shared via Vogue, the Grammy-winner wore a yellow mini dress with a long train and black tights. She was joined by fellow A-listers Kim Kardashian, Naomi Campbell, Nicole Kidman and Bella Hadid.
Overall, fans were less than impressed. "This looks like a parody. So weird," someone said, while a second asked: "Why are they all walking so strangely and why wouldn't they choose a venue with door openings large enough for the dresses to fit through?"
The brunette babe has "always loved dressing up," she told The Cut in a 2017 interview. "I like how powerful fashion makes me feel. I live for that grungy-prissy juxtaposition that Kate Moss, Naomi Campbell and Drew Barrymore wore in the '90s."
According to the outlet, her style is a mix of sporty and girly, and she doesn't necessarily follow what's "in" or "out."
"I want fans to remember my shows by the outfits I wear, and every time I try to be different, especially now that I'm on tour," she said at the time.
While the songstress has yet to respond to the wedding criticism, she hasn't been one to shy away from clapping back in the past. In 2021, the "Don't Stop Now" superstar took to Instagram Live to celebrate the four-year anniversary of her debut album Dua Lipa while thanking her haters.
"I'm so grateful for all the incredible opportunities, the amazing people I met, all the incredible lessons that I learnt," she told her followers. "Touring for like three years [and] getting bullied online which made me want to dance my a** off and just really get better, so thank you so much."
Lipa, whose name means "love" in Albanian, continued: "For all things good and bad, for helping me grow. I'm forever grateful and I'm excited for you guys to see what we've got coming up next."
Lipa is currently on her Future Nostalgia Tour, the fifth one in her career. She announced the dates in December 2019, originally for the following year. However, it was postponed due to the ongoing COVID-19 pandemic.