Watch World's First Flight of Automated Flying Taxi Soaring Over Dubai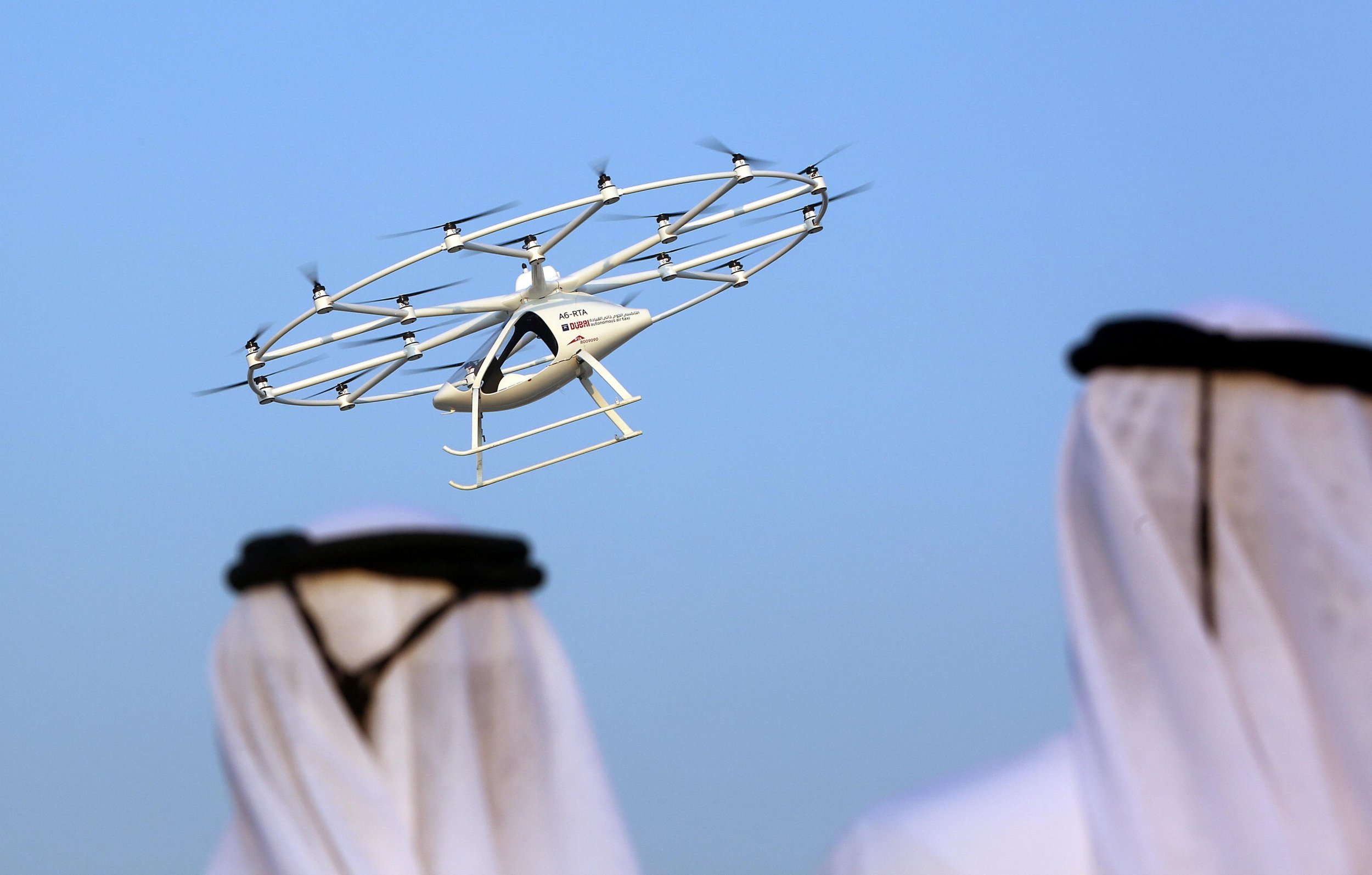 New footage has shown the maiden voyage of what inventors hope will be the world's first unmanned aerial taxi service over the futuristic skyline of the Emirate city of Dubai.
Officials in Dubai had said it was their ambition to begin trials of the electric service by the end of 2017. The emirate's authorities aim to implement a fully operational driverless flying taxi service by 2022.
Related: World's first automated flying taxis will soar over Emirati city
The video, created by the developers of the fleet of taxis, Volocopter, shows the test flight of an unmanned aerial vehicle (UAV) flying from an airstrip just outside Dubai's city limits. As it banks and turns, the drone taxi soars in front of Dubai's iconic skyline and the world's tallest building, the Burj Khalifa.
Sheikh Hamdan bin Mohammed bin Rashid Al Maktoum, the Crown Prince of Dubai, attended the maiden flight and praised the success of the developing technology.
"We are glad to witness today the test flight of the autonomous air taxi," the crown prince said. "This is another testament to our commitment to driving positive change. We are constantly exploring opportunities to serve the community and advance the prosperity and happiness of society."
Hamdan said adopting advanced innovative technologies and applications that help to enhance services for the community was key to topping global competitiveness rankings.
"Encouraging innovation and adopting the latest technologies contribute not only to the country's development, but also build bridges into the future," he added.
The 18-rotored, white UAV still has to undergo a five-year period of testing by the emirate's Road Transport Authority and its Civil Aviation Authority before it comes into fruition.
The project is part of a drive to make Dubai the world's "smartest city"; one of its key goals is to improve integration between Dubai's mass transit modes to allow fast and innovative transportation.
Dubai has said it aims to make 25 percent of its passenger transport autonomous by 2030.
Volocopter, a German firm, was awarded the contract to create Dubai's flying taxis after it launched the first helicopter powered solely by electricity in 2011.
Its current prototype version has a maximum flight time of approximately 30 minutes at a cruise speed of 50 km/h, and a maximum airspeed of 100 km/h. The plan is that all these features will evolve in the production vehicles.