Ducey: Drugs 'Slipping Through the Cracks' as Overdoses Lead Youth Deaths in Border Town
Arizona Governor Doug Ducey raised concerns Wednesday about illegal drugs that he said were "slipping through the cracks" after coming into the U.S. through the U.S.-Mexico border.
Ducey joined nine other Republican governors in Texas on Wednesday to outline shared recommendations for how to handle the border moving forward, which they said President Joe Biden's administration could "enact immediately."
While Ducey and Texas Governor Greg Abbott are both governors of border states, the eight other governors of Georgia, Idaho, Iowa, Montana, Nebraska, Ohio, Oklahoma and Wyoming are not. Even so, public safety officials in Texas said illegal drugs that enter the U.S. are a concern for them all.
Speaking at a press conference attended by the 10 Republican governors, Texas Department of Public Safety Director Steven McCraw said the illegal drugs many governors are battling can be connected to the difficulties along the border.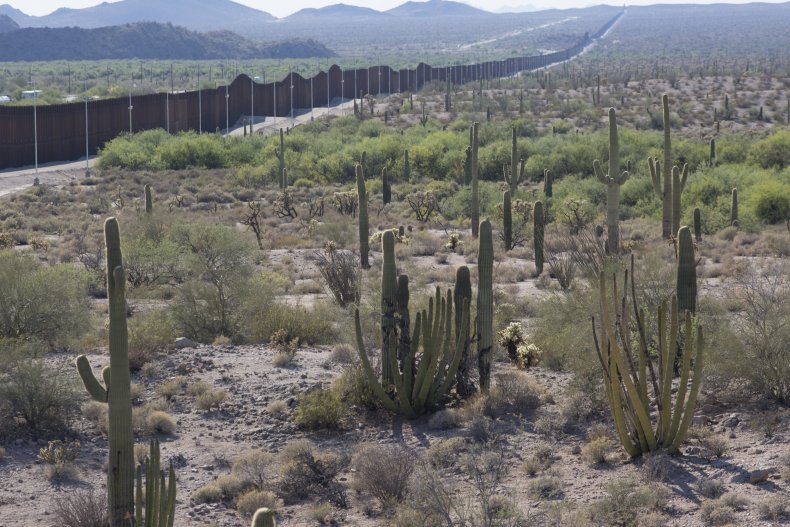 "If you have a fentanyl problem in Iowa, you have one in Oklahoma, you have a border problem," McCraw said. "That's exactly what's been going on."
In Yuma, Ducey said the local Border Patrol sector has reported an increase in migrant apprehensions of more than 1,000 percent compared with the encounters reported last year, while the sector in Tucson has experienced an increase over the same time period of about 200 percent.
"And it's not just the people that are crossing the border—it's the lethal drugs," Ducey said during the press conference. So far this year, Ducey said nearly 2,000 pounds of fentanyl and more than 13,000 pounds of methamphetamine have been seized by authorities in Arizona.
"Just think about how many drugs are slipping through the cracks and slipping into the bloodstreams in our communities," he said. "This isn't a figure of speech. This is our reality."
Ducey mentioned the recent increase in fentanyl overdose deaths that have been reported in Pima County, one of Arizona's border counties. Local media outlets reported over the summer that fentanyl overdoses have become the leading cause of death among Pima County residents ages 19 and younger. The Pima County Health Department reported in July that fentanyl overdose deaths reported between January and June of this year increased 59 percent in comparison with the same time period in 2020.
The list of border policy recommendations Ducey and the other GOP governors presented Wednesday included calls for additional federal resources to help tackle human and drug smuggling along the border.
"Due to the rapid increase of cartel activity, the Biden Administration should dedicate additional resources to eradicate the surge in human trafficking and drug trafficking, arrest offenders, support victims, and get dangerous drugs—like fentanyl and methamphetamine—off our streets," one of the 10 recommendations said.
Ducey said it "shouldn't be hard" to "turn things around."
"We need this administration to provide adequate resources to stop the flow of these deadly drugs across the border," he said.
Newsweek reached out to the White House for comment but did not hear back in time for publication.