Ducey Says GOP Candidate With White Nationalist Ties Better Than a Democrat
Arizona Governor Doug Ducey is standing by his decision to back a state Senate candidate linked to white nationalists, saying, "she's still better than" her Democratic opponent.
The Republican governor doubled down on his support of far-right state Senator Wendy Rogers in a video that was posted online Thursday. The governor's remarks show the extent extremist elements have integrated into the Republican party and become part of its governing coalition, particularly in a closely divided state.
In the video, Ducey was asked if he was "still happy" about the $500,000 he directed toward Rogers' 2020 campaign since she has become "extremely controversial" for having ties to the "white nationalist" movement.
Ducey responded that he needed a "governing majority" to make investments in the social safety net and education.
"So that's what I want to do is move my agenda forward," continued Ducey. "I'm proud of what we've been able to accomplish, and she's still better than her opponent, Felicia French."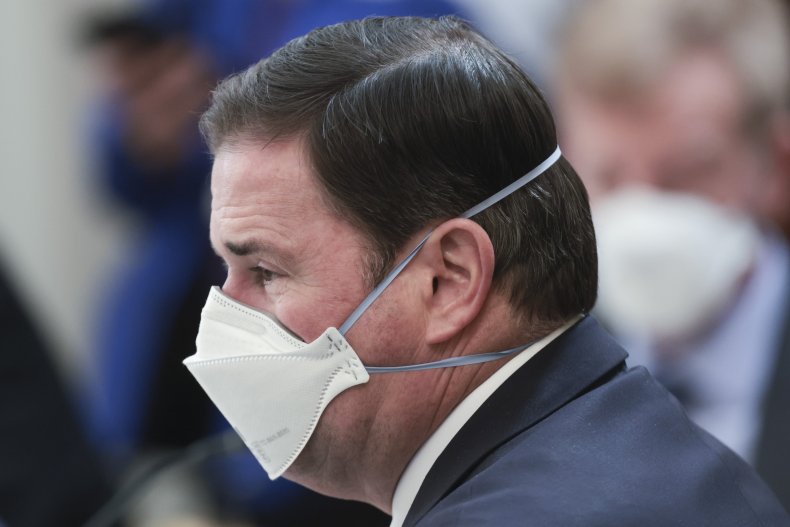 French, a Democrat, lost to Rogers in the 2020 race for a state Senate seat representing northern and central parts of Arizona. The outcome of the race gave Republicans a narrow 16-14 majority in the Senate.
Since taking office, Rogers has attracted controversy for her association with far-right movements and figures.
Rogers, a member of the antigovernment Oath Keepers, has claimed the 2020 presidential election was stolen, and gave an interview to an online talk show whose founder has called Jews "deceivers" and claimed the U.S. has been "taken over by a Jewish cabal," according to a 2021 article in The Informant.
A tweet by Rogers last year used language similar to that used by white supremacists. Rogers retweeted a BreitbartTexas article about migrants apprehended at the southern border, writing "we are being replaced and invaded." Rogers later defended herself on Twitter.
"I will not back down from this statement," she said, "Communists & our enemies are using mass immigration, education."
Rogers has also appeared on a podcast that regularly traffics in conspiracy theories to push claims that the 2020 presidential election was stolen, Newsweek previously reported.
Last year, the senator took to Twitter to call New Zealand's Prime Minister Jacinda Ardern "Lenin with Hair" and said "more bold Christians are needed in office to counter the satanic Communists in both parties."
Rogers on Thursday reacted to Ducey's remarks with a tweet: "Thank you, Governor."
Newsweek has reached out to Rogers and Ducey for comment.