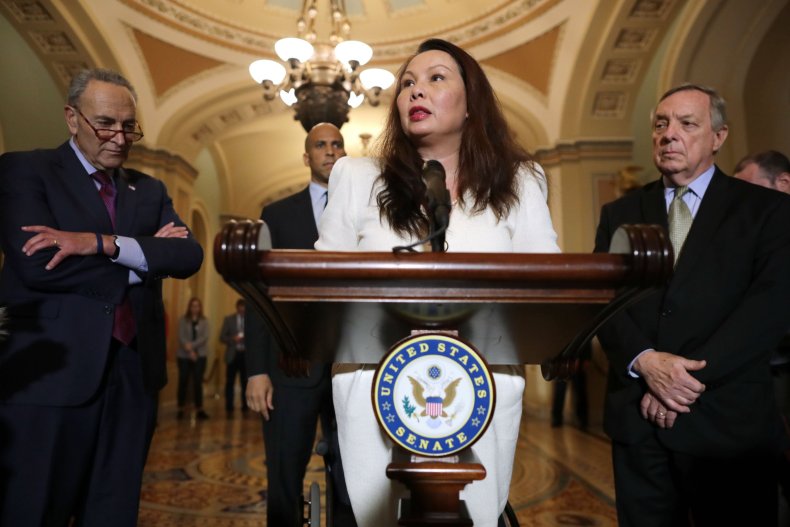 Illinois Senator Tammy Duckworth has accused President Donald Trump of trying to politicize the U.S. military and vowed to block promotions of more than a thousand service members until she's assured that a key witness in Trump's impeachment has secured his own advancement.
Duckworth, a veteran and Democrat who is considered a potential vice presidential contender this fall, said she's concerned that Trump is holding up the promotion to colonel for Lt. Col. Alexander Vindman in retaliation for Vindman's testimony about Trump's Ukraine scandal.
"Our military is supposed to be the ultimate meritocracy. It is simply unprecedented and wrong for any Commander in Chief to meddle in routine military matters at all, whether or not he has a personal vendetta against a Soldier who did his patriotic duty and told the truth—a Soldier who has been recommended for promotion by his superiors because of his performance," Duckworth told reporters this week.
Vindman, who was a member of the National Security Council staff, heard Trump's call with Ukrainian President Volodymyr Zelensky in July 2019 and testified during the House impeachment inquiry in early 2020 that he had concerns about the call.
Trump and his allies denounced Vindman's characterization of the call, and he was transferred back to the Army for reassignment. The Trump administration has denied that the move was retaliation for his testimony.
But Duckworth said she will put a hold—a customary measure that senators can make that is often observed as an intent to filibuster—on efforts to promote 1,123 members of the military, until Defense Secretary Mark Esper gives her written assurance that Vindman will be advanced through the military's merit-based system.
Newsweek's attempts to reach the Pentagon for comment were not successful.
"I won't just sit by and let it happen, and neither should any of my colleagues. This goes far beyond any single military officer, it is about protecting a merit-based system from political corruption and unlawful retaliation," Duckwoth said.
Duckworth, who lost her legs during a 2004 attack in Iraq, said the politicization of the military has "plagued the entire Trump Administration," including the president's calls for the use of the National Guard to quell anti-racism protests across the country in recent weeks.
Trump's presumptive Democratic presidential rival Joe Biden is reportedly considering Duckworth, who has been in the U.S. Senate since 2017 after four years in the U.S. House, and several other women to be his running mate in the November 3 election.