South Valley Oregon Fire Near Dufur Burning at Nearly 15,000 Acres
More than 170,000 acres of land are burning across Oregon and Washington states and more than 7,000 firefighters are working to contain the fires, the Forest Service said on Thursday.
There were 20 fires burning in Oregon alone, covering 132,000 acres of land as of Wednesday. One of those fires was the South Valley fire that started Wednesday afternoon. When it was first reported around 1:30 p.m. PDT, the South Valley fire was burning at less than 100 acres of land. But the blaze expanded incredibly quickly and eight hours later, at 10 p.m. that same day, it was burning across roughly 10,000 acres, according to the Oregon Department of Forestry.
The fire had also managed to jump the highway in the area, Highway 197, and was moving east as of Wednesday evening. The highway was closed from milepost 14 to milepost 34. The fire is in north central Oregon not far from the city of Dufur, Oregon.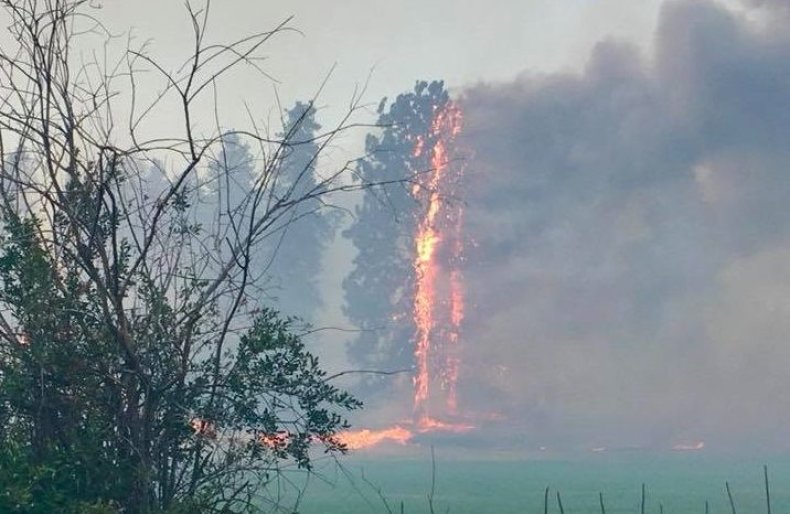 Evacuations and updates about the fire were available on the Wasco County Sheriff's Facebook page. As of Wednesday evening, the evacuations that were in effect were for Rail Hollow Road until the forest boundary, Tygh Ridge Road, Winslow Road, Shell Rock Road and several others in the area. These roads were all under level three, or mandatory evacuation notices. The full list is available from the Wasco County Sheriff's Office. Hundreds of people were required to evacuate their homes, KATU reported.
Level two, or "get ready" evacuations were ordered for several roads, too, including Hulse and Conroy Roads. The Wasco Sheriff's Office recommended anyone traveling check the website Trip Check from the Oregon Department of Transportation before heading out to make sure their route is clear.
The cause of the fires is currently under investigation, according to the Department of Forestry. The conditions were expected to remain dry in the area, which could help the fire continue its rapid spread. Firefighting personnel were working to contain the blaze using all of their resources, including bulldozers, helicopters and planes.
The sheriff's office warned that conditions near the fire can change incredibly quickly and that residents should check for any updates on evacuations regularly as it is an active incident.​
South Valley Oregon Fire Near Dufur Burning at Nearly 15,000 Acres | U.S.