DUI Ambulance Driver Crashes Into Ditch, Leaving 66-Year-Old Patient Dead: Police
Police say that a driver who was operating an ambulance under the influence crashed in Fairburn, Georgia, Friday night in an incident that led to the death of a patient.
The patient, Wilton Thomason Jr., 66, died when the ambulance overturned into a ditch, according to a summary of the incident that the Georgia State Patrol sent to Newsweek on Saturday.
The driver, Kevin McCorvey, 34, of Marietta, Georgia, was arrested and faces charges of DUI, second-degree vehicular homicide, open container and failure to maintain lane, the the state patrol stated. He was taken to the Fulton County Jail on Friday.
"Mr. McCorvey failed to maintain his lane and traveled off the west shoulder of the roadway causing the ambulance to overturn in a ditch. A patient, Mr. Wilton Thomason Jr., 66 years old, that was in the back of the ambulance was found to be unrestrained and suffered fatal injuries," the Georgia State Patrol wrote.
The state patrol was asked to investigate the crash just before 7:30 p.m. on Friday. According to police, McCorvey was driving a "2007 Ford Econoline Prime Care EMS ambulance (non-emergency) and was traveling south on West Campbellton Street" at the time of the crash.
The Fairburn Police Department announced it was at the scene of the crash on Friday evening.
"We are working a single vehicle fatality accident involving an ambulance on W. Campbellton Street. The state patrol has been requested to the scene. Please avoid the area," the department wrote on Facebook.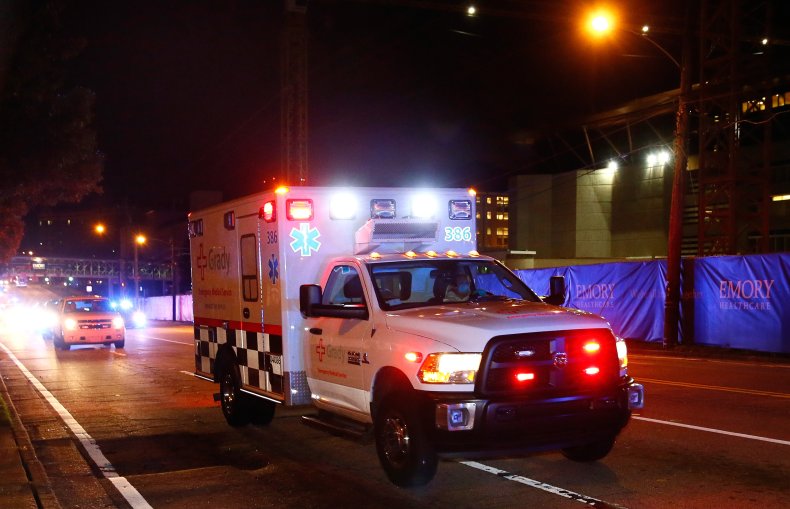 In its summary of the crash, the Georgia State Patrol noted the details "are the preliminary investigative findings, and this crash is still under investigation."
Georgia news station 11 Alive reported that in addition to the driver and patient, there was another passenger in the ambulance at the time of the crash who did not suffer injuries.
According to the National Safety Council, in 2019, 170 people in the United States died in crashes involving emergency vehicles.
"The majority of these deaths were occupants of non-emergency vehicles (63%)," the National Safety Council wrote.
"Deaths among pedestrians accounted for another 21%, while emergency vehicle drivers and emergency vehicle passengers each accounted for about 5% to 10% of the deaths. The majority of these deaths (74%) occurred in multi-vehicle crashes," it added.
In a separate incident in April, an ambulance in Brooklyn, New York, crashed and flipped on its side, leaving one patient dead and injuring nine other people. Police said that the ambulance collided with a car, and then rolled over onto the driver's side and struck another vehicle.