Police Performing DUI Arrest Discover Man Has License Plates Made From Beer Boxes
Police who pulled over a man in Chippewa Falls, Wisconsin, were flummoxed when they tried to run his license plates only to discover they were made out of recycled Hamm's beer boxes.
CBS Local reported that the incident happened on November 15, when officer Scott Schoenwetter observed a car swerving wildly. He turned on his lights, and the driver pulled to the side of the road. Upon exiting the vehicle, the officer gave the man, identified as 27-year-old Nicholas Layton, a field sobriety test, which he failed.
Schoenwetter ran the man's ID and saw that he had three previous DUI offenses. He then ran the car's license plate number, only to discover it was not registered to the vehicle. He called the owner of the car the plates were registered to, only to be told that nothing was amiss with their vehicle.
Looking closer, the officer removed the plates and found they had been painted by hand on rectangular pieces of cardboard cut out of Hamm's beer boxes.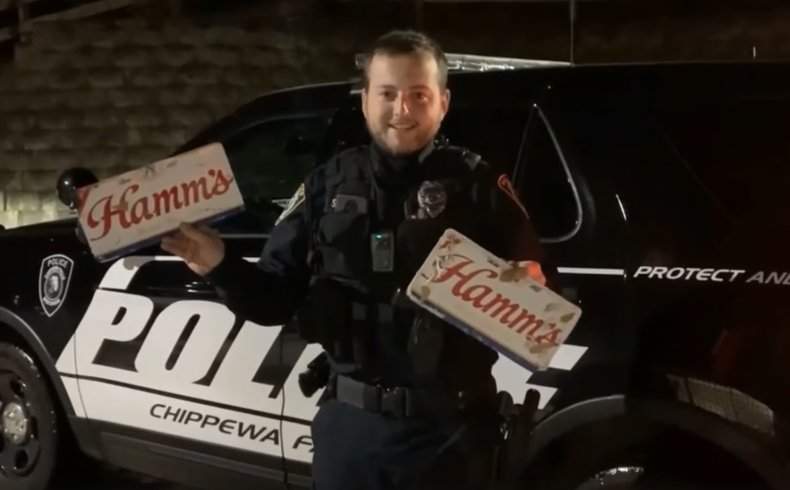 The department posted Schoenwetter showing off the fake plates on their Facebook page.
In a comment to WQOW, Chippewa Falls police chief Matt Kelm said that the fraudulent plates were extremely realistic and had officers fooled. It is unknown if Layton made the plates himself.
Layton has not yet been formally charged with a crime as a result of the incident. In addition to driving under the influence, he could be charged with forgery for replicating a license plate.
Drivers have tried to get away with making their own license plates before. In March 2016, police pulled a woman over in Springville, New York, because they noticed that the plates on her vehicle were made from cardboard and tempera paint.
She was charged with a felony count of possessing a forged instrument as well as a misdemeanor count of operating a vehicle with a suspended registration.
The "sovereign citizen" movement, which contends that state residents are not bound by federal laws, has long held that the requirement to purchase a license plate is unconstitutional. They often create their own plates with no identifying information.
In March, a sovereign citizen in Bellevue, Washington, was pulled over because his Chevrolet featured large homemade-printed plates that read "PRIVATE." When he was pulled over and asked for identification and proof of insurance, he refused to provide either.
He was arrested for obstructing an officer in the line of duty and had his car impounded.