Moment Hero Chases Down DUI Suspect Who Fled From Fatal Crash Goes Viral
A video of a man chasing down a DUI suspect and pinning him to the ground after he attempted to flee a car crash has gone viral on social media.
In January, 26-year-old Dylan Molina was sentenced for a car crash in Lake Worth, Texas, that killed an off duty Euless police officer, according to reports.
Molina pleaded guilty to all charges and was sentenced to 15 years in prison for intoxication manslaughter that led to the death of Alex Cervantes. During the crash Molina also injured Cervantes' wife and two children, who were in the car that was struck.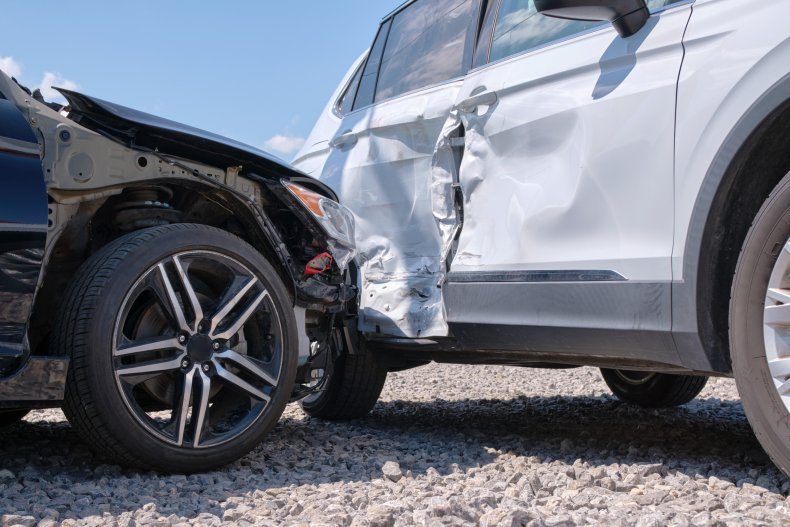 The incident occurred on November 27, 2021, and investigators concluded that Molina ran a red light and broadsided Cervantes' vehicle, according to a Fox 4 news report.
Following his sentencing, a clip of the crash scene has gone viral on Twitter after being posted on Thursday. The footage has been viewed more than 192,000 times since February 23.
Fox 4 reporter David Sentendrey shared the moment a member of the public chased down the drunk Molina who was attempting to flee.
In the clip, the member of the public is seen scolding Molina and attempted to make him see the seriousness of the crash.
In the background his wrecked jeep can be seen as well as the silver car that Cervantes and his family were in.
Molina then attempts to run away from the scene before falling on his face on the grass.
The person who chased after Molina and apprehended him then sits on him to prevent his escape.
The member of the public then continued to curse at Molina and tells him to stay on the ground while pressing his knee in his back. It isn't clear who that was.
The person recording then moves closer to the crash scene and shows other members of the public attempting to break Cervantes and his family out of the silver car.
In the comment section, Sentendrey also shared a video of Molina in a bar before the crash as well as the bartender Cala Richardson, who now faces a misdemeanor charge.
Sentendry wrote: "Now, bartender Cala Richardson is facing a misdemeanor charge for allegedly overserving Molina before the crash.
"Specifically - 'eight double vodka/Red bull' cocktails that Saturday morning, according to an affidavit. Molina is seen slipping behind the bar in surveillance."
The Rexas Alcoholic Beverage Code prohibits the sale of alcohol to an individual who is already intoxicated.
According to a seperate Fox 4 report, Lake Worth Police Chief J.T. Manoushagian commented on Richardson's arrest earlier in February.
Like most serious alcohol-related crashes, this case has devastated an entire family.
"Today's arrest fulfills a commitment we made early on - and that was to fully investigate this senseless crime and hold those responsible accountable."
Newsweek has contacted the Euless Police Department for comment.