Duke Fans Michael and Ellie Ziegler Recreated Epic Laettner Shot in Their Basement

Michael Ziegler has what he believes is a completely sane reason for having a life-sized re-creation of Duke forward Christian Laettner's game-winning shot against Kentucky lining his basement wall. "It was the happiest moment of my life," says Ziegler, a personal injury lawyer based in Phoenix. "I never want to forget it."
Ziegler's tribute to the shot that erased the Wildcats in the 1992 NCAA East Regional final spans 30 feet and runs from floor to ceiling inside his Paradise Valley, Arizona, home. Artist Randall Hedden devoted more than a year to the work in 1996 and '97, becoming the hoops Michelangelo to Ziegler's Pope Julius II. "Randall was like that house painter from Murphy Brown," says Ziegler's wife, Ellie. "Sometimes he'd just pop in for 10 minutes a day. Others, he'd say, 'This is all wrong' and start over. We started to think he'd never complete it."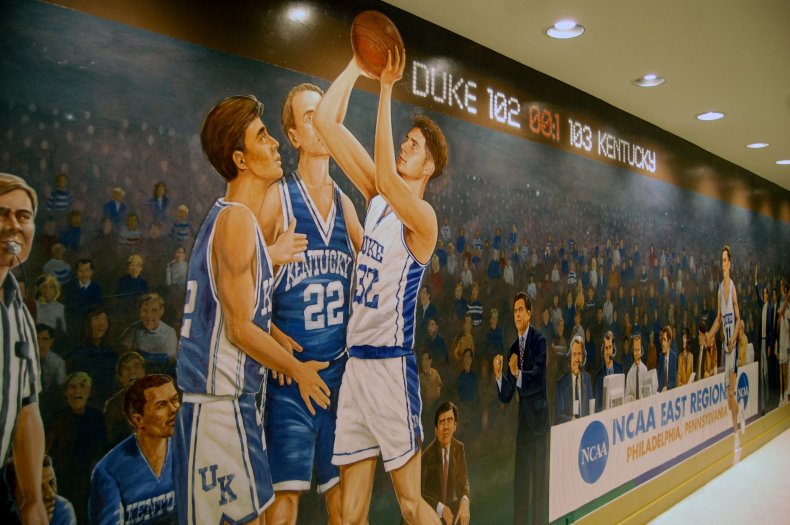 The Zieglers, longtime season ticket–holders to Duke basketball games despite the 2,150-mile gulf between their basement and Cameron Indoor Stadium in Durham, North Carolina, attended that 1992 classic between Duke and Kentucky. "When [Sean] Woods of Kentucky hit that shot to put Kentucky up one, we thought the game was over," says Michael. Ellie recalls tears streaming down her face as she congratulated Wildcats fans seated next to her. Then Duke forward Grant Hill inbounded the ball to Laettner—Michael is quick to remind a visitor that Duke attempted the same play against Wake Forest earlier that season without success—and bedlam followed. "I was still wiping tears out of my eyes as people were patting me on the back," says Ellie.
The Zieglers are Dookies by birth, not by baccalaureate. Michael, who was raised in Great Neck, New York, attended the University of Arizona for undergrad and law school. "My dad attended Duke, and I've been a fan since I was 8 years old," says Michael. "That's longer than my association with the U of A. It's simple math, really."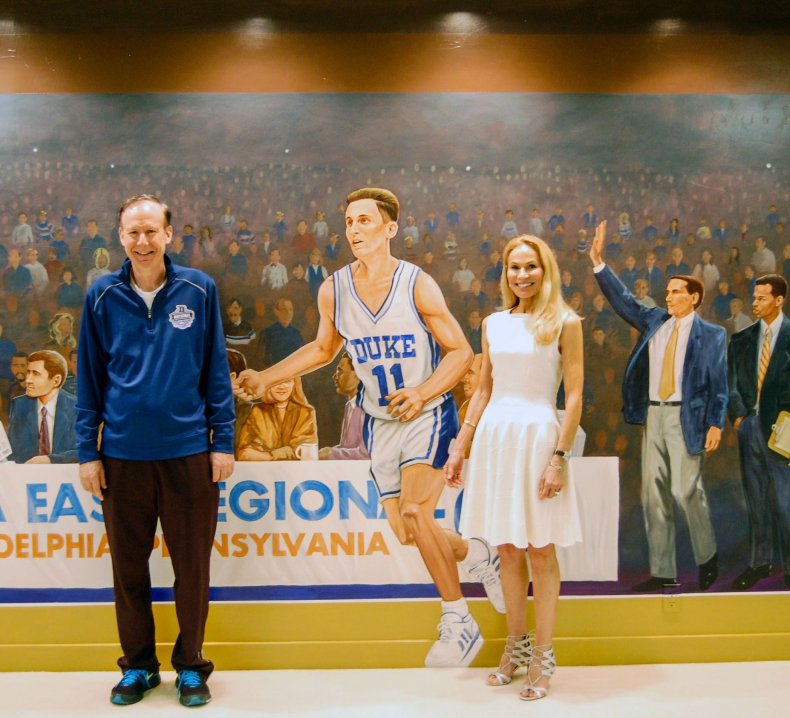 Bedeviled Blue Devil supporters, the Zieglers have likely attended more Duke NCAA tournament games in the past three decades than anyone besides Duke coach Mike Krzyzewski. Mike Madness extends beyond the mural. Their basement is awash in Duke trinkets, from Grant Hill candy bars to an autographed Duke bench seat to a photo of Butler forward Gordon Hayward's near-heart stomping buzzer-beater versus the Blue Devils in the 2010 NCAA championship game. "Look at that," Ziegler says, sounding like a JFK conspiracy theorist as he points out that the stadium clock read 00.3 while the shot clock above the basket read 00.1. "That could have been a major controversy. Engineers estimate that Hayward's shot was just one-thirty-second of an inch off."
The cellar also includes a 10-seat movie theater, where last Sunday the Zieglers watched North Carolina's Luke Maye ("He also wears '32'," [as did Laettner] Mike enthusiastically denotes) eliminate Kentucky with a shot vaguely redolent of Laettner's. There's a jukebox. It plays two songs: "We Are the Champions" by Queen and "One Shining Moment."
Close inspection of the mural reveals that, while impressive in scope and beauty, it contains a historical inaccuracy or two. Laettner, for one, was guarded by one Wildcat, Deron Feldhaus, and not two. The 6-foot-10 Laettner, whom Michael is quick to remind visitors shot 10 for 10 from the field and 10 for 10 from the free throw line that Saturday in Philadelphia, buried the game-winner in front of Duke's bench, not Kentucky's. And CBS had Verne Lundquist and Len Elmore on the call, not Jim Nantz.
Related Content: Northwestern Kid Emphasizes Loss of Sports Innocence
Still, the grandeur of the work is reminiscent of the mural of Versailles at the Metropolitan Museum of Art in New York City. Former Olympian and NBA All-Star and Valley of the Sun resident Doug Collins, whose son Chris played for Duke and now coaches at Northwestern, has visited the Ziegler basement several times. So has Bobby Hurley, the Arizona State coach who was Duke's point guard that afternoon.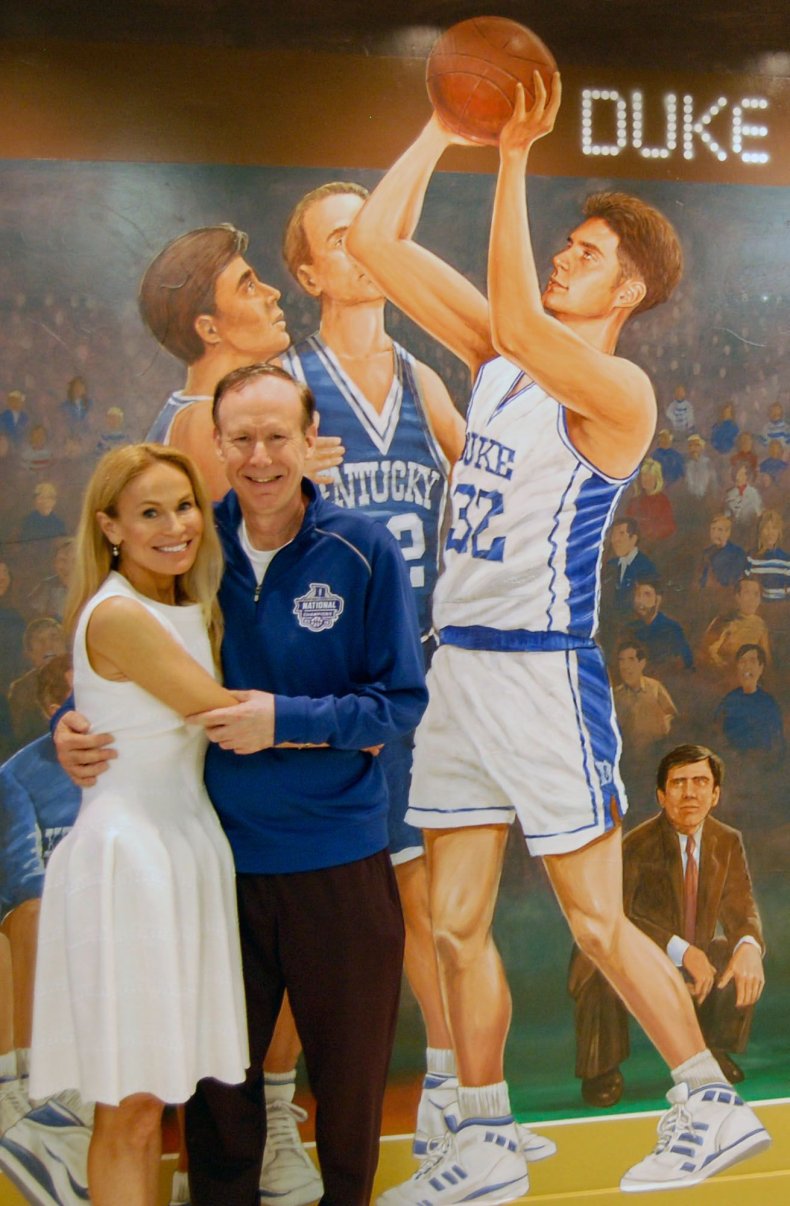 Michael has no pretentions of being a connoisseur of the fine arts, but he is willingly to bluntly assess the portraits of the mural's three principal figures. "I give Grant Hill an '8' and Laettner a '9'," says Ziegler, 64. "Bobby Hurley's a '10.' He did a great job on Bobby."
Around the Phoenix area, the Zieglers are renowned for their philanthropy, but their basement décor is a veritable secret. Earlier this month, they donated a challenge matching grant of $1 million to the Scottsdale Boys and Girls Clubs. In 2006, Ellie was elected chairman of the board of the Fiesta Bowl, in part because of her altruism and in part because of her angelic countenance, an expression that vanishes at the mention of the University of North—or this month, South—Carolina. "We are disappointed," Ellie says, referencing the fact that their hometown is hosting the Final Four for the first time this weekend.
Michael's passion for Duke has exacted a price, one far greater than what he spent commissioning the mural. Decades of attending Duke games has afflicted him with tinnitus, a constant ringing in the ears that is incited by high decibel levels. There is no cure, and so for the past four years the endeavor that he treasures above all others—attending Duke games with the Cameron Crazies—has been verboten. "Mike [Krzyzewski] has invited Ellie and I to students-only pep rallies where I've put in ear plugs and worn ear muffs over them," he says.
It is pointed out to that in such circumstances he probably was unable to hear what Coach K was saying. Michael smiles. "I like being there."
If you cannot attend a Duke game in person, the Ziegler basement is the next best thing to being there. It provides one shining—subterranean—moment.