Duke Star Jacob Grandison Reacts to Meme Mocking Cross-Legged Bench Pose
Duke University basketball star Jacob Grandison has shared his thoughts on a meme that was being shared on social media about how he was sitting on the bench during a game.
The clip, which has gone viral on TikTok, is titled: "Different ways players sit on the bench."
It shows a couple of Grandison's teammates sitting back in a relaxed manner at the side of the court, with their legs apart in a generous manspread.
The camera then pans along the line to Grandison, who is sitting with his body leaning forward and one leg hooked over at the knee, with the music turning to a classical piece to give the illusion of a member of the aristocracy sitting politely.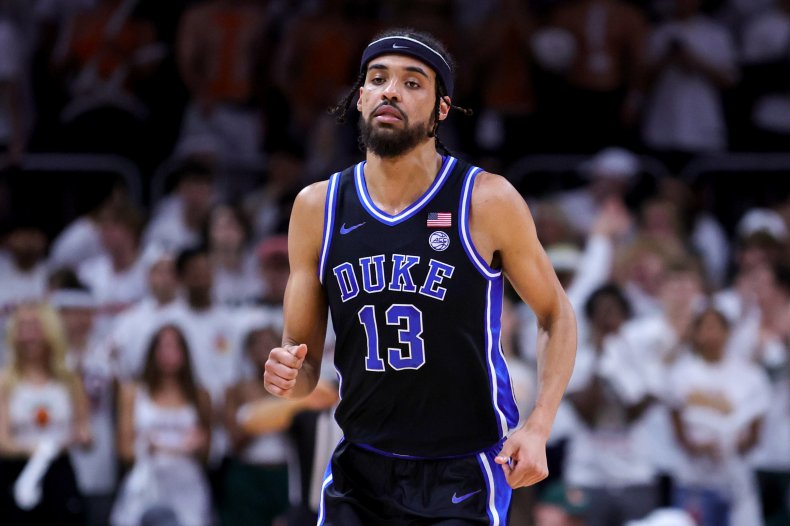 In the shared clip, the camera then turns to a close up of Grandison, in selfie mode, in which he looks totally non-plussed for several seconds before the clip comes to an end.
He captioned the video with his thoughts on the matter: "A brother can't just sit in peace #fyp #dukembb." The video has received over 14 million views and more than 3.4 million likes.
There were plenty of comments on the video, with many laughing along at the contrast in sitting positions.
One commented: "Look at this distinguished gentleman, look at the way he is sitting, yeeees, very distinguished."
Another added the reason why Grandison was sitting like he was: "That's that 'I'm highly educated' posture."
A third delighted in his "politeness," commenting: "Sitting all polite, waiting for his turn on the court we love gentlemen with manners in the nba."
While a fourth felt he was waiting for the perfect cup of British tea: "I'll fix you some earl grey tea right away sir LMAOO."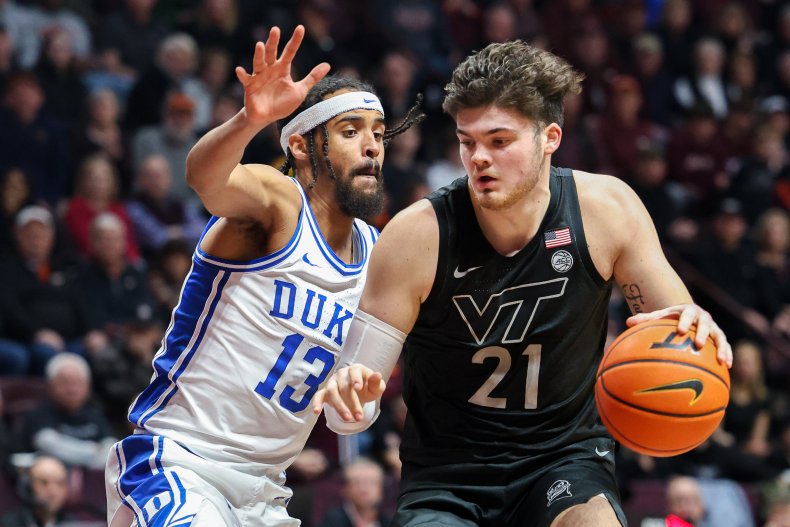 Grandison transferred from Illinois to Duke for the 2022-23 season and his role as a senior has been praised by many in the team.
One of his teammates, Andre Curbelo, has been full of positive vibes for the addition of Grandison, saying that he "never takes a play off" and that "when you have all those guys who bring a lot of energy like Jake, that's contagious."
This has been backed by head coach Brad Underwood who had a few words about Grandison's offensive and defensive versatility.
The coach was full of praise, saying: "He's always going to be able to guard any wing for that matter, at really any size."
It would seem that with all that going on, Grandison should be allowed some recovery time on the bench in whichever posture he feels.
Do you have a tip on a sports story that Newsweek should be covering? Do you have a question about college basketball? Let us know via entertainment@newsweek.com.