Duke Vs. Syracuse Predictions, Preview: Will Zion Play After Nike Explosion, Boeheim Coach After Car Crash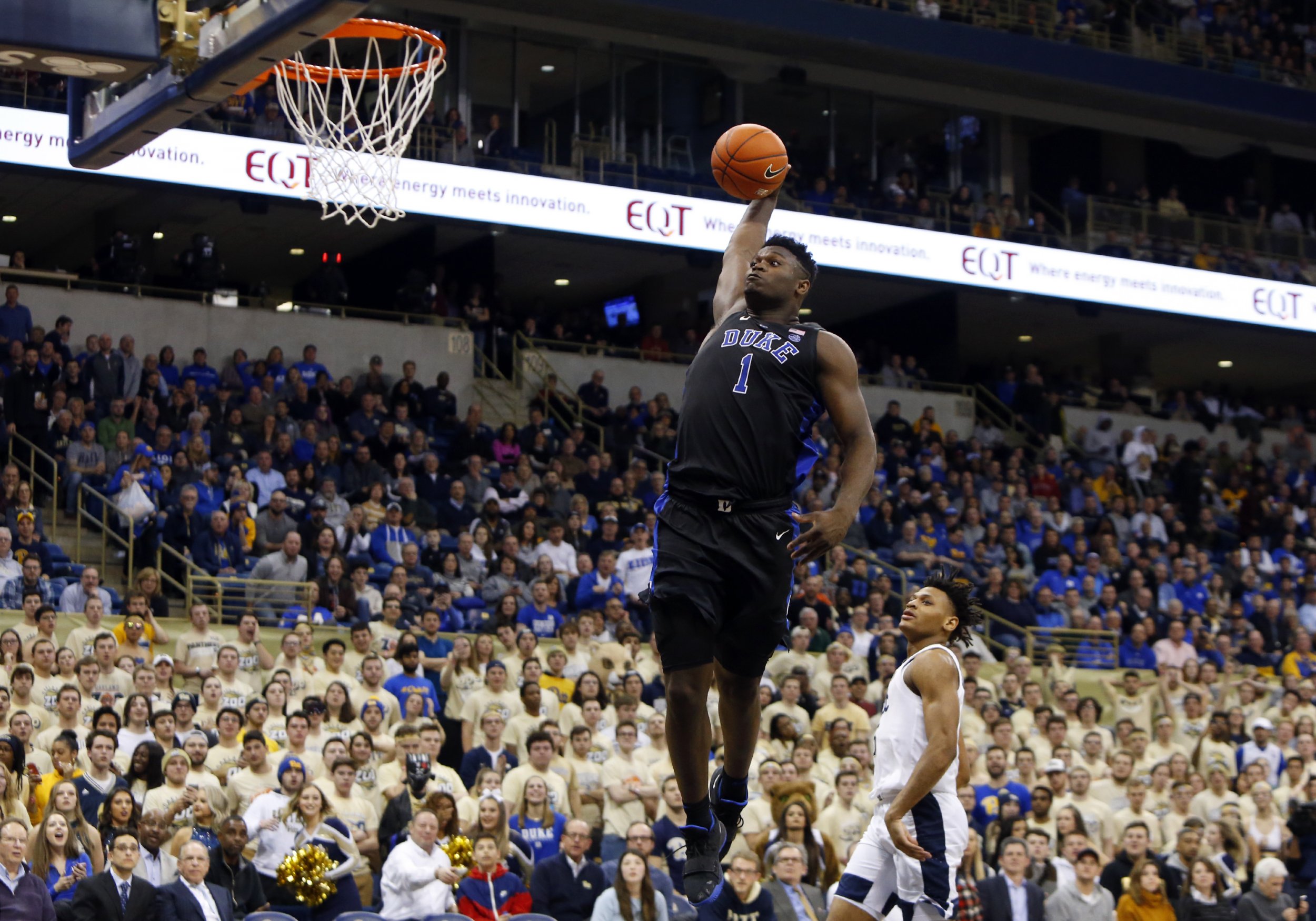 When the Duke Blue Devils play the Syracuse Orange it's always a big matchup, but Saturday's meeting between the perennial powerhouse programs has some added controversy after a newsworthy week. Syracuse head coach Jim Boeheim was involved in a fatal car crash while Duke superstar Zion Williamson was injured after his Nike sneakers "exploded" while playing against North Carolina.
Duke basketball officially ruled out Williamson playing today, as he heals from the Grade 1 knee sprain.
Williamson, the projected No. 1 pick in the 2019 NBA Draft, hurt his knee after his Nike sneakers ripped apart while playing Wednesday against arch-rival North Carolina.
On Friday Duke Coach Mike Krzyzewski said his injury isn't severe but the team will be cautious with him as he recovers.
"... preliminary reports that we have on Zion's injury are all optimistic -- very, very good," Krzyzewski said, ESPN reported. "And the fact that it's a stable condition, a mild sprain, and we're going to do what everyone would do, and that's what's in the best interest of the young man. And Zion will get proper care. He's getting it today, as this moves along these next 24, 48 hours, we'll have a better feel for things, but there's no rush. You want to make sure he's completely at 100 percent."
A day after Williamson's injury, Boeheim was involved in a car accident that left one person dead. Boeheim was reportedly driving on the highway when he hit 51-year-old Jorge Jimenez. Police say Jimenez was walking on the highway after an unrelated accident when he was struck by Boeheim's car, according to Sports Illustrated.
"The occupants then exited the vehicle and proceeded to walk on the highway within close proximity to that vehicle," Syracuse police said in the statement. "An oncoming vehicle noticed the disabled car and tried avoiding the vehicle, which was in the middle of the road."
Friday, the university announced Boeheim would man the bench against Duke.
"The Jimenez family has suffered a tremendous loss. Our community is shaken. The Boeheim family is heartbroken over what happened, as we all are. This is a very difficult time," Syracuse said in a statement. "I know that Coach Boeheim's players gain strength from him, just as he gains strength from his players. Our entire community gains strength from each other. With this in mind, and after thoughtful consideration, I have respectfully decided that Coach Boeheim will resume his coaching duties later today and will coach in tomorrow night's game against Duke. We continue to extend our deepest sympathies to the Jimenez family as they continue to mourn this tragic loss."
Boeheim released a brief statement after the incident but said he would not say any more on the topic.
"I am heartbroken that a member of our community died as the result of last night's accident. Juli and I extend our deepest sympathies to the Jimenez family," Boeheim said. "Out of respect for those involved, I will not be providing further comment at this time."
Duke Vs. Syracuse Predictions, Betting Odds
Without its best player most experts think the score will be close but that they don't predict the Blue Devils losing. All four ESPN writers said Duke will beat Syracuse Saturday.
"I still don't see Duke losing two in a row," ESPN writer Jeff Borzello wrote. There's too much talent on that roster and they've now had a few days to adjust to life without Zion."
Four of the five CBS Sports writers predicted Duke to come out the winner from Saturday's primetime matchup. The Blue Devils are a 4.5 point favorite
Duke Vs. Syracuse TV Time, Channel, Live Stream
The Blue Devils square off against the Orange at 6 p.m. Saturday on ESPN. For those wanting to live stream, you can watch the game online via the Watch ESPN app.
You will need a cable subscription (or maybe your friends or parents login) to sign in to watch the game.