White Supremacist David Duke Thanks Donald Trump for Slamming Antifa and Leftists at Press Conference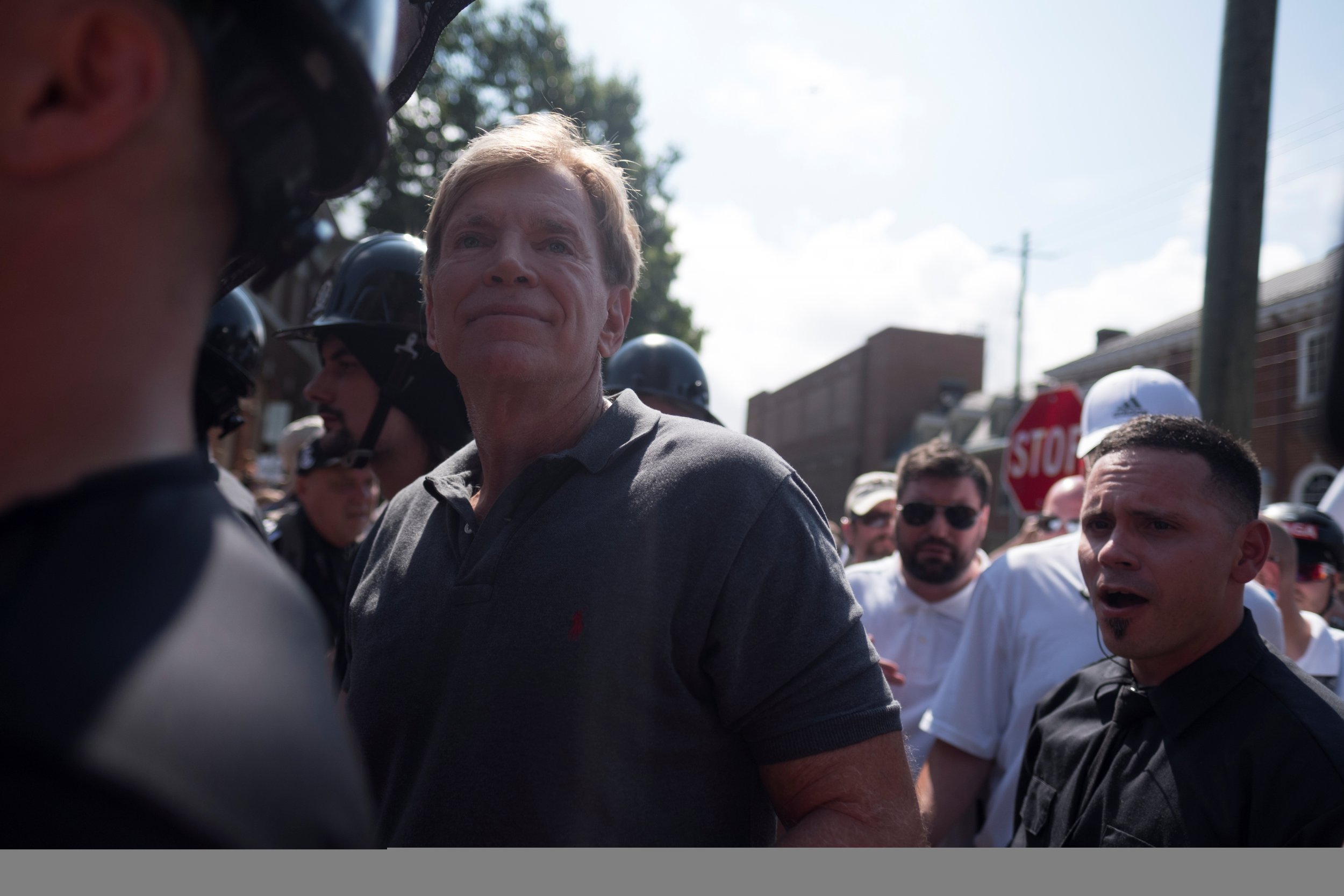 White supremacist and nationalist David Duke thanked President Donald Trump Tuesday for his comments about counterprotesters at last weekend's Charlottesville, Virginia, deadly rally, saying Trump had the "courage to tell the truth" about "leftist terrorists in BLM/Antifa."
Duke, who was previously a grand wizard of the Ku Klux Klan and was an elected member of the Louisiana state legislature, almost immediately posted his thanks to Trump following the president's combative press conference with reporters at Trump Tower.
The press conference included Trump stating that both members of the "alt-right" and what he called the "alt-left" were responsible for violence, with the latter group "charging" into the former group that had a permit to protest.
It was a turnaround for Duke, who was critical Monday after Trump cited white supremacists and neo-Nazis for criticism.
Trump also immediately took a lashing on social media for his comparison of Confederate General Robert E. Lee, whose statue in Charlottesville was the reason for the protests, to Presidents George Washington and Thomas Jefferson. Trump pointed out that both former presidents were slave owners and wondered if their statues would be the next to come down.
"Many of those people were there to protest the taking down of the statue of Robert E. Lee," Trump said. "This week, it is Robert E. Lee, and this week, Stonewall Jackson. Is it George Washington next? You have to ask yourself, Where does it stop?"
The show of appreciation from Duke, who was in Charlottesville when protesters who included white supremacists and neo-Nazis clashed with left-leaning, anti-fascist counterprotesters Saturday, is likely to spark more criticism and consternation with Trump. Duke said at the protests that those gathered were there because of Trump. Last year, Trump did not immediately denounce Duke's praise of his campaign.
The billionaire has been accused of not acting quickly enough to condemn and specifically call out the white supremacists and neo-Nazis in his initial statement following protests that led to the death of one woman and 19 other people injured.
The president on Saturday first derided any form of bigotry but also said that "many sides" were responsible for the violence in the college town; Monday he held another press conference, where he made a statement slamming white supremacy groups and neo-Nazis. However, Trump later chastised the media for its coverage of this second statement, taking to Twitter to say it wasn't enough to "satisfy" the "Fake News Media."
Trump has also taken heat politically for keeping current White House strategist Steve Bannon, who ran conservative website Breitbart and called it a voice of the "alt-right," and for not firing him after the violence in Charlottesville. Bannon is still part of the president's staff.