Duke-UNC Final Four 2022: Why Everyone Hates Duke Basketball
Google doesn't always have the answer to every question. But ask the search engine why people hate Duke basketball so much, and you'll get page after page filled with articles on why folks hate Duke, Coach K, Grayson Allen, Danny Ferry, and more.
Ask any Kentucky fan why they hate Duke and they'll likely answer you in two words: Christian Laettner. True Kentucky die-hards will even add an expletive because of an Elite 8 loss from 1992.
The Duke Blue Devils are like the New York Yankees, the Dallas Cowboys, and Alabama Crimson Tide football. People either typically love them immensely or hate them with every fiber in their body.
That happens when you make 13 Final Fours with five national championships in the last 40 years. It happens when you have a swagger that high-steps even the swaggiest like Indiana, Kansas, Kentucky, North Carolina, and UCLA. It happens when big plays, big moments, big names, and big egos dominate the spotlight and define your history.
Hatred for Duke can stem back to Grayson Allen's shady "tripping" plays a few years ago, or the Laettner shot from a Grant Hill assist to beat Kentucky on the final play during overtime of an Elite 8 game in 1992.
Hatred can be linked to Laettner making the 1992 Olympic Dream Team because of his Duke status—making the roster on the best team ever assembled of NBA greats and the one college player.
If you haven't guessed by now, there's a lot of hatred when it comes to Duke basketball.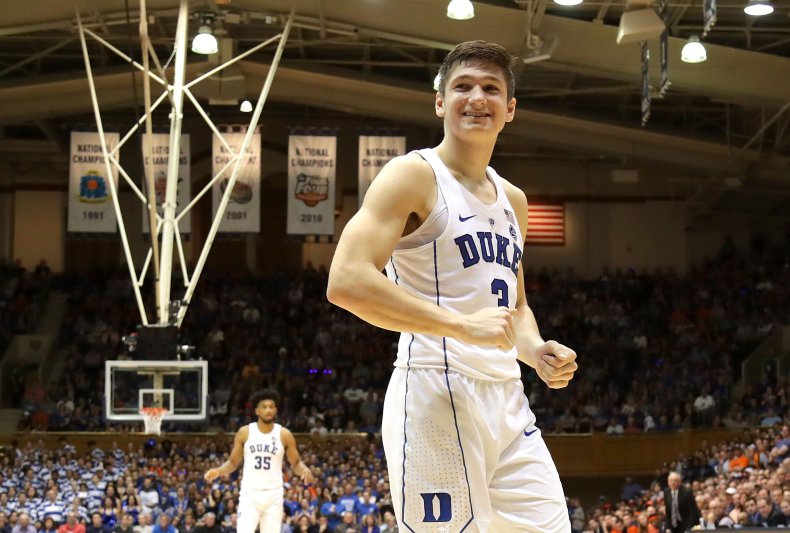 Duke and coach Mike Krzyzewski will do something Saturday night that's never been done, surprisingly, and that's face the rival North Carolina Tar Heels in the NCAA tournament.
Krzyzewski's coaching career will end between now and Monday as he's already announced his retirement, so it's only fitting that he will take his Blue Devils squad into the Final Four to face a North Carolina team in perhaps one of the finest rivalries in all of sports.
Saturday night's game between Duke and North Carolina has potential to be one of the most-watched basketball games of all time. The winner moves to the Monday night championship game against Saturday's other Final Four winner between Kansas and Villanova. The other team heads back to tobacco road and regroups for next year.
Coach K, as he's belovedly known to the Duke faithfuls—or those who can't pronounce his name—could finish his career with a loss to the hated Carolina Tar Heels or advance to another national championship game.
But why do people hate Duke?
Newsweek took a dive into the curious question, and here's how it went. We simply pulled up Google and typed this phrase:
"Why does everyone hate Duke?"
Just Duke. Not Duke basketball, not Duke of Windsor, or even the Duke of Earl. The list was astounding, and not even just recent. Some of the stories go back several years, including a Newsweek story in 2008 written by Devin Gordon, a 1998 Duke graduate, who defended his school's honor back then.
Here's an excerpt from his article titled 'Why Everybody Hates Duke.'
"The chief reason that Duke, and Duke fans, are so despised is the perception that we are too arrogant about our winning ways. And you're right. We are. But so what? This is college basketball, not international diplomacy. Did we hurt your feelings? Are you maybe taking this a little too seriously? Because we don't hate you back."
Gordon responded 14 years later with pretty much the same sentiment for those who resent Duke and Duke fans alike.
"Why do people hate Duke so much? Ask them—hear them out, listen to all their silly reasons about race and privilege and spoiled kids blah blah blah—and then when they're done, point to the scoreboard. That's why they hate us," Gordon said this week.
Another story from 2008—this time on Bleacher Report—cited a quote from former Duke player Elton Brand as the top reason to hate Duke. Here's what Brand said about his own university.
"Thank you very much, for reminding me of the reason why I left Duke. People like you cannot and will not ever understand my situation," Brand said. "I'm sure Daddy worked very hard to send your rich self to college. While real people struggle. I would also like to extend an invitation for you not to waste your or my time ever again. Never being considered a part of your posh group of yuppies really hurts me to the heart. Yeah Right because I don't care about you or your alumni."
Of all the searches through articles online, the reasons to hate Duke range from the university's prestigious academic standing to the smugness of its players to the winning tradition to the hopping student body known as the "Cameron Crazies."
Since 1980 when Coach K took the reins, no team has won more games or national championships than the Duke Blue Devils. Since 1980, Duke has made the national tournament (March Madness) 36 times, advancing to the Sweet 16 all but 10 of those years. They made the Elite 8 in 17 of those seasons, and the Final Four 13 times in Coach K's tenure.
Those who aren't fans of Duke typically have a strong dislike for the Dukies, much like Republicans hate Democrats and Democrats hate Republicans. Much like Auburn hates Alabama and, well, you get it.
Scouring through a couple of decades of articles, here are the main reasons people hate Duke.
Media Love — Most national basketball analysts who cover the college game have frothed at the mouth at some time or another over the program, the Duke team in one particular season, or even Coach K himself. ESPN analyst Dick Vitale has been one of the most vocal of those through the years.
The Players — Duke had 26 AP All-Americans since 1980, including 14 consensus first-team players. The Blue Devils have had 23 players selected in the NBA's first round, of which 11 of those selected in the top 10.
The Banners — Duke has simply just won. The Blue Devils have won five NCAA titles and were runners-up three other times.
The Coach — Mike Krzyzewski has more than 1,200 career wins and now 101 career tournament wins. He also has three Olympic gold medals as head coach for the U.S. National Team at the 2008, 2012, and 2016 Olympic Games.
The Crazies — The student body at Cameron Indoor Stadium bounce and jump around from the opening tip to the final buzzer.
The Play — Most media outlets writing about Duke hatred refer to the "flops" and "dirty play" from Duke players through the years. This ranges from tripping to taking charges.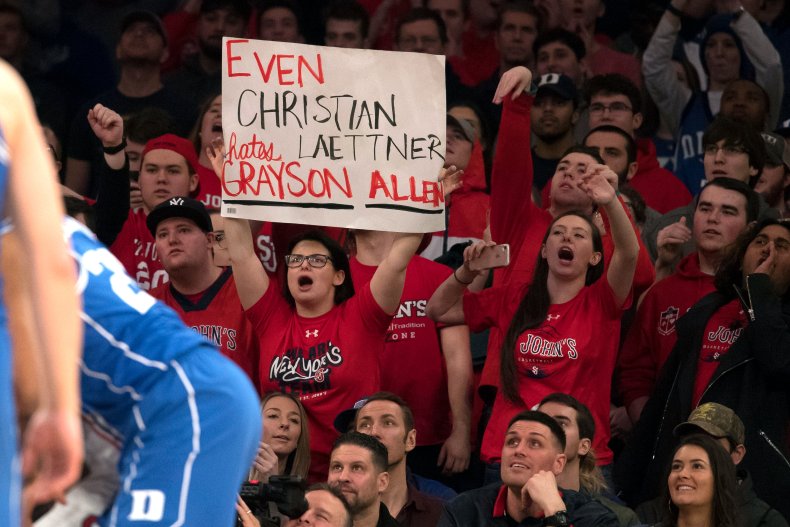 The verdict?
The hatred of Duke stems solely from the last 36 years when Krzyzewski took his first team to the Final Four, in which they lost to Louisville in the 1986 championship. They won back-to-back titles in 1991 and 1992, and three more championships since then (2001, 2010, and 2015).
Coach K will retire after this round of games, and a new era of Duke basketball will begin.
Then, either a new realm of hatred will begin or the hatred for Duke will fade into the sunset with Coach K's retirement.