Duke University Memorial to Synagogue Shooting Victims Defaced With Giant Swastika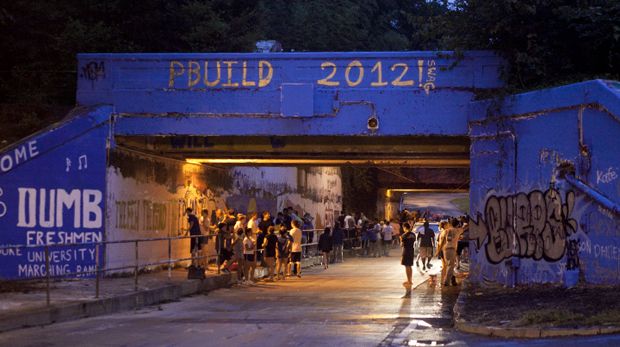 A mural created to honor the victims of last month's Pittsburgh synagogue shooting at Duke University in Durham, North Carolina, was reportedly vandalized with a Nazi symbol over the weekend.
Photos shared on social media show a red swastika graffitied over a Star of David painted on the university's East Campus Bridge, which was placed in honor the eleven people who died in the shooting at the Tree of Life Synagogue in Pittsburgh, Pennsylvania.
The Nazi symbol was later covered up with a black plastic bag and appears to have since been painted over.
In a letter sent out to the school community on Monday, Duke University President Vincent Price condemned the "desecration of a memorial to individuals who were killed because they were Jewish and practicing their faith" as a "craven and cowardly act of vandalism" that should not "happen anywhere."
Calling the incident "extremely distressing," Price said that the fact that it "should occur in such a visible, public location at Duke should be a matter of grave concern to us all."
The school president said he planned to meet with the local Jewish community, as well as campus leaders and public officials, to discuss how to move forward and "confront the scourge of anti-Semitism through education and activism."
As an "immediate response" the school president said Duke be installing security cameras around the East Campus Bridge, where the mural was defaced, and would continue to provide additional security at the Freeman Center for Jewish Life, as well as at other locations on campus.
However, Price maintained that the "poison of hate is not confined to Duke," asserting that it was "part of a national, even global, trend that has seen hate crimes in general, and anti-Semitism in particular, increase dramatically in the past year."
"Duke alone cannot solve this problem, of course," Price said. "But I commit that Duke will lead, and that we will not waiver in our support for those of many faiths, backgrounds, races, sexual orientations and creeds, especially in these deeply trying and troubling times."
Indeed, data released by the FBI earlier this month showed that hate crimes in the U.S. rose for a third straight year in 2017, increasing by 17 percent.
In that year alone, law enforcement recorded 7,175 hate crimes, marking a significant rise from the 6,121 recorded in 2016 and the largest percent increase in 10 years.
Robert Bowers, the alleged gunman accused of killing 11 people at the Tree of Life synagogue last month, faces 44 counts of murder, hate crimes, obstructing religious practices and other crimes in connection with the attack, which authorities have called the worst anti-Semitic incident in U.S. history.