Duke University Orders Lockdown After Fraternity Rush Prompts Coronavirus Spike
Duke University has enforced a strict COVID-19 lockdown order on campus after coronavirus cases reached record highs in connection with in-person fraternity events, university officials said Saturday.
The lockdown order will take place from March 13 until March 21 but will be reevaluated on Thursday.
Under the new order, on-campus students are encouraged to stay in their residence halls except for "essential" activities, including getting food or health services. Off-campus students are barred from campus outside of getting tested for the virus, getting food or for health reasons.
The announcement came after the campus experienced a spike in coronavirus cases following a series of in-person fraternity events.
"In the last week, after multiple off-campus fraternity-related events in violation of the Duke Compact, a concerning spike in cases emerged, and Duke took the step that had always been a possibility if the strictest protocols were not adhered to," Duke said in a statement shared with Newsweek on Tuesday.
"To drive the case numbers down, this was the most proactive step the university can take," the university added.
More than 180 students have tested positive for the virus in the past week, while 200 more were sent into quarantine as a result of the university's contact-tracing program.
"If this feels serious, it's because it is," the university said on Saturday. "This is by far the largest one-week number of positive tests and quarantines since the start of the pandemic."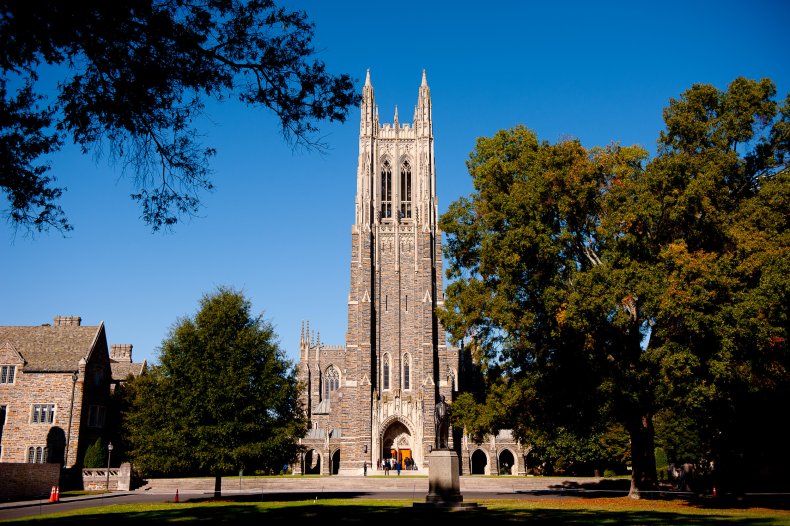 Under the latest order, students are permitted to be outdoors and can exercise, but groups are restricted to three people, with masks and social distancing. Furthermore, common spaces like the university's student union will be open only for essential activities during limited hours, while libraries will be closed to undergraduate students.
Though cases have spiked in the past week, the university said the overall positive testing rate still sits at around 1 percent. But officials warned that the increase in cases is a "stark reminder" that the pandemic is not over.
"This week's increase in positive COVID-19 test results among Duke undergraduates is a stark reminder that this pandemic is still a very real danger to all of us, and that we need to be unwavering in our commitment to common-sense public health guidance," Michael Schoenfeld, vice president for public affairs and government relations and chief communications officer said in statement on Sunday.
Duke has not yet reported any citations for virus-related violations, but Schoenfeld said the university is working to identify individuals who lead the fraternity events and said they will be "held accountable through the student conduct process."
Furthermore, those who violate the new lockdown order could face consequences, including suspension or withdrawal from the university.
"Violations of these requirements will be considered a violation of the Duke Compact and will be treated as such; flagrant and repeated violations will be grounds for suspension or withdrawal from Duke," the university said.
Duke's recent on-campus virus spike comes as the university's basketball team said it had to withdraw from the ACC tournament following a positive test result last week.
"This season was a challenge for every team across the country and as we have seen over and over, this global pandemic is very cruel and is not yet over. As many safeguards as we implemented, no one is immune to this terrible virus," Duke coach Mike Krzyzewski said in a statement.