Duncan Hunter Continues False Anti-Muslim Attacks Against Democratic Opponent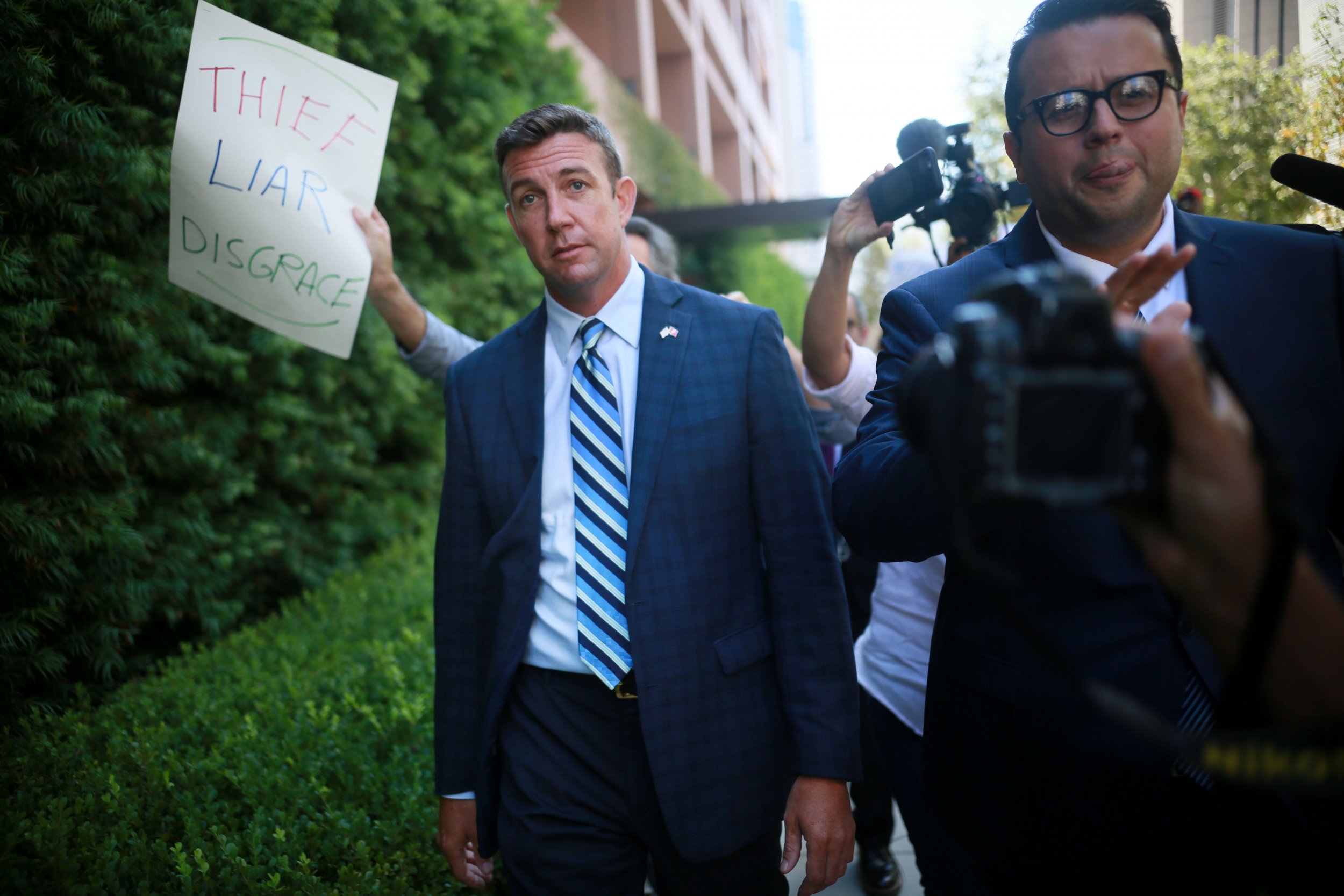 Indicted GOP Congressman Duncan Hunter's re-election campaign has long consisted of attack ads against his opponent, 29-year-old Ammar Campa-Najjar, that falsely portray him as a Muslim and a national security risk.
The latest attack from Hunter's campaign consisted of a series of fliers, one of which was penned by three former Marine generals, in recent days that claim Campa-Najjar is tied to terrorist organizations and, if elected, would divulge secret U.S. military operations to terrorists. Campa-Najjar is a Palestinian Mexican American and is Christian.
The move by the Hunter campaign to distribute such mailers is part of an ever-growing list of false TV ads, speeches and claims that have led Campa-Najjar to say it's time for the gloves to come off.
"I felt compassionate for [Hunter] in the beginning, but now the gloves are off," Campa-Najjar told Newsweek, speaking metaphorically. "If he wants to brawl, we're going to brawl. The guy is going to lose badly. And then a couple weeks after that, he's going to go to jail December 3."
Hunter and his wife are in the midst of battling a federal indictment by the Department of Justice that alleges the pair committed campaign finance violations for spending $250,000 of campaign money on personal items, services and vacations. The two have pleaded not guilty and are free on bond while they await their next court appearance set for December 3.
Hunter's recent indictment has put his re-election chances in severe jeopardy, transforming his chances to be re-elected in his conservative district from almost certain to questionable.
The letter by the three former Marine generals, Terry Paul, Randall West and T.L. Corwin, is addressed to San Diego voters in the district Hunter currently represents and Campa-Najjar is running for. The former generals allege Campa-Najjar would relay classified congressional information about U.S. military operations to terrorist organizations in the Middle East. Paul has been a longtime Hunter supporter, including publicly endorsing him a decade ago when Hunter first ran for office.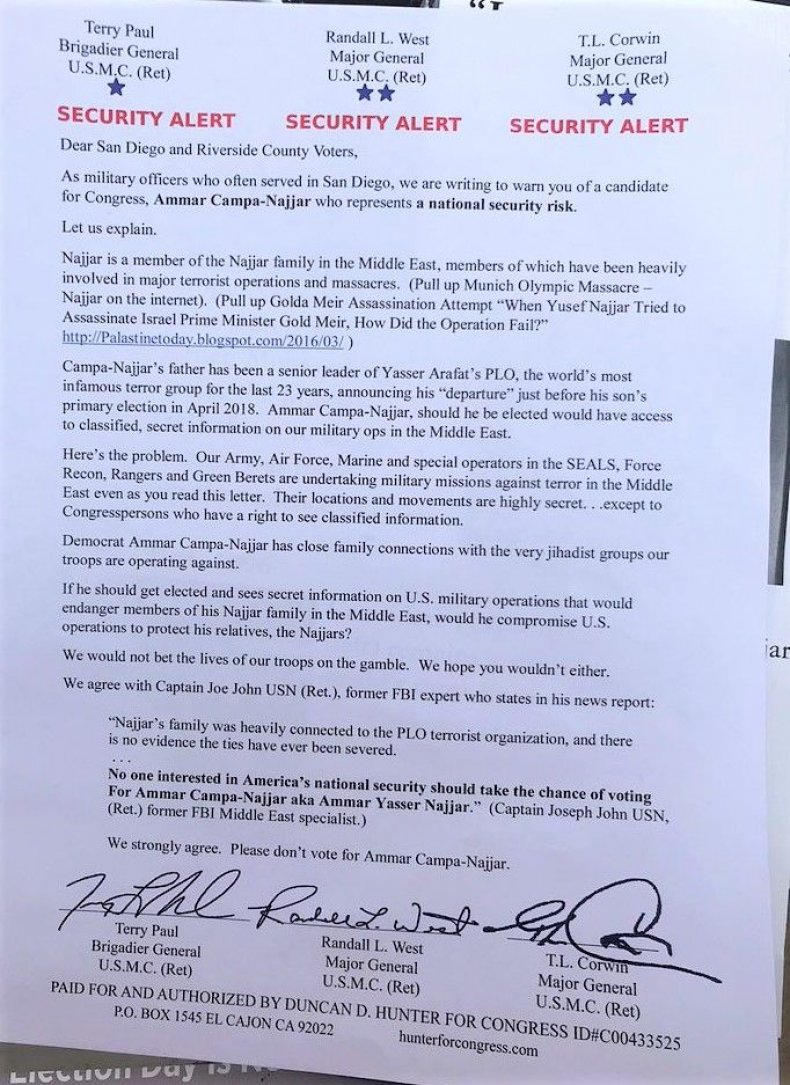 Hunter and his campaign did not respond to Newsweek's request for comment on Tuesday.
"In a past life, these three men were generals. Today, they are lobbyists who pay to play, who literally do this stuff to make money and earn a living," Campa-Najjar said. "He brought out three [former] generals to make a political argument that is based not in fact, but in fantasy, xenophobia and racism."
The letter, in addition to other ads that have featured Hunter in his service uniform, also broke Marine Corps policy by not including a political disclaimer from the Department of Defense stating no military branch is associated with the ads or has endorsed Hunter. The DOD did not respond to Newsweek's inquiry Tuesday about whether they were aware of or looking into the violations.
Hunter's campaign has long alleged ties between Campa-Najjar and his Palestinian grandfather, Muhammad Youssef al-Najjar, who was responsible for the 1972 Munich Olympics terrorist attack that left 11 Israelis dead. However, his grandfather was killed in 1973, 16 years before Campa-Najjar was born. There has been no evidence to suggest Campa-Najjar has held ties to any terrorist organizations or people. In fact, Campa-Najjar held a government security clearance as recently as 2016 for his four years of work at the Department of Labor under the Obama administration.
The other fliers, all of which were provided to Newsweek by Campa-Najjar's Communications Director Nick Singer, showed claims by the Hunter campaign that Campa-Najjar is a "national security risk" and that he changed his last name before running for office in an attempt to disassociate himself with his grandfather.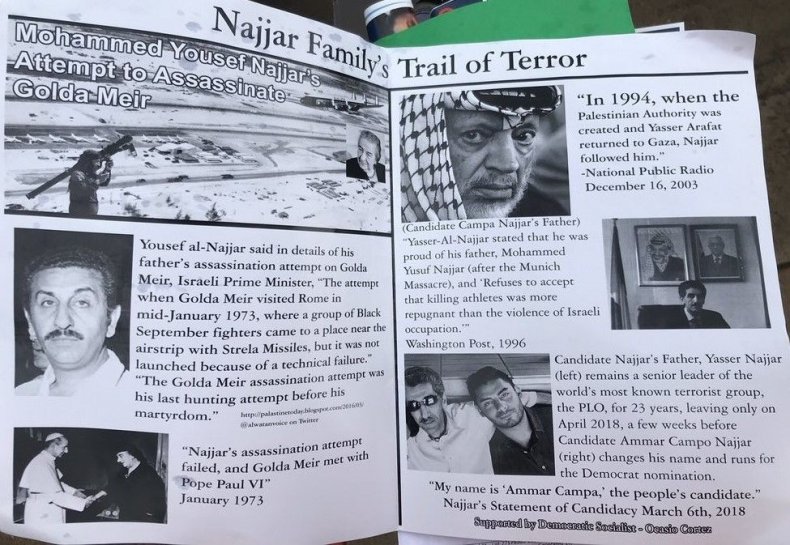 "That is how hard, by the way, that the radical Muslims are trying to infiltrate the U.S. government," Hunter said at a campaign event in September that was recorded by the Times of San Diego. "You had more Islamists run for office this year at the federal level than ever before in U.S. history." Hunter also claimed Campa-Najjar changed his name from Ammar Yasser Najjar to Ammar Campa-Najjar "so he sounds Hispanic."
Speaking to Newsweek in September, Campa-Najjar explained his mother's maiden name was Campa and that Campa-Najjar is the last name he has used for years. His certificate for working at the Labor Department also bore the name Ammar Campa-Najjar, which he provided a picture of.
"The irony of all this is that if we're going to talk about security clearances, [Hunter] actually is a security threat," Campa-Najjar said. "He would not be able to get a security clearance today because of his indictment, because of his excessive drinking, because of his extramarital affairs and financial instabilities."
A 30-second ad released by Hunter's campaign last month painted Campa-Najjar as someone who wanted to "infiltrate Congress," falsely claimed he is "supported by the Muslim Brotherhood," and that he is a security risk.
In a voicemail about the ad left at Campa-Najjar's campaign offices that was provided to Newsweek, a male who identified himself as a GOP voter said he would be switching his support from Hunter to Campa-Najjar.
"I saw Duncan Hunter's ad that he ran and was actually kind of appalled," said the male caller. "I traditionally do vote Republican and I have voted for him in the past, but just seeing what's happening with him in the news...and that kind of disgusting ad he ran, you all have my full support and I wish you the best of luck."
Also in response to the ad, 70 current and former national security, foreign policy and intelligence officials signed a letter condemning Hunter's ad.
"If he becomes my constituent, I'll help him because it's my job. But he just lost a lot of respect from me," Campa-Najjar said. "All is fair when you're in politics, but he put himself in a bad place with me and I'm not going to hold back."