GOP Rep's Campaign Video Calls Democratic Opponent a 'Security Risk' with Ties to Muslim Terrorists
GOP California Representative Duncan Hunter is being criticized for his latest advertisement, which depicted his Democratic opponent as a security risk and claimed he has ties to terrorism.
The video, which was released on Hunter's personal YouTube account on Wednesday, attacked Hunter's Democratic opponent, Ammar Campa-Najjar.
"Ammar Campa-Najjar is working to infiltrate Congress," the narrator in the video says. "He's used three different names to hide his family's ties to terrorism."
The day after the video was posted, a spokesman for Hunter denied that congressman said Campa-Najjar is a Muslim, the Los Angeles Times reported. Campa-Najjar is a 29-year-old Palestinian-Mexican-American who worked in the Obama White House and Labor Department who has said he identifies as Christian.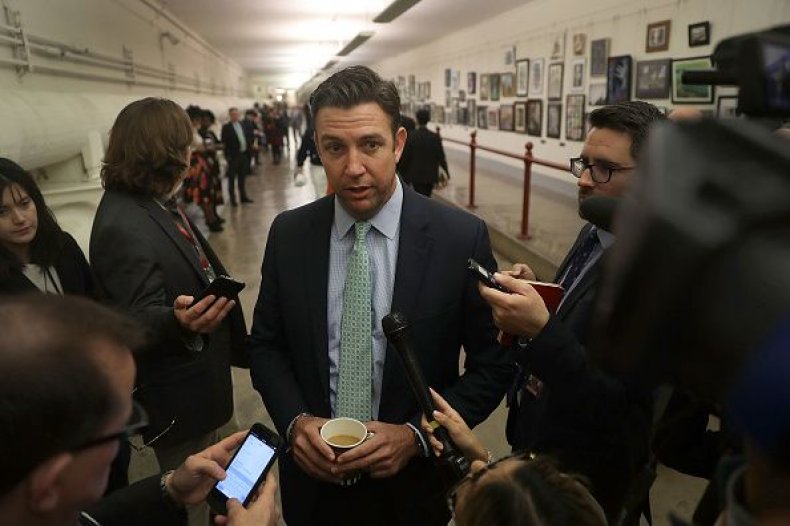 "He never made the claim that his opponent is Muslim," Hunter aide Mike Harrison told the publication. "That's for his opponent to answer."
While speaking to a GOP women's club in Ramona, California, on Monday, Hunter said he saw that the 29-year-old removed "Yasser" (his father's name) from his legal name and add "Joseph," the Los Angeles Times reported.
"His [campaign] signs should actually say: 'Ammar Joseph Campa' or something," Hunter reportedly told the group. "That is how hard, by the way, that the radical Muslims are trying to infiltrate the U.S. government. You had more Islamists run for office this year at the federal level than ever before in U.S. history."
The video posted onto Hunter's YouTube account also said that Campa-Najjar also suggested he is tied to Muslim Brotherhood and had been endorsed by Council on American Islamic Relations (CAIR). In a statement to Newsweek, a spokesperson from the nonprofit organization noted that CAIR did not endorse any candidate, but it did condemn the Islamophobia in Hunter's campaign.
"Ammar Campa-Najjar is not even Muslim, and yet Hunter pushes Islamophobic and anti-Muslim conspiracy theories that American Muslims are trying to subvert the U.S. government by running for office," the CAIR spokesperson said. "It is shameful and should be widely condemned, and Hunter should immediately take it down and apologize."
In August, a federal grand jury indicted Hunter and his wife after alleging the two were using campaign funds to pay for their own personal expenses, CNN reported. The jury also accused them of filing false campaign finance reports to the Federal Election Commission in an effort to cover it up. Hunter and his wife pleaded not guilty to the allegations, according to CNN.
In response to Hunter's campaign advertisement, Campa-Najjar said the congressman knows his political background and that he has been given a background check.
"It's sad to see Congressman Hunter lose his grip on reality, but he knows better. He knows he's not above the law. He knows I served in the White House and the administration, meaning I was given a security clearance by the Secret Service after a thorough background check. He knows I'm not responsible for my family's actions, just like his wife isn't responsible for his," said Campa-Najjar in a statement to Newsweek. "Integrity isn't a Republican issue or Democratic issue—it's an American issue, and I am ready to put country over party. And frankly, voters want a lawmaker not a law breaker as their Congressman."
This article has been updated to include a statement from Ammar Campa-Najjar.