Duncan Hunter Claims Donald Trump's Justice Department is the Democrats' 'Arm of Law Enforcement' After Indictment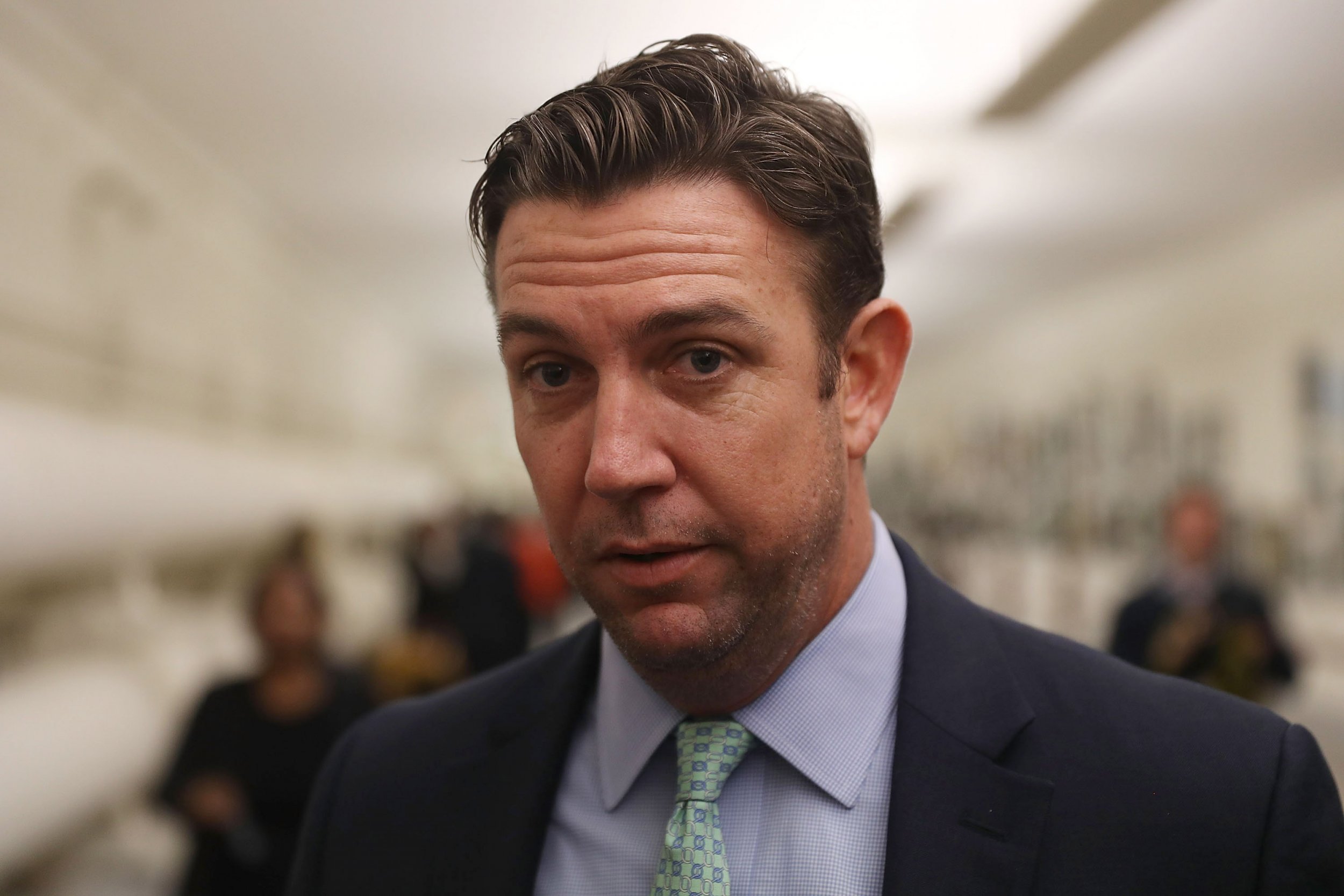 Republican Representative Duncan Hunter of California responded for the first time Wednesday after he and his wife were hit with a 60-count indictment from a federal grand jury the day before, calling the Department of Justice the "Democrats' arm of law enforcement."
"This is the new Department of Justice. This is the Democrats' arm of law enforcement, that's what's happening right now," Hunter told local ABC-affiliate KGTV. "It's happening with Trump, and it's happening with me."
The Justice Department is currently led by Attorney General Jeff Sessions, an appointee of President Donald Trump and a former conservative Republican senator from Alabama. A federal grand jury indictment falls under the Justice Department and its local U.S. attorney's offices. Democratic lawmakers do not control the Justice Department or federal grand jury indictments.
The Republican congressman spoke to KGTV Wednesday morning as he was preparing to embark on a fishing trip for the military veterans group Rivers of Recovery. Hunter said he was "excited about going to trial" and was "looking forward to it."
Hunter brushed off the notion it was strange to appear for a fishing trip the morning after an indictment and the day before his Thursday court appearance.
"No, this is par for the course," Hunter said. "This is modern politics and modern media mixed in with law enforcement that has a political agenda."
The 47-page indictment handed down to Hunter and his wife, Margaret Hunter, Tuesday, detailed $250,000 worth of campaign funds the couple illegally used for personal items, services and vacations. It alleged dozens of criminal charges committed by the couple, including wire fraud and campaign finance violations.
Over the course of seven years from December 2009 to at least the end of 2016, the indictment alleged that the Hunters spent the money on dental work, holidays, golf days, racetrack outings, theater tickets, family groceries, school fees, fast food, clothing, consumer electronics, alcoholic drinks and more.
The Hunters spent the money despite "numerous warnings about the prohibition against using campaign funds for personal expenses and repeated inquiries from Duncan Hunter's campaign treasurer," the U.S. Attorney's Office for the Southern District of California said in a statement.
Hunter continued to say Wednesday morning the charges were politically motivated.
"It's the last chance they could do this before the election and this is how they want to win the election," Hunter said, presumably referencing Democrats. "It's easier, I guess, doing this than running for office."
Hunter was the second Republican lawmaker to endorse Trump. The first was Republican Representative Chris Collins, who was arrested earlier this month on insider-trading charges.