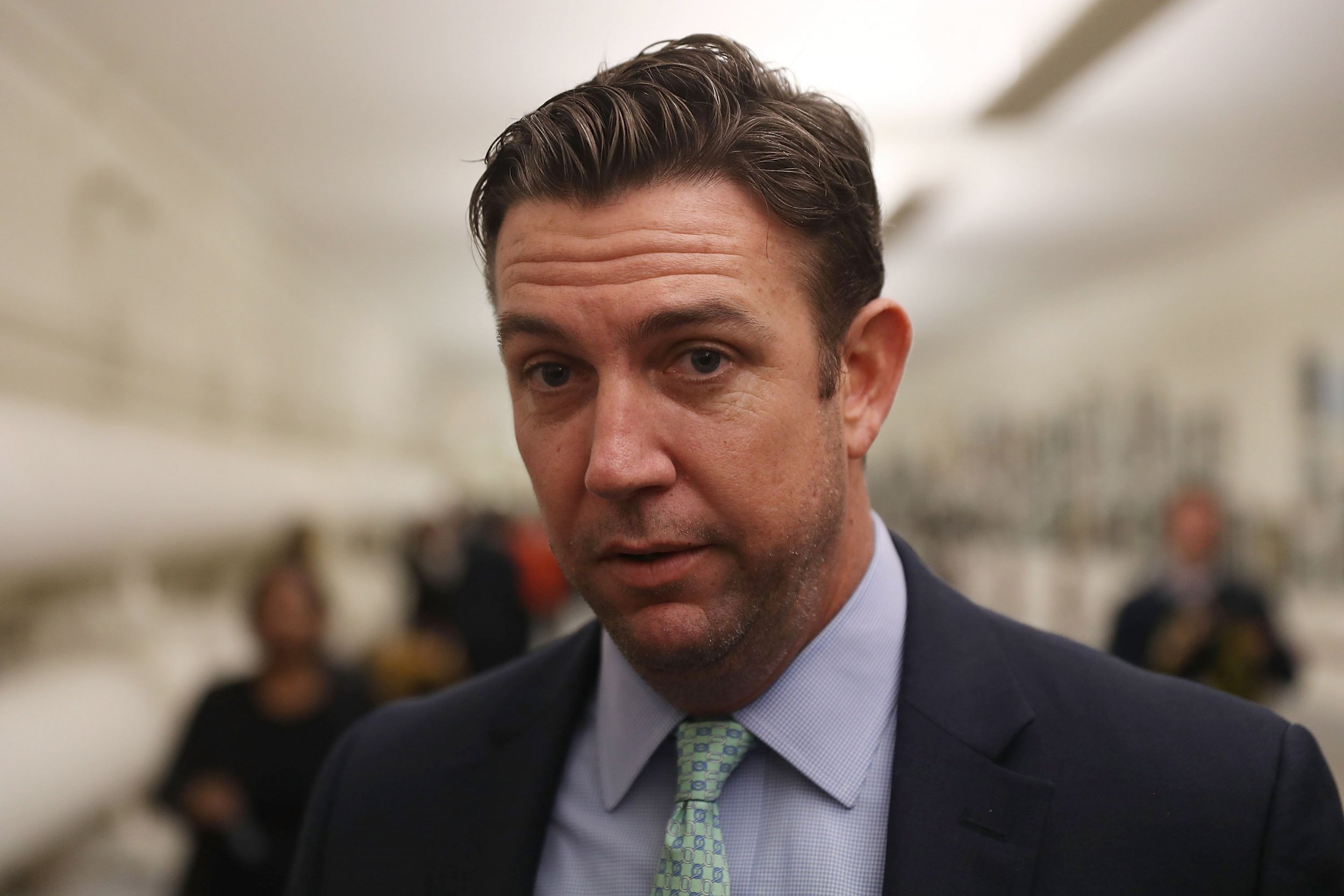 Representative Duncan Hunter of California and wife Margaret Hunter were indicted on 60 counts by a federal grand jury on Tuesday on charges that they used $250,000 in campaign funds for their own personal use.
According to the indictment, the couple conspired "to enrich themselves, and others at their direction, by converting campaign funds for their own personal benefit and enjoyment, and for the benefit of others with whom the Hunters had personal relationships."
Hunter, a Republican, represents California's 50th District, which includes San Diego County. He was elected in 2012. Before that, he represented California's 52nd District, having taken office in 2009 following a career in the U.S. Marine Corps.
His wife worked on and off for his campaign, earning $116,000 over seven years, and had access access to the campaign's funds—including its credit card.
The indictment details a litany of indulgences by the Hunters, allegedly paid for with campaign money meant to be used to elect Hunter to Congress.
From December 2009 to at least the end of 2016, according to the indictment, the Hunters spent that money on such items as dental work, holidays, golf days, racetrack outings, theater tickets, family groceries, school fees, fast food, clothing, consumer electronics, alcoholic drinks and more—despite receiving warnings and queries from the campaign's treasurer.
The pair allegedly lied repeatedly to him whenever he questioned the nature of their spending.
"The indictment alleges that Congressman Hunter and his wife repeatedly dipped into campaign coffers as if they were personal bank accounts, and falsified FEC campaign finance reports to cover their tracks," said U.S. Attorney Adam Braverman in a statement.
"Elected representatives should jealously guard the public's trust, not abuse their positions for personal gain. Today's indictment is a reminder that no one is above the law."
According to the indictment,16 friends, including golf buddies and three unnamed congressmen, reaped the benefits of the funds with the Hunters.
The Hunters' problem was allegedly simple: They were spending more money than they had coming in, and made up the difference by dipping into campaign funds.
"Throughout the relevant period, the Hunters spent substantially more than they earned. They overdrew their bank account more than 1,100 times in a seven-year period resulting in approximately $37,761 in 'overdraft' and 'insufficient funds' bank fees," the indictment stated.
"Their credit cards were frequently charged to the credit limit, often with five-figure balances, resulting in approximately $24,600 in finance charges, interest, and other fees related to late, over the limit, and returned payment fees.
"By virtue of these delinquencies as well as notifications of outstanding debts and overdue payments from their children's school, their family dentist, and other creditors the Hunters knew that many of their desired purchases could only be made by using campaign funds."
Included in Duncan Hunter's spending spree was an $1,008.72 "personal ski trip" with a friend at the Hyatt Regency Lake Tahoe Resort, Spa and Casino that included food, drinks and three nights' lodging.
His wife spent $2,569.96 at Barnes & Noble on "items for her family and friends," which were, according to the indictment, charged to the campaign as "booklets on San Diego."
The Hunters used $1,912.66 in campaign funds for "a birthday gift for a family member to attend a Pittsburgh Steelers game at Heinz Field at the invitation of congressman."
Margaret Hunter spent $704 at the Old Globe Theatre for seven adult and five children's tickets to see the play "How the Grinch Stole Christmas," telling the campaign treasurer the purchase was for "holiday gift certificates."
Duncan Hunter spent $399.06 at Best Buy on a Nikon CoolPix S9100 digital camera, plus battery and SD card, which he used to photograph a family vacation in Idaho, as well as other events.
"To conceal and disguise this illegal transaction, he falsely informed his treasurer that the charge was for ink, paper, and computer software," the indictment stated.
Hunter also allegedly dropped $1,067 in campaign funds at the Nemacolin Woodlands Resort for family activities—including $399 for a zip-line ride.
The Hunters spent $1,528.68 of campaign funds "at Steam Games on video game charges" over the course of a single year.
They paid $6,288.74 for a family vacation to Hawaii's Aston Kaanapali Shores resort, before repaying $5,245.71 to the campaign after the treasurer raised questions.
Margaret Hunter "spent $700 in campaign funds at a local dentist toward the family's overdue balance of $7,258, resulting from a variety of family dental services."
They spent $3,724.07 on a family vacation to their nephew's Boise wedding, with a stopover in Las Vegas.
"On or about November 19 to 29, 2015, the Hunters spent $14,261.33 (including airfare) in campaign funds to pay for a family vacation to Italy," according to the indictment.
"On or about November 23, 2015, in an attempt to justify the use of campaign funds to pay for the family's trip to Italy, Duncan Hunter tried to set up a day tour of a U.S. naval facility.
"After Navy officials responded that they could only provide a tour on a particular date, Duncan Hunter said he would discuss the proposed date with Margaret Hunter, then subsequently told his chief of staff, 'tell the navy to go f*** themselves' [no alteration in original], and no tour occurred."
Margaret Hunter subsequently told the campaitn treasurer that the various charges related to the Italian vacation "were mostly military/defense meet related," despite emailing a friend that "Italy was amazing. Truly our best family trip so far. Like that saying 'if traveling was free you'd never see me again'!"
Duncan Hunter spent $354.25 in campaign funds "for drinks at the Jack Rose Dining Saloon while entertaining his brother at a bachelor party," the indictment stated.
"On or about March 4, 2016, in Washington, D.C., Duncan Hunter spent $462.46 in campaign funds for 30 shots of tequila and one steak at E1 Tamarindo restaurant during Individual 8's bachelor party."
Hunter's campaign spending was under investigation by the House Ethics Committee until it handed over its investigation to the Justice Department in 2017. At the time, Elliot Berke and Gregory Vega, attorneys for Hunter, said in a statement that their client "became aware of expenditure issues confronting his campaign committee" in 2016, reported USA Today.
"Out of an abundance of caution, he took corrective action in consultation with the FEC and, ultimately, he and his wife personally repaid the campaign approximately $60,000," the statement said, adding that Hunter "maintains that to the extent any mistakes were made they were strictly inadvertent and unintentional."