Dune: Release Date, Cast, Trailer, Plot For the Upcoming Sci-Fi Epic
American audiences have had to wait patiently but Dune is almost available to watch in cinemas and online.
Many other territories outside the U.S. have already had the movie release in theaters to much acclaim. Director Denis Villeneuve's adaptation of the classic sci-fi novel is one of the most anticipated films of the year.
The all-star cast features the likes of Timothée Chalamet, Oscar Isaac and Jason Momoa, and there's talk of a sequel already in the works.
Ahead of the launch in the U.S. in October, here's everything you need to know about Dune.
When Is Dune Released?
Dune is now officially slated to release in the U.S. on Friday, October 22, 2021.
It had its premiere at the Venice International Film Festival on September 3, 2021. It's also been released in 14 countries already including France, Germany, Italy, Spain and Russia.
Dune was originally scheduled for release on November 20, 2020, and again in December 18, but it was pushed back both times due to the COVID-19 pandemic.
It was then announced to launch on October 1, 2021 but was pushed back again to avoid competition with the James Bond movie No Time To Die.
How Can I Watch Dune?
Like all Warner Bros. movies in 2020, Dune is being released simultaneously in movie theaters and on HBO Max. It will be available on the home streaming service for one month from release.
Director Villeneuve has voiced his displeasure at the decision to not screen Dune exclusively in cinemas, writing in a Variety column, "Streaming can produce great content, but not movies of Dune's scope and scale."
He claimed the decision would impact Dune's ability to perform well financially at the box office.

What Is Dune About?
Dune is based on a 1965 sci-fi novel of the same name written by American author Frank Herbert. It is the first installment in what is known as the Dune saga, of which Herbert wrote six novels, while more authors have written and contributed several more.
Dune is set thousands of years in the future when humanity has developed light-speed space travel. An interplanetary war between factions of humans emerges as they battle over a substance called "spice."
Dune follows young heir of the House Atreides, Paul. Developing his own prophetic abilities which he inherits from his mother's side, he has visions of a stranger from a planet called Arrakis which is inhabited by the Fremen.
Who Stars In Dune?
Timothée Chalamet stars in the lead role as the young Paul Atreides while his mother and father are played by Rebecca Ferguson and Oscar Isaac.
Working with the House Atreides are Josh Brolin as Gurney Halleck, Jason Momoa as Duncan Idaho, Stephen McKinley as Thufir Hawat and Chang Chen as Dr. Wellington Yueh.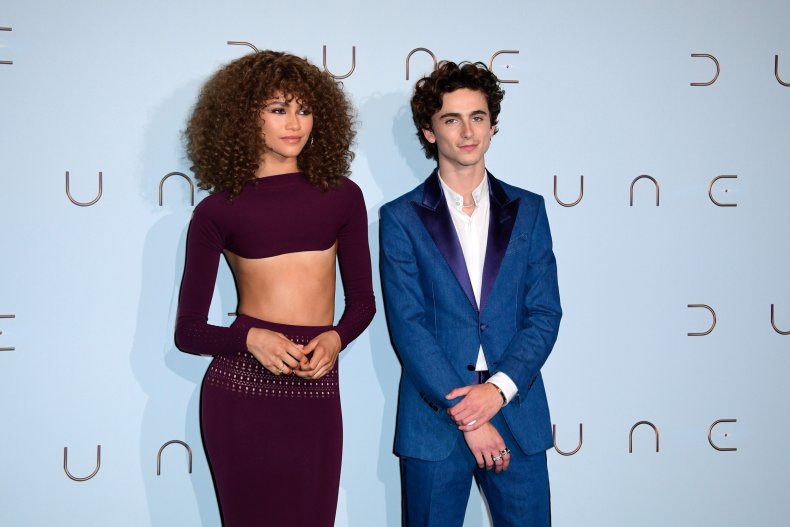 Rival characters are played by Stellan Skarsgård, Dave Bautista and David Dastmalchian.
The Fremen who inhabit the planet containing the coveted spice includes Zendaya, Javier Bardem and Babs Olusanmokun.
Previous Adaptations Of Dune
Since Dune is one of the most successful sci-fi book franchises of all time, it's natural that television and film executives would want to adapt it.
It was first adapted in 1984 in the movie Dune by David Lynch. Kyle MacLachlan starred as the young Paul Atreides with supporting characters including Patrick Stewart, Sting and Francesca Annis.
In 2000, John Harrison brought the story to the small screen for the Sci-Fi channel. Frank Herbert's Dune was a mini-series starring William Hurt, Alec Newman and Julie Cox.
The new adaptation of Dune will be available to watch in the U.S. in movie theaters and on HBO Max from Friday October 22, 2021.