When Were Dunkaroos Discontinued? Iconic 90s Snack Set to Return This Summer
Dunkaroos—everyone's favorite 1990s snack—are making a comeback this summer. The cookies and frosting snack will finally be available to purchase in summer 2020 after being discontinued in the U.S. in the early 2010s.
In 2018, a tweet stating that Betty Crocker said it would relaunch Dunkaroos if the tweet reached 150,000 retweets went viral, but it turned out to be fake. This time around, however, Dunkaroos has confirmed it is coming back in a series of nostalgic 90s-themed posts on Twitter and Instagram.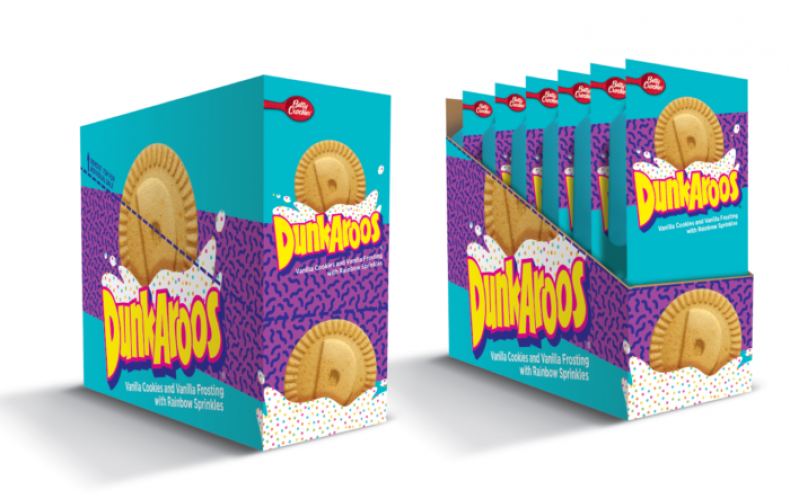 Dunkaroos shared a video featuring '90s items and trends, like frosted tips and cassette tapes, claiming that they are definitely not coming back. While the snack brand said that '90s fashion is probably coming back, they confirmed that Dunkaroos are definitely coming back this year.
Dunkaroos were initially launched in 1992 in five different shapes with small tubs of either chocolate or vanilla frosting. By 1993, these graham crackers had four new frosting flavors: chocolate chip, cinnamon, peanut butter, and rainbow sprinkles.
Dunkaroos were popular in the 1990s and 2000s but were discontinued in the U.S. in May 2012. Up until now, fans of Dunkaroos had to travel to Canada to get their hands on the snack—the snack brand even encouraged fans to do so with its Smugglaroos campaign.
While no release date has been announced yet, Dunkaroos are due to come back in the summer this year. The only flavor that will be relaunched initially is the vanilla cookies and vanilla frosting with rainbow sprinkles.
Fans have been asking for the return of the snack for years, including celebrities such as Kim Kardashian West, Tyler, The Creator, Chrissy Teigen, Frankie Muniz, Josh Peck, Liz Gillies, and Lilly Singh.
In 2018, Kardashian West tweeted: "Obsessed with Dunkaroos. Please come back!"
Tyler, The Creator, tweeted "Dunkaroos I need To Find These" in 2012.
In September 2019, Teigen said: "if u try to buy Dunkaroos on amazon, u can only get kadunks (still buying)" to which Dunkaroos responded: "Any good?"
Gillies tweeted: "I still want Dunkaroos," in 2012, and Dunkaroos asked, "still still?"
In 2017, Singh simply tweeted: "Dunkaroos with the vanilla sparkles frosting," and Dunkaroos said: "That's it that's the tweet."
In 2016, Peck tweeted: "Wanna watch a Disney channel movie and eat Dunkaroos? #perfectdate" to which Dunkaroos responded: "I'll bring the Dunkaroos, you bring the Disney Plus".
Upon finding out that Dunkaroos were returning, Frankie Muniz said: "Are you kidding me? I live for Dunkaroos!!!!"
In a press release, Jeff Caswell, president of snacks at General Mills, said: "We're thrilled to relaunch Dunkaroos in the U.S. after years of it only being available in Canada. For those who grew up in the '90s, the original cookie-frosting combo represents the taste, color, and fun of being a kid during that decade.
"We know there's a lot of love for Dunkaroos, and fans everywhere have been asking for it. We're excited to help '90s kids relive all the best parts of childhood."