A customer at a Dunkin' Donuts shop in Brookline, Massachusetts threw hot coffee at another customer Thursday morning over a COVID face mask dispute.
The Brookline Police Department said in a statement that the suspect, later identified as 23-year-old Dion Millsap, argued with the victim for not wearing a face mask inside the store. In an effort to de-escalate the situation, the 56-year-old victim pulled up his shirt over his face. The police didn't publicly identify the victim.
The police said that the suspect tossed his hot coffee at the back of the victim's lower legs as he exited the store.
"He [the victim] declined medical attention for his injuries, which were described as burns to the back of his legs," a Brookline Police Department spokesperson told Newsweek on Friday.
At one point, the suspect became "belligerent toward store employees and other customers."
The police spokesperson said that the store manager reported that Millsap "was becoming increasingly confrontational with everyone present" without revealing further details.
Millsap attempted to escape police but was eventually arrested and charged with one count of assault and battery with a dangerous weapon and one count of disorderly conduct.
"He ran a short distance and had to be physically restrained by officers," the spokesperson said. "One of the arresting officers suffered an injury [to] his left hand, but is expected to be OK."
Newsweek contacted Dunkin' Donuts for comment.
Multiple disputes related to wearing protective face masks in public places have been reported nationwide amidst the coronavirus pandemic. Earlier this month, a customer at a Panda Express lashed out at store employees over the restaurant's mask policy.
In a video of the incident posted on TikTok, the customer was filmed jumping onto the counter and cursing the staff and throwing food at them, and yelled: "You racist mother f***ers."
When a staff member tried to stop the woman from throwing more food, she yelled, "get off of me," before getting down from the counter.
Similarly, an American Airlines flight on Wednesday turned around about an hour after it departed from Miami as it headed to London because a woman refused to wear a face mask while on board. American Airlines said that 129 passengers and 14 crew members were aboard the Boeing 777 that was forced to return.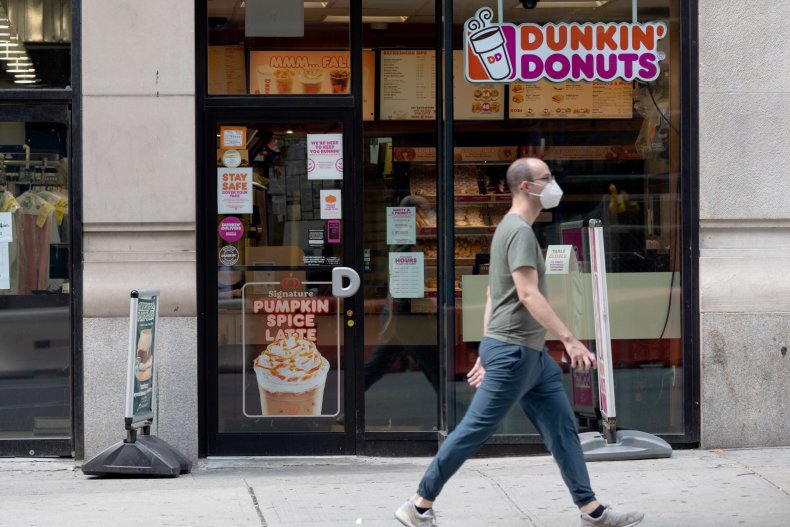 Passengers had to leave the plane when they returned to Miami and the flight was canceled because of the incident. The woman wasn't arrested upon arrival in Miami but she was placed on American Airlines' internal no-fly list pending completion of an investigation into the incident.
Also in Virginia, a mom in a local school board meeting on Thursday threatened to "bring every single gun, loaded" if her children's school district continued to require face masks for in-person learning.
"No mask mandates. My child, my children will not come to school on Monday with a mask on, alright? That's not happening. And I will bring every single gun, loaded and ready to—" she said before being cut off at her three-minute mark by a board member. King left the podium without incident, saying to the board, "I will see you Monday," the mother, who identified herself as Amelia King, said during the meeting.
Update 01/21/22, 5:35 p.m. ET: This article has been updated to include comments from the Brookline Police Department.