Dunkin' Donuts has added a bag of bacon to its menu—the Snackin' Bacon comes with eight half-strips of bacon in a sleeve, perfect for snacking on the go.
The bacon, which also features in Dunkin's Sweet Black Pepper Bacon Breakfast Sandwich, is smoked with natural cherrywood, then seasoned with a sweet-and-savory blend of brown sugar and black pepper.
According to Dunkin', the bacon goes well with coffee, especially its caramel, French vanilla, and hazelnut flavor swirls. In a statement, Dunkin' said: "Whether you opt for a Dunkin' iced coffee, iced latte, or Cold Brew, we're sure you'll agree this afternoon pairing is the perfect snack to get you through the day."
Alternatively, Dunkin' customers could try the new bag of bacon with Dunkin's latest addition to its drinks menu—a matcha latte—which launched on the same day.
Paul Racicot, Director of Global Culinary Innovation at Dunkin' Brands, said in a statement: "Whether you're an avid Matcha Latte drinker or are trying it for the first time, guests can expect an authentic, quality experience with Dunkin's Matcha Lattes.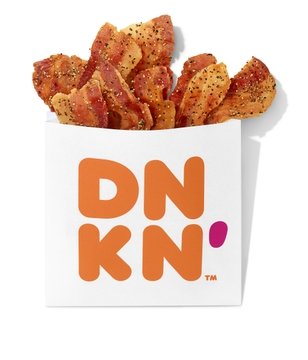 Dunkin's Snackin' Bacon comes with eight half-strips of black pepper bacon.
Dunkin' Donuts
"We're excited to offer millions of Americans a delicious new way to run on Dunkin' that perfectly matches the iconic brightness and energy that they know and love from our brand."
The bacon snack is now available at Dunkin' restaurants nationwide and will sell for $2.79. Hot, iced and frozen matcha lattes will cost between $3.19 and $4.99, though prices may vary by location.
Dunkin' Beyond Meat
The snacking bacon comes despite Dunkin's recent efforts to introduce more plant-based options onto its menu. In November 2019, Dunkin' introduced a Beyond Meat Sausage Sandwich, which is made from a plant-based patty, to restaurants nationwide.
Then in January, Dunkin' teamed up with Snoop Dogg to produce the Beyond D-O-Double G Sandwich. The sandwich features a plant-based patty, egg and cheese served in a glazed donut.
As the Beyond Meat sandwiches come with egg and cheese, they aren't vegan-friendly but are great options for people looking to reduce their meat intake. Now, the Snackin' Bacon may tempt meat-eaters away from vegetarian and plant-based options.
Plant-Based Fast-Food
Many fast-food chains, including Burger King, Denny's, Carl's Jr, and White Castle, have introduced plant-based options to their menus. But despite being labeled "plant-based," many of them are not suitable for vegans, or even vegetarians.
For example, while it's a plant-based patty, Burger King cooks its Impossible Whopper on the same broiler as meat, so unless the customer requests that it be cooked separately, it is unsuitable for vegetarians.
One fast-food chain that has actually created a vegan item is White Castle, which serves an Impossible Slider. If ordered without cheese, the plant-based sandwich is cooked separately from meat products. From March 1, customers will be able to order the Impossible Slider with vegan cheese, in New York City and New Jersey.