Dunkin' Donuts Launches 'Black Friday and Beyond' Offers to Keep Holiday Shoppers Energized
To fuel Black Friday shoppers so they can "shop until they drop," Dunkin Donuts is offering some energizing promotions this holiday season.
To help guests keep up the pace, Dunkin' is offering a medium-sized Latte, Cappuccino or Americano for $2 from 2:00 p.m. to 6:00 p.m. daily at participating Dunkin' locations from now through to December 31, 2019. This offer excludes Signature Lattes.
If that wasn't enough, the donut house is allowing customers to earn 3X points on food or drink purchases from November 29 until December 2. Guests can download the Dunkin' App and join the DD Perks rewards program. The offer excludes bottled drinks and Box O' Joe. Enrollment in DD Perks is free at www.DDPerks.com, where Americans can create an account. To enroll a DD Card, fans can do this online at ddperks.com or the Dunkin' Mobile App.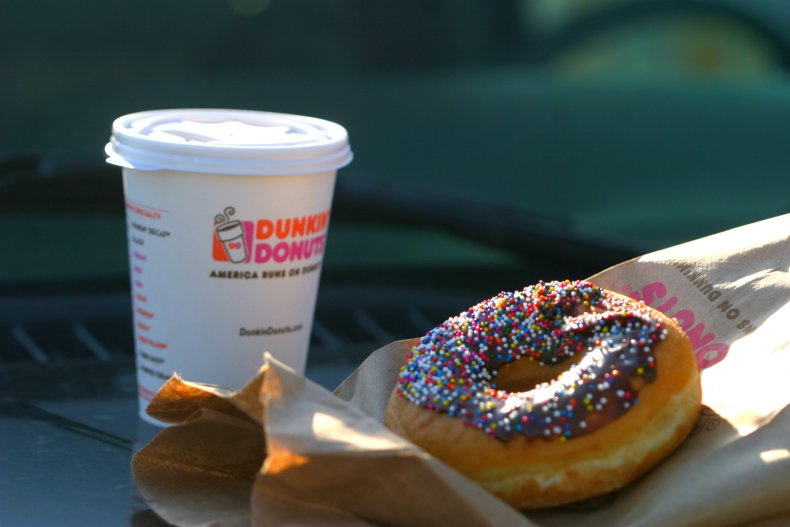 To also help people stumped for holiday gift ideas, from November 29 through to December 24, shoppers can get a $10 digital promo card if they purchase a minimum of $50 of Dunkin' gift cards during one transaction on www.giftcards.dunkindonuts.com. This offer excludes gift card purchases in the restaurant app, bulk and third party locations, and there is a limit of one $10 bonus eGift Card per customer between November 29 until December 24, 2019.
The $10 bonus eGift Card must be enrolled on the Dunkin' App, Dunkindonuts.com or redeemed at participating Dunkin' locations by January 31, 2020, to receive promotional $10 value.
Alongside these promotions, Dunkin' has also created its largest ever holiday menu, featuring returning items such as the Peppermint Mocha flavored coffee, four new Signature Lattes, decked-out donuts, and more.
It has also launched its Dunkin' Online Pop-up Store, which includes exclusive holiday merchandise such as:
A custom Dunkin' electric guitar;
One-piece pajamas and joggers;
Dunkin' crewneck sweater;
Dunkin' scarf and gloves sets;
Peppermint scented wrapping paper;
Metal lunch box;
Fanny pack;
Phone case;
Pint glasses;
Dog bandana.
Dunkin' is also offering other holiday gifts at participating restaurants, including Elf on the Shelf ornaments and peppermint scented MUNCHKINS donut hole treats lip balm in a two-pack for $5.99. Customers can also get three pounds of all varieties of Dunkin' packaged coffee for the special price of $19.99, as well as two boxes of Dunkin' K-Cup Pods for $14.99.
According to the website, Dunkin' was founded in 1950 as an everyday stop for coffee and baked goods. The brand has more than 13,000 restaurants in 41 countries worldwide. Its DD Perks program has more than 10 million members in the U.S.
Dunkin' Donut stores can be found using the store locator.