Which Dunkin' Donuts Are Closing? 800 'Low-Volume Locations' May Shut
Dunkin' has announced that it expects to close around 800 locations by the end of the year, including the previously announced 450 Speedway closures. The 800 closures would represent eight percent of Dunkin's U.S. footprint but only two percent of the system-wide sales.
Dunkin' was not able to confirm a list of locations that may be closing by the end of this year.
Dunkin' told Newsweek: "We are assessing our real estate portfolio and working with our franchisees to permanently close off-strategy, low volume sales locations. Earlier this year that we expected to close 450 Speedway self-serve kiosk locations during fiscal 2020, representing less than 0.5 percent of system-wide sales.
"Including the 450 Speedway closures, we believe there could be approximately 800 low-volume locations, primarily alternative points of distribution, that may close."
In the second quarter of this year, Dunkin' had closed 40 Dunkin' U.S. locations, inclusive of the closure of 10 Speedway locations.
However, Dunkin' fans should not be disappointed that a number of the donut-chain locations are closing, as according to Dunkin', the closures would allow franchisees to invest in new restaurants with higher-traffic or drive-thrus.
A spokesperson for Dunkin' also told Newsweek: "Most of these locations are also unprofitable for the franchisees and are well below average for both sales and profitability.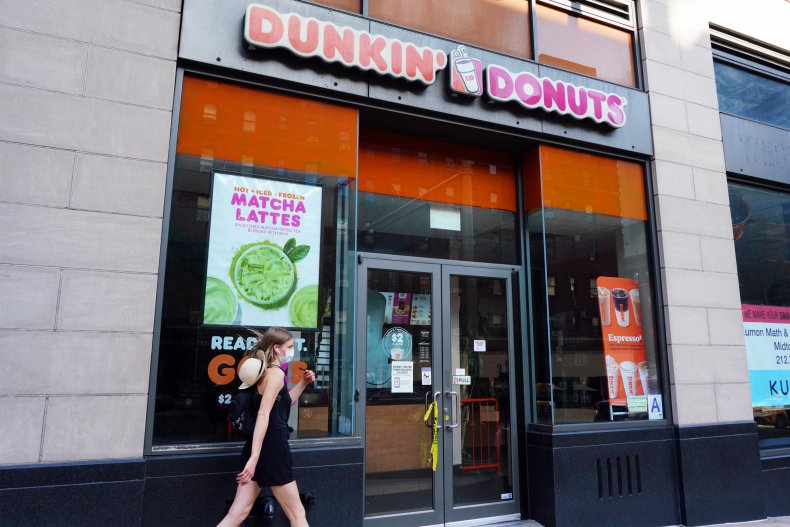 "More importantly, for many of these franchisees, closing these restaurants will enable them to invest in remodels, new restaurants, and potentially relocate some to higher-traffic areas, or to areas where they can add a drive-thru.
"We expect most of these closings will take place this year and will position us and our franchisees for more profitable future growth."
Dunkin' announced its 450 Speedway closures in February 2020, as the locations represented less than 0.5 percent of the U.S. annual systemwide sales in 2019.
At the time, Dunkin' said: "By exiting these sites, we are confident we will be better positioned to serve these trade areas with Dunkin's newest Next Generation restaurant design that offers a broader menu and modern experience.
"We also remain committed to growing our presence in gas and convenience locations, as well as other non-traditional locations, including airports, universities, travel plazas, and military installations."
Aside from Dunkin' Donuts, other Dunkin' brands faced closures in the second quarter. Seven U.S. Baskin-Robbins locations also closed, as did 180 international Baskin-Robbins locations, predominantly in Russia, India, and Japan.
As of July 25, approximately 96 percent of Dunkin' U.S. locations are open after being temporarily closed due to lockdowns, and the majority of the locations that remain closed are in transportation hubs, on college campuses, in sports venues, and other alternative points of distribution.